By Tim Baker
When I was a kid, our maternal grandmother bought us a book for Christmas called, "Manners Can Be Fun." To be honest, I think this was a gift to my mum more than us kids.
This bit of shameless parenting propaganda attempted to convince children of the joys of saying please and thank you, letting others go first, eating your vegetables and helping out with household chores. It was spectacularly unsuccessful, at our house at least.
And so, perhaps I should know better than to try and convince anyone of the joys of adopting a healthy diet. But, what the heck, I'm going to try anyway.
There are a few cultural factors that might make adopting a healthier diet challenging for many men. The World Health Organisation has classified red meat as a Group 2A carcinogen, meaning there is some evidence that red meat increases the risk of cancer, but that evidence is not definitive. Processed meats, however, like bacon, salami, ham, or jerky are classified at Group 1 carcinogens, in the same category as smoking and asbestos, meaning there is strong evidence of their cancer risk.
And yet, meat eating is widely associated with masculinity and one study found 73% of men would rather reduce their life expectancy by up to ten years than give up eating meat. The study was conducted by an Australian not-for-profit, No Meat May, which challenges people to give up red meat for the month of May, for the sake of their own health and the planet.
There is also compelling evidence that a mainly plant-based diet, reducing the consumption of red meat, dairy, sugar, wheat, and alcohol, may be helpful in managing a prostate cancer diagnosis. Yet for many men, adherence to these dietary guidelines can be difficult. Afterall, who wants to forego that slow-cooked lamb, fine Tasmanian pinot, or a sticky date pudding with cream in the vague hope that it might improve our health?
When I was first diagnosed with metastatic prostate cancer seven years ago, I was determined to do whatever I could to improve my prognosis. I went hard core vegetarian, then vegan, tried to follow a ketogenic diet for a while (limiting carbohydrates), without really knowing for sure if any of it would make any difference. But I probably came out of the gates a bit too hard. I lost 15 kg in the first month after my diagnosis, which freaked out a lot of people around me. I have moderated my dietary approach over time (and put most of that 15 kg back on in the process) and now consider myself a "flexitarian", meaning I am pretty flexible about what I eat but will try and go for the healthy option where possible. I realised some time ago, this is a marathon not a sprint, and you don't want to take all the joy out of eating and deprive yourself of life's simple pleasures.
These days, when asked about my diet, I usually say I try to follow a mainly plant-based diet. I like "plant-based" as a descriptor because it is a fairly fluid concept. It doesn't completely preclude the eating of red meat, chicken, or fish, it just means I try and eat mainly vegetables and if I do eat meat, it is generally a small portion and only occasionally.
I like the dietary advice of American author Michael Pollan, who famously declared: "Eat food, mainly plants, not too much". By "food", he suggests eating things that your grandparents would recognise as food, fresh whole foods without lots of unpronounceable, mystery ingredients, rather than the over-processed, packaged "convenience" foods we are bombarded with in supermarkets, high in salt, sugar, and fat.
Here are a few general principles, tips and tricks that have helped me (mostly) stick to a healthy diet.
Fortunately, I love seafood and eat lots of ocean-caught fish (as opposed to farmed fish). But fish is expensive, I hear you say. Well, guess what? So is red meat. And some fish is quite reasonably priced – fresh sardine fillets, whiting, mackerel are some of my favourites. And mullet is cheap as chips and surprisingly palatable if cooked properly.
I know, I know. You hate tofu. It doesn't taste of anything. That's because you are either eating bad tofu or not preparing it properly. Look for fresh organic tofu and try marinating it in soy sauce or tamari, with garlic, ginger, honey, chillies, or whatever flavour combination takes your fancy. Sauteed with vegies or in a Thai curry with a green curry paste and coconut milk, it makes an easy, tasty, and nutritious meal. If you're still not convinced, order Agedashi tofu at Japanese restaurant and try to tell me it is not completely delicious.
I'm a shocking sweet tooth so avoiding sugary treats has been tough. I still succumb to (mainly dark) chocolate fairly regularly. I've also learnt how to make a few healthy desserts, like a hyper-virtuous, guilt-free chocolate mousse consisting of equal parts mashed banana, raw cacao, and coconut cream, blended in a food processer, and left to set in the fridge overnight. If you must, a little extra sweetener like honey or maple syrup is better than refined sugar. There's a similarly virtuous, wheat-free, sugar-free chocolate cake recipe I adore, using almond meal, raw cacao, coconut cream, honey, and olive oil.
A Pile of Vegies. This is one of my staples if I feel like I haven't been eating enough plants in my supposedly plant-based diet. Often it will be whatever's in the vegie drawer of the fridge but usually consists of some combination of broccoli, carrot, mushroom, bok choy, onion, garlic, chilli, soy sauce or tamari, all sauteed in a fry pan for a few minutes for a quick and simple, tasty meal. Rather than frying with oil, try putting a little water in the bottom of the pan and bung a lid on to partially steam the vegies.
The green smoothie. When a health-conscious friend first explained this concept to me I nearly gagged, but it's not nearly as foul as it sounds. Wilted kale, blanched in hot water, with frozen berries and coconut water makes a great breakfast smoothie to get your vegie intake on track from the start of the day. Add chia seeds or flaxseed for an extra nutrient hit.
Here's one of my favourite "health bombs". Fresh sardine fillets (if you've never eaten fresh sardines do yourself a favour. They're nothing like the tinned muck), cured in lemon juice, garlic, and salt for 24 hours, then served with chopped parsley and a drizzle of olive oil. Sublime. High in Omega 3 fatty acids which are essential for good health, and ridiculously easy.
Cooked tomatoes are a great source of lycopene, which studies suggest could have a protective effect against prostate cancer and slow cancer progression. There's also encouraging evidence for consuming plenty of green tea, cruciferous vegetables (broccoli, cabbage, kale, spinach, bok choy, etc) and mushrooms.
Learning to shop for, prepare and cook healthy food can be an endlessly enjoyable and enriching adventure, a pleasure you can share with family and friends. Turning others on to eating well can also be super satisfying. Of course, as always, this is general advice only and you should consult a qualified nutritionist or dietician for specific dietary advice for your circumstances.
References
https://www.who.int/news-room/questions-and-answers/item/cancer-carcinogenicity-of-the-consumption-of-red-meat-and-processed-meat
https://www.menshealth.com/uk/nutrition/a36261605/red-meat-health/
https://www.healthline.com/health/prostate-cancer/foods-for-prostate-health#The-bottom-line
This August, Tim will launch his latest book, Patting the Shark. This candid story documents his journey learning to live well with prostate cancer. To launch Patting the Shark, Tim will join Professor Suzanne Chambers at Brisbane Library on August 21, 2022 from 11am to 12pm to talk about his journey. To attend, click here.
---
About the Author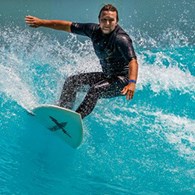 Tim Baker is an award-winning author, journalist and storyteller specialising in surfing history and culture, working across a wide variety of media from books and magazines to film, video, and theatre. Some of his most notable books include "Occy", a national bestseller and chosen by the Australia Council as one of "50 Books You can't Put Down" in 2008, and "The Rip Curl Story" which documents the rise of the iconic Australian surf brand to mark its 50th anniversary in 2019. Tim is a former editor of Tracks and Surfing Life magazines. He has twice won the Surfing Australia Hall of Fame Culture Award.
Tim was diagnosed with stage 4, metastatic prostate cancer in 2015 with a Gleason score 9. He was told he had just five years of reasonable health left, but seven years on, at 57, he's still surfing, writing, and enjoying being a dad. His latest book, Patting The Shark, also documents his cancer journey and will be published in August. Tim will be sharing weekly insights into his journey to help other men who have also been impacted by prostate cancer.
/Public Release. This material from the originating organization/author(s) may be of a point-in-time nature, edited for clarity, style and length. The views and opinions expressed are those of the author(s).View in full
here
.