The new cinema movie Emily depicts the imagined life of one of the world's most famous authors, Emily Brontë, as she finds her voice and writes the literary classic Wuthering Heights.
The story of the Brontë sisters is, perhaps, as well-known as the plots of any of their novels. That three young women from the remote Yorkshire moors became three of the greatest English novelists has long fascinated readers. Their biographies read like Gothic novels in themselves, full of death, illness and isolation (although it should be noted that Haworth, the village in which they lived, was nowhere near as isolated as people imagine!).
Fact meets fiction in director Frances O'Connor's new film about what might have been the inspiration for the young author's famous novel Wuthering Heights: Watch the official trailer supplied by Madmen Films.
So it is not surprising that the Brontë sisters have also become the subjects of novels and biopics. Olivia de Havilland, of Gone with the Wind fame, played Charlotte in the 1946 film Devotion, for instance, and some readers may remember the 2016 BBC One television film To Walk Invisible, directed by Sally Wainwright. Oddly, the literary critic Roland Barthes played Thackeray in one such Brontë biopic, the 1979 film Les Soeurs Brontë. There are also a plethora of novels in which Charlotte, Emily and Anne play central roles; they're even turned into detectives in a mystery series by Bella Ellis!
Emily, the directorial debut of Frances O'Connor, takes up the story of Emily Brontë (Emma Mackey), author of Wuthering Heights, from her youth till her premature death at the age of 30. Emily commences, in fact, with Emily's death, as Charlotte presses her on her deathbed to explain how she came to write Wuthering Heights; notoriously one of the wildest and most passionate Gothic novels of all time.
Imaginary romance
The film then flashes back to some years earlier, as Charlotte and Emily prepare to go to school to train to be teachers. Mackey, whom some may recognise from the series Sex Education, is excellent as a somewhat weird, intensely solitary, passionate, and intelligent Emily. In one scene, Emily dons a mask as part of a game in which she adopts the persona of her dead mother. It is a genuinely unsettling scene, and it is to the movie's credit that it never quite answers the question of whether Emily is simply trying to scare the other participants or is somehow tapping into an unearthly power. O'Connor here seems to be lightly interrogating Emily Brontë's posthumous reputation as the 'mystic of the moors', as Lucasta Miller writes in The Brontë Myth. Is Emily a mystical conduit or simply a woman who wants to be left alone?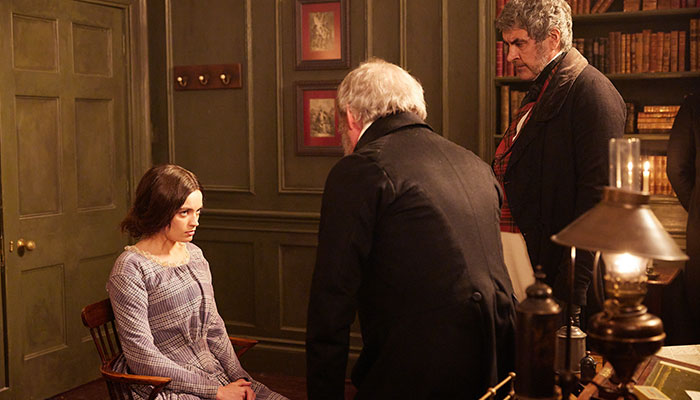 Weird and wonderful: Emma Mackey is excellent as the passionate, strange and solitary Emily, says Russo. Image credit: Madmen Films.
Mackey is especially good at representing Emily's social anxiety, which reappears whenever she is placed into a social situation over which she has no control. Mackey's Emily is far more earthy and vulnerable than most other representations, which sometimes seem to assume that Emily floated far above the concerns of the prosaic and the everyday.
I am no stickler for accuracy and fidelity in my historical dramas; in fact, I am writing on a book on the use of deliberate anachronisms in historical fiction. However, it is still somewhat tiresome that it is so often assumed that women writers, such as Jane Austen or the Brontës, must have had some kind of tragic romance that inspired their novels. Emily falls into this trap, too, inventing a love story between Emily and her father's curate, William Weightman (Oliver Jackson-Cohen). In reality, if anybody in the Brontë family was romantically entangled with Weightman, it was Anne. There is absolutely no evidence that the famously reserved Emily ever had any romantic relationships at all; in fact, it seems she had no real friends at all outside the family circle.
Surprisingly, however, the relationship between Emily and William, fictional as it is, is beautifully rendered. There is a real chemistry between the two, and the film never makes the simplistic assertion that Wuthering Heights was directly inspired by their relationship. Instead, those who know their Wuthering Heights will find parallels drawn between incidents from Cathy and Heathcliff's youth and that of Emily and her brother Branwell's escapades (thankfully, the film does not suggest the romantic elements of Cathy and Heathcliff's relationship have their origin in the relationship between the siblings!).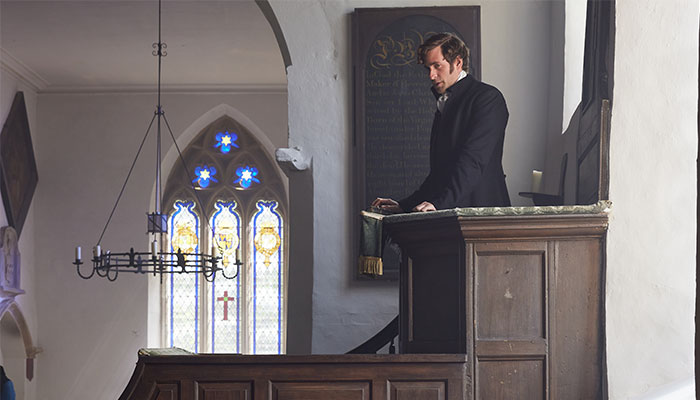 Fictitious: Although there is no evidence for the romance between Emily and William Weightman, played by Oliver Jackson-Cohen, Russo says the relationship in the film is beautifully portrayed. Image credit: Madmen Films
Indeed, one of the things that draws William to Emily is her poetry; she is already a mature and confident writer when they meet. Emily and William's relationship is appropriately tragic, however, and genuinely moving. Emily is inspired by her experience of passionate love, certainly, but her writing is not straightforwardly autobiographical and the film suggests she would have been a great writer regardless.
Scandal and success
The film is far less successful in its representation of Emily's writing career, however. Strangely, Emily is presented as the first Brontë sister to publish a novel. While much is made of Charlotte's youthful writings, it is suggested that she only turns back to writing after Emily's death, having abandoned it in adulthood due to a desire to seem 'grown up'. In reality, it was Charlotte that first pursued publication, convincing Anne and a very reluctant Emily to seek a publisher for their collected poetry. Famously, their poetry was published under the pseudonyms Currer (Charlotte), Acton (Anne) and Ellis (Emily) Bell. And yet, in the film, Emily proudly publishes Wuthering Heights under her own name and even has a party to celebrate her success. Anne's writing career, meanwhile, is completely ignored. It is a shame that Anne, whose novel The Tenant of Wildfell Hall was, in its day, considered just as scandalous as Wuthering Heights, is so often written off completely.
It is also a bit disappointing that Patrick Brontë, Emily's father, is represented as tyrannical and domineering. Patrick is represented as such in Elizabeth Gaskell's influential 1957 biography of Charlotte Brontë, but more recent scholarship has instead stressed the positive influence Patrick had on the development of his daughters' writing careers.
Emily is beautifully made and gorgeous to look at, with stand-out performances by Mackey as Emily and Fionn Whitehead as Branwell. While Bronte scholars might find things to quibble over (as I have!), Emily is well-worth seeing, and a lovely celebration of the mind of the greatest Brontë sister.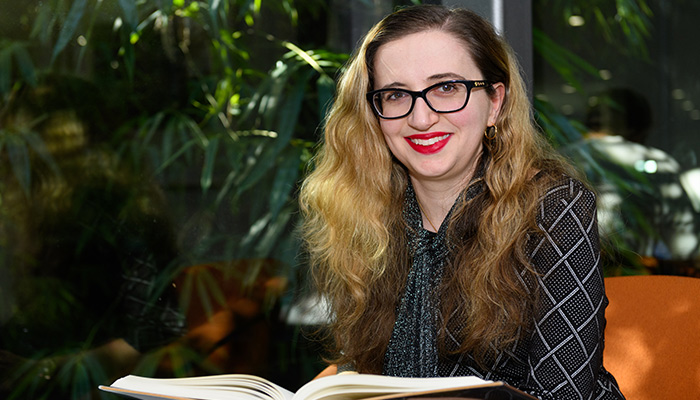 Dr Stephanie Russo, pictured, is an Associate Professor of Literature in the Department of Media, Communications, Creative Arts, Language and Literature (MCCALL).
See Emily in Australian cinemas from January 12.
/Public Release. This material from the originating organization/author(s) may be of a point-in-time nature, edited for clarity, style and length. The views and opinions expressed are those of the author(s).View in full
here
.