MUSC Hollings Cancer Center researcher Aaron Hobbs, Ph.D., was recently awarded a 2022 Pancreatic Cancer Action Network (PanCAN) Career Development Award. This prestigious award supports new independent researchers as they build their research programs. Hobbs will use the two-year $250,000 grant partially to fund his study of the KRAS G12R mutation in pancreatic ductal adenocarcinoma (PDAC).
Hobbs, an assistant professor in the Cell and Molecular Pharmacology and Experimental Therapeutics Department, is passionate about finding better treatments for pancreatic cancer. With a background in biochemistry and structural and cellular biology, he believes that developing personalized and targeted therapies is one of the best approaches to overcoming the lack of effective treatments for PDAC patients. Hobbs was drawn to MUSC in 2020 due to the robust research environment and the pancreatic cancer transdisciplinary cancer team, which promotes effective collaboration between bench scientists and physician-scientists.
Cancer is caused by changes, or mutations, to genes. The KRAS gene, which codes for a protein that essentially acts as an on-off switch that regulates cell growth, is mutated in 20% to 25% of all human cancers. "A mutation in KRAS causes a cell to decide that it's no longer going to be a team player, and the cell divides in an uncontrolled manner," said Hobbs.
PDAC is a unique cancer in terms of the infamous KRAS gene. A near-universal mutation of the KRAS gene characterizes pancreatic cancer. Since 95% of PDAC patients have a KRAS mutation, finding a way to target these KRAS mutations would be a very effective treatment.
However, KRAS was to date been considered an undruggable target. "It is like a greasy ball that cannot be caught," Hobbs said. A recent breakthrough led to the successful targeting of a type of KRAS mutation called KRAS G12C. Last year, the Food and Drug Administration approved the KRAS G12C inhibitor sotorasib for the treatment of adults with advanced non-small cell lung cancer. Although KRAS G12C inhibitors are ineffective for 98% of PDAC patients, that development paved the way for more KRAS mutation-selective therapies.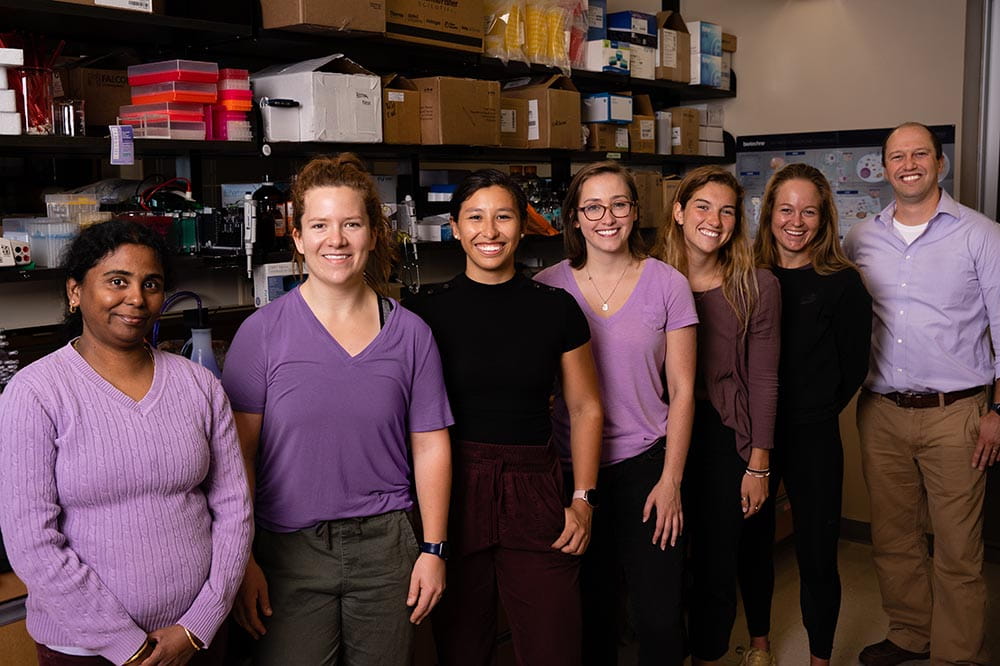 Another type of mutation, KRAS G12R, accounts for approximately 20% of all KRAS mutations in PDAC patients. Patients with this mutation have better outcomes than patients with other KRAS mutations, which shows that something is different in cancer cells with the KRAS G12R mutation.
Pancreatic cancer is a particularly challenging cancer to treat because it is often not detected until the cancer has spread to other organs, he said. "The pancreas is deep in the middle of the body, and pancreatic cancer does not cause any obvious symptoms during the early stage. My goal is to use the funding from the PanCAN Career Development Award to understand the KRAS G12R mutation to develop targeted therapeutics," said Hobbs.
Previously, Hobbs and his colleagues discovered that PDAC cancer cells with the KRAS G12R mutation behave differently and are more sensitive to some drugs than PDAC cancer cells with different KRAS mutations. That finding raised more questions that Hobbs plans to answer in the Career Development Award project.
"This project takes a cell biology question, why are these cells more sensitive, and turns it into something immediately translatable for PDAC patients. Understanding the biological effects of the KRAS G12R mutation may illuminate therapeutic opportunities or show other weaknesses of PDAC cells that may be druggable," said Hobbs.
Additionally, Hobbs is developing a mouse model with the KRAS G12R mutation to study the therapeutics that the researchers identify. The objective is to identify drugs that target the different types of KRAS mutations in PDAC patients. He said that by digging deep enough into how these personalized therapies may work, we can make a big difference in the approach to treating pancreatic cancer patients.
Another benefit of the PanCAN Career Development Award is the access to a driven research community. "This award helps build a community of pancreatic cancer researchers. We get to be a part of a research community working toward the same goal. We may have different areas of expertise within pancreatic cancer, such as immuno-oncology, molecular biology and cancer genomics, but this gives the field more breadth," said Hobbs.
The PanCAN organization tackles pancreatic cancer through research support, patient services, advocacy and community outreach. "Every pancreatic cancer patient that I've known has interacted with the PanCAN organization. Those interactions have helped facilitate things such as getting their tumors sequenced and helped them get involved with clinical trials," said Hobbs.
Hobbs' Career Development Award project aligns with Hollings' vision and its transdisciplinary care team. The goal is to get the potential therapies tested and validated in the models that are currently used and then move to the patient. "It doesn't do a patient any good if we can cure cancer in a mouse. We need to translate the effective results to the patient. We are using Hollings' superior resources to develop the clinical trials necessary to make a difference for cancer patients," said Hobbs.
/Uni Release. This material from the originating organization/author(s) might be of the point-in-time nature, and edited for clarity, style and length. Mirage.News does not take institutional positions or sides, and all views, positions, and conclusions expressed herein are solely those of the author(s).View in full
here
.