The Oxley LTEM Group learning the benefits of pasture assessment as part of the course.
The AWI-supported Lifetime Ewe Management (LTEM) course is currently in its twelfth year with almost 4,000 producers having completed the course. Most are located within traditional sheep/ cereal or high rainfall zones. However, producers within pastoral/ rangeland areas can also benefit from the course's principles.
The pastoral/rangelands areas of Australia are characterised by perennial shrubs and saltbush with little to no improved pasture, issues with distances, labour and implementation of some of the recommendations outlined within LTEM.
Recognising a need for a pastoral/rangelands specific manual, AWI is in the process of developing a program that will work within these regions. A recently completed LTEM group ('Oxley') in south western NSW has shown that many of the LTEM principles can be applied within these regions but has also provided feedback on the need for 'tweaking' of the pasture base/nutritional needs of the current program.
The 'Oxley' LTEM Group consisted of Shane McGufficke and Bill Ryan (Oxley), Tim Brindley (Magenta), Roger Job (Mossgiel) and Simon Booth (Booligal). The group collectively manage an estimated 189,720 hectares, approximately 41,000 breeding ewes with an average stocking rate of one breeding ewe per 4-5 hectares.
The Oxley group members have shown that it is possible to implement many of the LTEM principles and skills learnt during the course within pastoral/rangeland areas, with all now actively condition scoring ewes, scanning for litter size and supplementary or containment feeding stock when necessary.
Simon Booth, for example, is implementing LTEM principles to manage ewes in containment areas to improve conception rates, ewe condition and survival during the current drought.
Simon, his wife Caroline and their four children manage 'Humewood', a 22,000 hectare property 40km west of Booligal. Principally a self-replacing Merino wool operation with culls/cast for age ewes joined to terminal sires, 'Humewood' normally receives about 300mm of rain annually. In 2017 and 2018, only 270mm and 120mm were recorded respectively. This placed considerable pressure on both their pasture base and ewe flock.
Historically they have supplementary fed during dry periods in an effort to maintain ewe condition, retain ground cover and reduce damage to pastures and topsoil. Preferring pulses over cereal grains, he has found there to be less wastage when trail feeding, fewer health issues (such as acidosis) and it easier to introduce sheep to a full grain ration.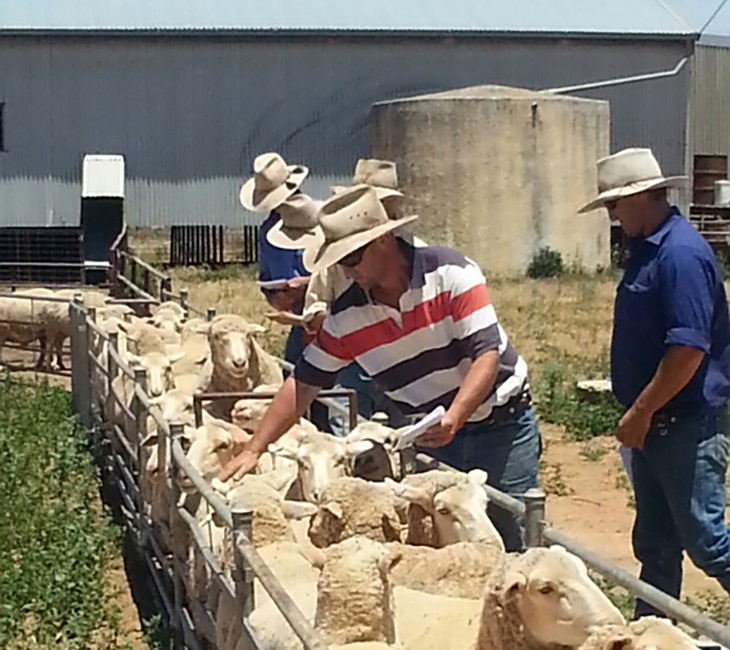 The Oxley LTEM Group learning the benefits of condition scoring.
With deteriorating conditions in 2018, Simon constructed a series of smaller containment paddocks for adult ewes and weaners. Approximately seven hectares each, these areas were able to comfortably hold around 2,000 head. With ad lib straw in each pen, stock were trail fed field peas and beans every third day – Simon finding that this reduced poor doers within the weaners in particular as grain was still available for these shy feeders by the second day post feeding.
Despite the considerable cost when confinement feeding, Simon believes that the positives of using these systems far outweigh the potential constraints and negatives.
"Despite difficulties with estimating feed availability, feed quality and what your animals are actually able to use within these pastoral/rangeland areas, Lifetime Ewe Management reinforced the need to regularly monitor your stock's condition and to meet their feed needs. Containment areas have made this simple and cost effective," Simon said.
In a year where pregnancy scanning results were disastrous for many on the saltbush plains, Simon and Caroline found that joining in containment certainly paid. They achieved between 92-96% conception for ewes fed in containment areas during joining compared to 79% for ewes joined in the paddock despite these ewes having also been trail fed.
Post-scanning, single and twin bearing ewes were separated and fed according to their needs up until the point of lambing. Ewes were then boxed and moved to lambing paddocks, with a stocking density of about 4 hectares per lambing ewe. Canola hay was fed early in lambing. They did not trail feed during lambing to minimise disturbance and potential lamb loss.
"Although LTEM recommends lambing singles and twins separately we find that remixing single and twin bearers works out here provided you preferentially feed your twin bearing ewes post scanning to give her every opportunity to gain condition. Restrictions in terms of available paddocks, watering points and distances from working yards etc, make it difficult to separate and manage ewes in single and twin bearing mobs – we work with what we can control."
Marking results, although down on long-term 'Humewood' averages, were well above most properties in western NSW last year, with many marking less than 50% to ewes joined.
"We marked 85% overall to ewes joined. Lamb survival was certainly helped by incorporating as many LTEM practices as we can within our program – unfortunately we just had a hot, difficult lambing period.
"At this stage we haven't contained ewes for joining this year. Our paddock feed hasn't been too bad, ewes are in good condition and we continue to supplementary feed corn/peas and vetch hay. We will however reassess things over coming weeks – we've only measured 95mm in 2019 and if we don't have a major rain event soon, they will be brought in and containment fed.
"Although we can't implement all LTEM recommendations, I do believe that the program has merit on the basis of animal care and welfare and financial gain." An added benefit, according to the Oxley LTEM Group coordinator Geoff Duddy, was that LTEM helps bring producers together who have like-minded goals and aspirations.
"I find that LTEM is a great vehicle for producers to open up about issues they may be facing whether they be production, animal health or general management related. Producers talk and bounce off one- another – the sessions aren't always work, work, work – the social interaction side is fantastic," Geoff said.
"The Oxley Group was a fantastic group to be involved with. They organised to meet between scheduled LTEM sessions in August last year to discuss their likely options in terms of retaining or selling stock, whether to feed or sell etc. They used each other as a springboard and in doing so all gained support during this really tough drought."
ABOUT LIFETIME EWE MANAGMENT

The LTEM course, supported by AWI, aims to increase producers' understanding of the influence of ewe nutrition and management on overall reproduction rates and lamb and ewe survival.
Producers develop the skills to manage their ewes to achieve condition score targets and explore the economics of supplementary feeding and pasture management to review stocking rates.
LTEM groups meet six times in the annual sheep calendar during a period of 12 months. The course is very hands-on, being based in the sheep yards, shearing sheds and paddocks of participating woolgrowers, which enables participants to share and learn from one another.
A recent evaluation of the program's benefits over the 11-year period from 2008 to 2018, showed that on average LTEM participants nationwide increased whole-farm stocking rate by 9.3% from 8.5 to 9.3 DSE/ha and lamb marking percentages by 7% from 97.3 to 104.3%.
The greatest changes in adoption attributed to LTEM was 'condition scoring ewes' and 'managing ewes to condition score targets' and on average about 90% of producers had adopted these practices after completion of LTEM.
LTEM was developed using research outcomes of the AWI-funded Lifetime Wool project (lifetimewool.com.au), which ran from 2001 to 2008, and involved growers and researchers in WA, Vic, NSW, and SA.
/Public Release. View in full
here
.