The invention of a female persona was integral to Philip Larkin's journey to becoming one of Britain's best-loved poets, according to a new study by Dr James Underwood from the University of Huddersfield.
Larkin wrote stories, an essay and poems under the pseudonym of 'Brunette Coleman' in 1943, but their existence was only revealed in 1992, seven years after his death. The Coleman works, including stories set at a girls' school and an Oxford women's college, were finally published in 2002.
In his new book Early Larkin, James Dr Underwood argues that Larkin's writing as Coleman helps explain the marked difference between the poet's early work and the acclaimed output of his mature years. It is the first critical study to focus solely on Larkin's early writings.
"I wanted to provide a comprehensive study of his early writings, and not just the poetry, because his ambition as a young man was to be a famous novelist," says Dr Underwood, Senior Lecturer and Deputy Director of the University's Ted Hughes Network. "I looked at his poems, the novels, short stories, any interesting non-fiction and some of his letters.
"I also wanted to put forward a new argument about how Larkin then went on to become the mature poet that is so well known today. There is such a marked difference between his early work and his mature work, and Larkin scholars have sought to explain why that is.
Coleman persona a bridge between early and mature Larkin
"The main theory is that when Larkin was a young writer, he was heavily influenced by W. B. Yeats, which can be clearly seen in his poetry of the 1940s. Then he started reading the poetry of Thomas Hardy, which showed him a new way of approaching poetry.
"But I have never been satisfied with that theory, so in my book I argue that the experiment with Brunette Coleman is the thing that sets him on course to a new way of writing poetry."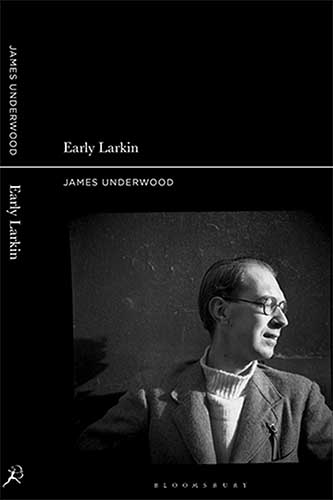 Larkin's Coleman era dates from his final year at St. John's College, Oxford, in 1943 (his first poetry collection, The North Ship, was published two years later). Since his death in 1985, Larkin's reputation has come into question due to the nature of letters published posthumously, but the popularity of his work remains.
Larkin 'a radical and subversive writer'
"My view of the Coleman works could be controversial, since most Larkin critics have dismissed them as immature scribblings," adds Dr Underwood. "I have looked at them completely afresh, reading them on their own terms. In some of the Coleman poems from 1943, you can already detect the voice that would become known as 'Larkinesque', the Larkin that people love and recognise.
"You sense a radical, subversive and strange writer. That is at odds with his image as a conservative old codger – which he played up to. People turned on him after his death as a reactionary bigot, but in fact in his poetry he retained the subversiveness of his early writings.
"Most importantly he retained his empathy – I think he is one of the most empathetic poets of the twentieth century. He is so good at imagining and exploring other people's lives with great depth and sensitivity, something that was neglected in the uproar after his death."
Early Larkin is among the most perceptive, eloquent and ground-breaking books of poetry criticism I have ever read.

Heather Clark, Professor of Contemporary Poetry, University of Huddersfield
The Brunette Coleman persona – a lesbian author of stories for schoolgirls – was completely at odds with Larkin himself as he emerged from university, more than a decade before winning acclaim for his poetry following the publication of The Less Deceived in 1955.
"I am not saying these are some of the greatest pieces of writing of the last century, but they are fresh, spirited, interesting and original," adds Dr Underwood.
"A lot of his poetry at that time was not, so when he steps away from playing the part of the Yeatsian poet and instead writes as someone completely different from himself, that is when he writes some of his most interesting work of the 1940s. He was then the Philip Larkin that was interested in other people and other lives. That is one of the qualities which makes him such a great poet, and I think it all goes back to Brunette Coleman."
Early Larkin is published by Bloomsbury.
/Uni Public Release. This material comes from the originating organization/author(s)and may be of a point-in-time nature, edited for clarity, style and length. The views and opinions expressed are those of the author(s).View in full
here
.