With a research conference to plan in the midst of a pandemic, MUSC Hollings Cancer Center researcher Denis Guttridge, Ph.D., wrestled with the same things other colleagues across the nation are as well – how to do business as usual and enable scientists to network despite it all.
Hosting his 2020 Cancer Cachexia Conference last week, Guttridge said he and his co-organizers were apprehensive at first, but in the end they found that the virtual conference opened up new opportunities, and he sees this format changing the landscape of cancer research conferences in the future. "One thing I could have never predicted was how much more focused we became because of the virtual platform, such as in our panel discussion on how to better design clinical trials in cancer cachexia. Having our moderators and panelists all up on the screen made for a more engaging discussion, and with one of the moderators reading the questions coming in from the attendees, things really rolled along quite smoothly. I wouldn't be surprised if that was our most popular session."
Guttridge said he didn't want to cancel the event given the importance of having these researchers come together, particularly given how the National Cancer Institute provided significant funding through a grant, and there was some expectation that the educational component of this conference could proceed.
"NCI leadership was especially interested in how we were going to use the funding this year, due to COVID-19. I think they were extremely pleased that we decided to switch to a virtual platform because several people from the NCI and the National Institutes of Health actually attended. The NCI also released their provocative questions, or PQ, grants this year and of the nine, the number six question was titled 'How can cancer cachexia be reversed.' Impressively, cancer cachexia has been a PQ ever since the program was established by the former director of the NCI, Dr. Harold Varmus, in 2011."
Cachexia is a wasting syndrome in which sufferers lose weight and experience a dramatic decline in their overall health. "Pancreatic cancer is currently untreatable yet also has one of the highest incidences of cachexia; 70% of patients diagnosed with pancreatic cancer lose significant weight, which makes it harder to treat them with standard of care surgery and chemotherapy," Guttridge explained.
"Thus the importance of our research is that by knowing what causes cachexia, and hopefully how to prevent it, we'll be able to provide surgeons and oncologists agents that should make their patients more tolerant to their cancer treatments, which we also hope will increase their survival."
This has been an area of interest for Guttridge, who began researching this as a postdoctoral fellow at the University of North Carolina, Chapel Hill. "That's when we published our first finding connecting the disease syndrome with the NF-kB signaling pathway and its ability to regulate muscle wasting, which is what predominantly underlies the extreme loss of body weight in patients with certain cancers," he said. "I set up my lab back in 2001 with the primary goal of discovering more about how NF-kB regulated muscle wasting in cancer patients and how such information could be translated to patients."
Guttridge serves as associate director of translational sciences for Hollings and also as the president of the Cancer Cachexia Society, a nonprofit organization that launched earlier this year. He said he didn't want the pandemic to stall progress and excitement about findings relating to cachexia. He also wants to leverage the interest that the NCI has in the topic.
"Despite the pandemic, these are exciting times in the field of cancer cachexia. There are more pharmaceutical companies entering the space and initiating clinical trials, and many of these companies were present at our conference seeking insight on clinical trial endpoints."
The NCI also recognizes the growth of the area, evidenced by their partnership in a new initiative through the Foundation of NIH (FNIH) to discover a biomarker for cachexia.
"In addition, having Hollings associated with leading the 2020 Cancer Cachexia Conference with R13 NCI support says a lot about how our MUSC cancer center is positioning itself in this research space within our Pancreatic Cancer Translational Cancer team. The hope in the future is not only to find new treatments for pancreatic cancer, but cachexia as well, and to provide the best care practices for our patients in South Carolina and beyond."
Lessons learned
Here, Guttridge shares lessons he learned about hosting a virtual conference in hopes of helping other researchers who want to maintain momentum in their respective areas.
1. Expect it to be a lot of work and get the technology nailed down.
It's not as simple as organizing a Zoom conference among your lab or colleagues. You have to create an exciting program that won't cause total Zoom fatigue and that can be viewed in a time zone suitable to a maximum number of people globally. Questions to consider include:
What web format is needed to accept registrations?
How will abstracts and posters be handled?
If posters are to be pre-recorded, what are the file sizes and how will the web portal be able to handle it?
2. Hire help.
We had to hire a conference planner for our regular in-person conference who then had to find us a company that would adapt to our online needs, including a company to assist us with AV needs. We also had to negotiate with all of our sponsors to see if they were still willing to provide us with the funding even though our costs were going to be much less owing to not having expenses related to a hotel, travel or lodging for our speakers involved.
3. Expect technological challenges and plan ahead.
We spent the last two weeks leading up to the conference in orientation sessions making sure all of our speakers and session chairs sounded clear through their computers, had appropriate lighting and backgrounds in the rooms they were presenting from, could effectively share their screens, had the right size cursors for their mice and knew how to read questions that were going to be asked by our attendees. It was just all so new for everyone that there were tons of details you never had to think about – not to mention having a backup system in case our primary one crashed. Luckily that didn't happen.
4. Leverage learning opportunities.
A virtual format is perfect to be able to go live with program materials to get important scientific discussions happening even before the event starts. In this case, conference planners went live with the program materials three days before the beginning of the conference. That means that everyone who signed up could log onto our web portal and start looking at all of the abstracts and posters. This year, 77 abstracts/posters were submitted, so that's a lot of good research material to get you excited prior to the actual start of the conference.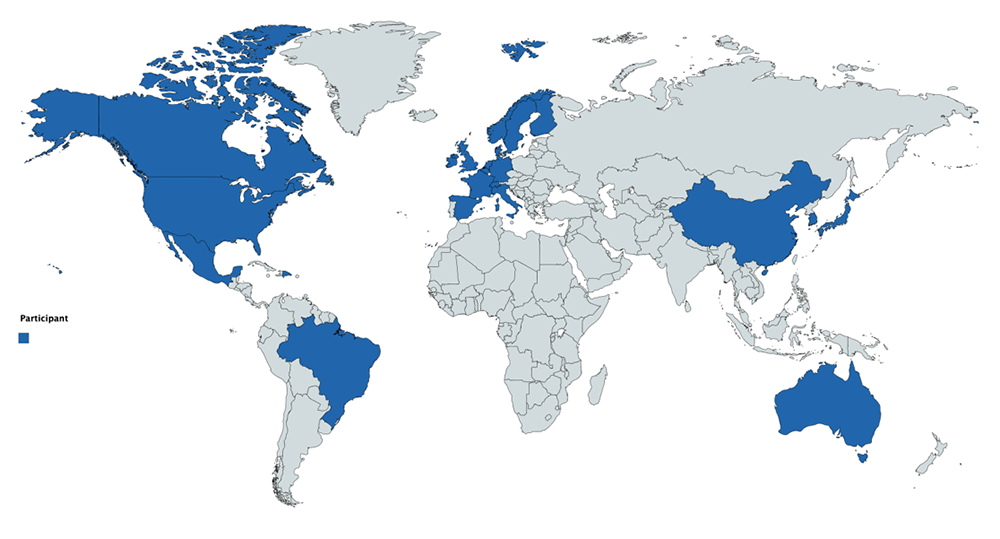 5. Going virtual means extending your reach.
Going virtual was beneficial in two ways. First, it enabled more people to register for a lower cost and helped grow the event from 150 attendees to 300 this year, a record-breaking number. It also extended the reach of the conference. We recorded all the presentations so even if someone from Australia wasn't up at 2 a.m. to catch a talk, they'll be able to hear it at a later time because we plan to keep all the recordings on our web portal for 60 days after the conference is over.
What's the future?
While I consider myself old school, I have to admit that I'm also a new fan of virtual conferences, but emphasize that in-person meetings are still invaluable. It's going to be difficult to replace the networking that happens at a live conference during coffee breaks and meals and at the bar late at night, but we made sure to add everyone's Twitter handle in the program. We also encouraged everyone to use the chat feature in Zoom, and we added a social hour at the end of the first day in our program to encourage anyone who wanted to stay on Zoom to unmute and freely engage in open discussions on the talks they heard that day, which was a huge hit. We also provided all registrants contact information so conversations can continue after the conference.
A blending of virtual and live conferences in the future captures the best of both worlds, and perhaps we will alternate our conferences between the two formats. A third of our poster presenters also recorded their posters, which is something we can offer in the future in case one is not able to make it to the in-person poster session or wasn't able to find the poster presenter. I believe the virtual format is also going to be helpful for those attendees who just can't make it to the in-person conference either because it conflicts with their schedules or due to expense. We'll see what 2021 holds, but there are absolutely no regrets about what we were able to pull off virtually this year for all of our colleagues worldwide.
/Uni Release. This material comes from the originating organization and may be of a point-in-time nature, edited for clarity, style and length. View in full
here
.