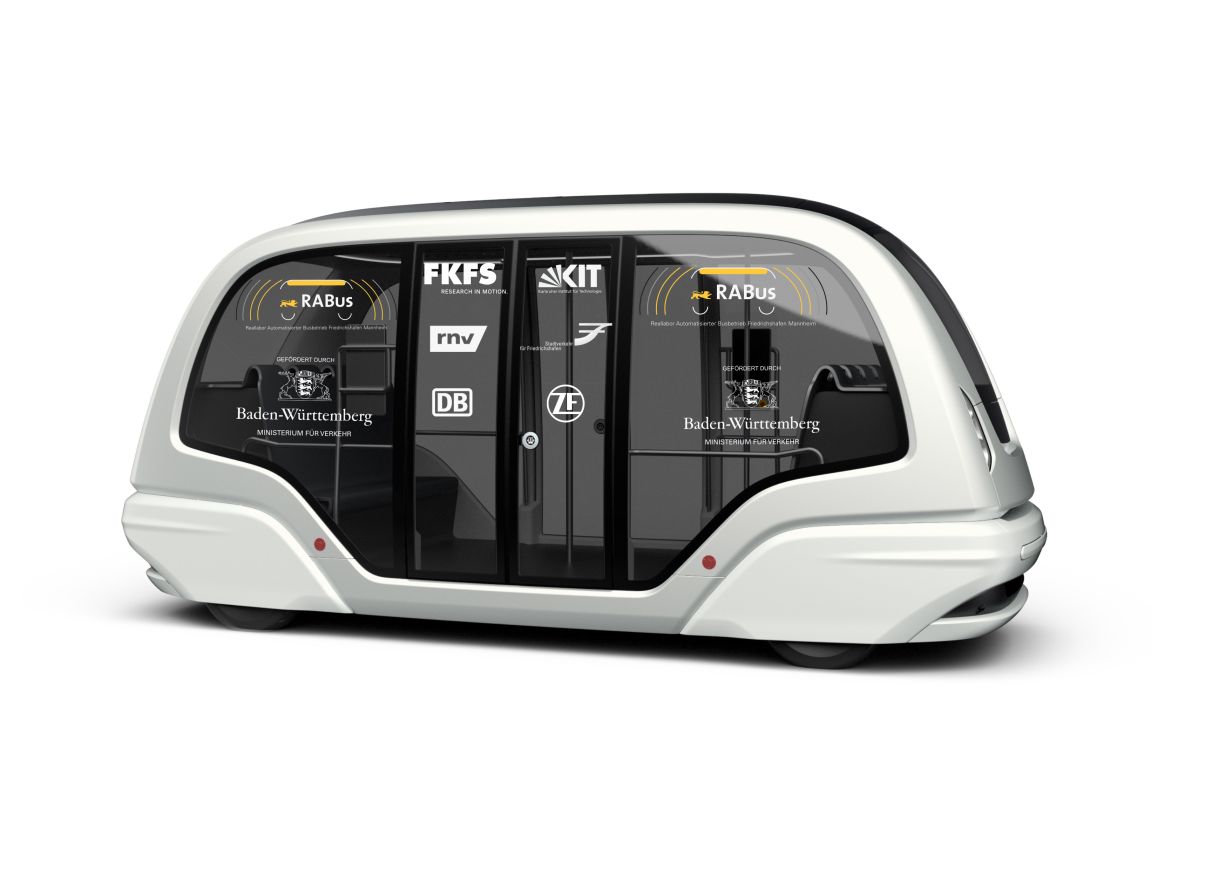 Einen ÖPNV-Betrieb mit elektrifizierten und automatisierten Fahrzeugen zu testen, ist Ziel des neuen Verbundprojekts RABus: In Mannheim und Friedrichshafen sollen selbstfahrende Busse am regulären Straßenverkehr teilnehmen. Forscherinnen und Forscher des Karlsruher Instituts für Technologie (KIT) übernehmen in diesem Reallabor die Begleitforschung zu Nachfrage, Akzeptanz und Wirkungen. Darauf aufbauend soll ein Modell für einen effizienten ÖPNV mit autonomen Bussen in Baden-Württemberg entstehen. Das Verkehrsministerium des Landes fördert RABus mit sieben Millionen Euro. Verkehrsminister Winfried Hermann übergab den Förderbescheid heute (18.11.2020) in Stuttgart.
Das "Reallabor für den Automatisierten Busbetrieb im ÖPNV in der Stadt und auf dem Land", kurz RABus, ist eine der umgesetzten Maßnahmen der strategischen Landesziele zur automatisierten und vernetzten Mobilität in Baden-Württemberg. Im Rahmen einer feierlichen virtuellen Veranstaltung übergab Baden-Württembergs amtierender Verkehrsminister Winfried Hermann heute den Förderbescheid in Höhe von sieben Millionen Euro an das RABus-Konsortium. Dazu zählen das Forschungsinstitut für Kraftfahrwesen und Fahrzeugmotoren Stuttgart (FKFS), das Karlsruher Institut für Technologie (KIT), die Rhein-Neckar-Verkehr GmbH, die Stadtverkehr Friedrichshafen GmbH mit der DB ZugBus Regionalverkehr Alb-Bodensee GmbH sowie die ZF Friedrichshafen AG.
Die Entwicklung, Umsetzung und Erprobung eines wirtschaftlichen und zuverlässigen Fahrbetriebs mit automatisierten Fahrzeugen sind von großer Relevanz für die Zukunft des öffentlichen Personennahverkehrs. Derzeit sind automatisierte Fahrzeuge im straßengebundenen ÖPNV meist nur mit niedriger Geschwindigkeit unterwegs. Dies führt zu längeren Fahrzeiten und damit zu einer geringeren Akzeptanz und weniger Nutzung. Das zu ändern, ist Ziel des Forschungsprojektes RABus: Mannheim und Friedrichshafen fungieren hierbei – unterstützt von den jeweiligen Verkehrsverbänden – als Reallabore. In beiden Städten soll bis zum Ende des Jahres 2023 ein weitgehend wirtschaftlicher ÖPNV-Betrieb mit elektrifizierten und automatisierten Fahrzeugen etabliert werden. Im Reallabor Mannheim liegt der Schwerpunkt auf dem automatisierten Betrieb im Mischverkehr in einem neuen Stadtquartier; im Reallabor Friedrichshafen dagegen steht der automatisierte Überlandbetrieb im Mittelpunkt der Aktivitäten.
Um im jeweiligen Umfeld ein angepasstes und gleichzeitig sicheres Fahrverhalten zu erreichen, sollen die Fahrzeuge mit akzeptablen Geschwindigkeiten im regulären Verkehr "mitschwimmen" können – innerorts wie außerorts. Zum Einsatz kommen hierfür Shuttles von 2getthere, einer Tochter der ZF Friedrichshafen AG. Sie bieten Raum für bis zu 22 Personen und können mit ihren kompakten Maßen von 6 x 2,1 x 2,8 Metern bedarfsorientiert und fahrplanunabhängig in den städtischen Verkehrsfluss integriert werden.
Verkehrsmodell mit autonomen Bussen für Baden-Württemberg
Über eine Begleitforschung zu Akzeptanz, Wirtschaftlichkeit und technischen Lösungsansätzen ist auch die Wissenschaft intensiv in das Projekt eingebunden: "Bei RABus handelt es sich um ein Reallabor, bei dem wir durch den Einsatz mehrerer Fahrzeuge unter realen Bedingungen aussagekräftige Daten gewinnen. Dies geht weit über einen reinen Demonstrationsbetrieb hinaus", erklärt Dr. Martin Kagerbauer vom Institut für Verkehrswesen (IFV) des KIT. Das IFV hat im Projekt RABus die Begleitforschung zu Nachfrage, Akzeptanz und Wirkungen auf den Straßenverkehr übernommen. Dazu werten die Forschenden die im Realbetrieb anfallenden Daten aus. Außerdem befragen Kagerbauer und sein Team Fahrgäste vor, während und nach der Nutzung. Die Rückmeldungen sollen in die Gestaltung künftiger ÖPNV-Systeme einfließen. Zudem erstellt das Karlsruher Forschungsteam Verkehrsnachfragemodelle für Friedrichshafen und Mannheim, in die automatisierte Busse integriert sind und die es erlauben, einen effizienten Einsatz solcher Busse zu simulieren. Darauf aufbauend lassen sich künftige ÖPNV-Systeme mit autonomen Bussen konzipieren. Die Forschungsgruppe wird darüber hinaus ein Verkehrsmodell erarbeiten, das anhand der Ergebnisse der Realbetriebe Aussagen über weitere potenzielle und sinnvolle Einsatzgebiete im Land Baden-Württemberg liefert.
Details zum KIT-Zentrum Mobilitätssysteme: https://www.mobilitaetssysteme.kit.edu
Being "The Research University in the Helmholtz Association", KIT creates and imparts knowledge for the society and the environment. It is the objective to make significant contributions to the global challenges in the fields of energy, mobility, and information. For this, about 9,300 employees cooperate in a broad range of disciplines in natural sciences, engineering sciences, economics, and the humanities and social sciences. KIT prepares its 24,400 students for responsible tasks in society, industry, and science by offering research-based study programs. Innovation efforts at KIT build a bridge between important scientific findings and their application for the benefit of society, economic prosperity, and the preservation of our natural basis of life. KIT is one of the German universities of excellence.
/Public Release. This material comes from the originating organization/author(s)and may be of a point-in-time nature, edited for clarity, style and length. The views and opinions expressed are those of the author(s).View in full
here
.