Communities along the Dandenong Creek are co-designing a cultural framework to support Indigenous artists in public art.
Dr Vicki Couzens, a strong Gunditjmara woman, Indigenous artist and RMIT Research Fellow (Discovery Early Career Researcher Award (DECRA)) and Dr Marnie Badham, socially engaged artist and RMIT Senior Lecturer, are working with artists, Traditional Custodians and local governments to develop community-based and decolonised approaches to the public art commissioning.
Couzens and Badham were initially invited by the Greater City of Dandenong Council, who are the lead partner to the project, to provide an evaluation of the Dandenong Creek Art Trail project. The duo has been collaborating for 5 years on a series of community-based projects exploring to art and cultural practices in the context of Indigenous-settler relations.
Through initial conversations with Phoenix Wolfe, Conservation Programs Coordinator, City of Greater Dandenong who was co-ordinating the project from Council, Couzens and Badham realised that there was great opportunity to add value and build on the Council's open-minded approach to 'do things differently' and by engaging in a partnership model with real world impactful outcomes in a culturally appropriate and safe way. The scope of the project quickly evolved from a quick arts evaluation consultancy into a meaningful and collaborative co-designed research-engagement project between artists, Council, RMIT researchers and the Traditional Custodian groups.
To help build a shared understanding and strengthen capabilities in public art, the pair decided to basically run a six-month online art intensive during the lockdowns of 2021 with the seven Indigenous artists, council workers and Elders from Wurundjeri and Bunurong countries.
"While there is a generalised kind of learning when it comes to commissioning Indigenous artists, there are also specific protocols and engagement across the different Aboriginal communities, groups and places," Couzens said.
"We centred relational knowledges and co-developed the cultural framework through the exchange and expression of each of our own practices, interests and experiences. Each of the stakeholders brought their own knowledge to the virtual table." Badham said.
"There was no hierarchy and our role was less as external researchers and more like collaborators, facilitators and mentors."
"The research project is embedded in yarning and Aboriginal methodological approaches in terms of Indigenous Standpoint – Ways of Knowing, Being and Doing," Couzens said
"These approaches intertwine and overlap as the project priorities, like the 'tails' in a basket weaving. They are woven together to create a process that is Indigenous-led and founded in Indigenous place and time frameworks, allowing the focus to be engagement with people and place."
The methods also allow the Traditional Custodians to advocate for their community's role in the process.
"We've developed and built strong relationships with Traditional Custodians over a long period of time, and councils need to learn how to better engage with Indigenous communities and follow respectful partnership protocols that values First Peoples and our Knowledges," Couzens said.
The outcomes of the project so far include a series of videos on site at the Creek where the artists speak to their work and Country alongside the cultural exchanges and learning so far. Robert Young, a proud Gunnai, Waradjuri, Yorta Yorta, and Gunditjmara man, came onto the project as one of the seven artists to make work to be featured on the Art Trail.
Robert also became a co-researcher on the project and assisted in documenting the process as well as interviewing the other artists involved. Couzens and Badham were keen to support his leadership and growth into the field of public art.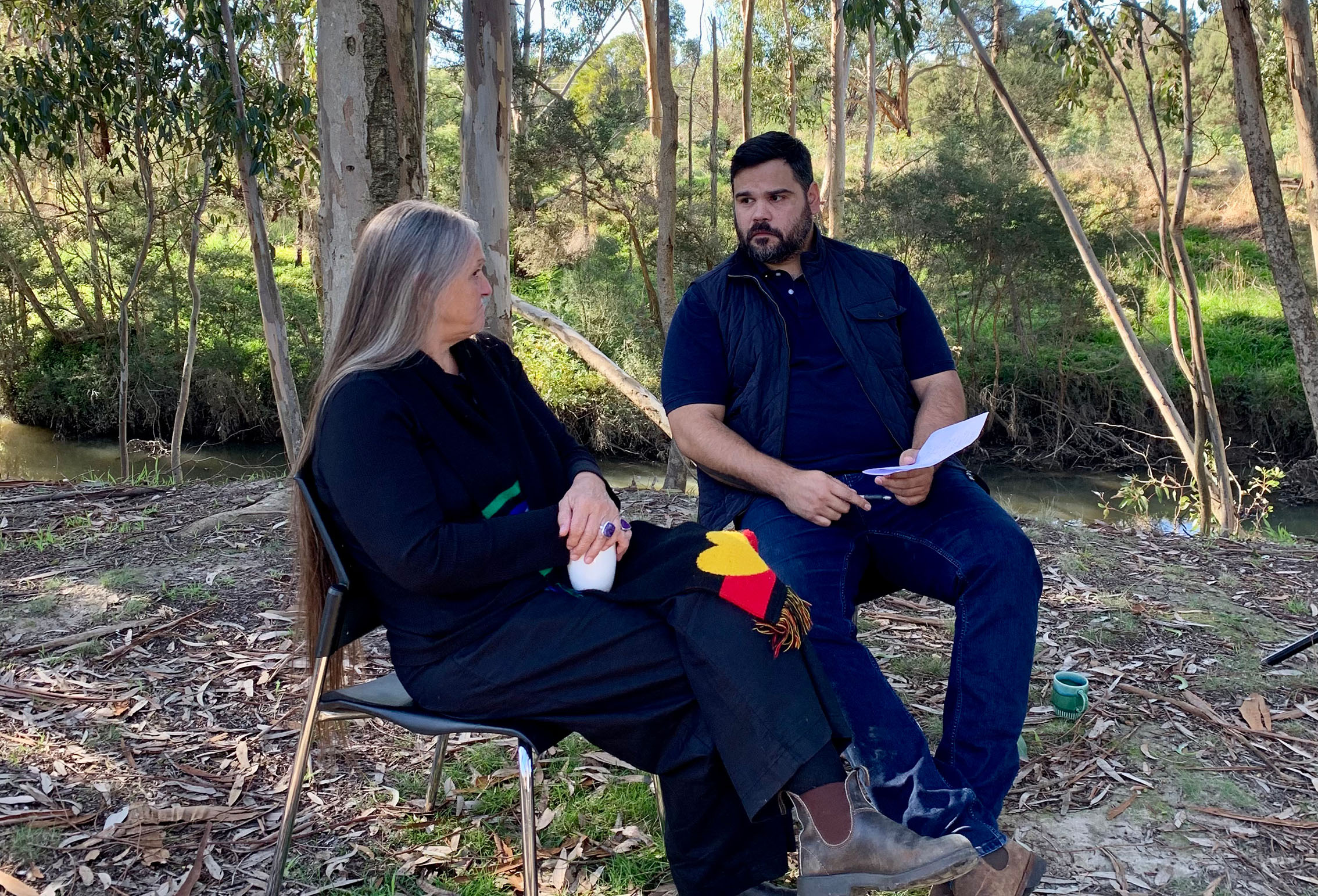 Dr Vicki Couzens and Robert Young yarning about working on Country in the documentary next to Dandenong Creek.
"One of the strategies we will be presenting to the Councils is allowing artists to present their work in ways they're comfortable and familiar with, such as storytelling or video presentations." Couzens said.
"This will impact the commissioning process in a way that is more culturally relevant for artists in general."
Other recommendations from the project consider fair and timely payment, intellectual property and Traditional Cultural Knowledge ethical engagement with Traditional Custodians, alongside better procurement strategies for public art commissioners.
With NAIDOC Week this week giving us time to celebrate and recognise the history, culture and achievements of Aboriginal and Torres Strait Islander peoples, Couzens and Badham's project works to embed Indigenous approaches into the public art commissioning process.
"I think it's important in NAIDOC Week to see the repositioning and recentring of Indigenous voice and agency in our social structures and the way we engage in some of these projects that are coming out," she said.
"We are in a time of moving forward, with Victoria's Treaty Authority Bill and the Labor Government's acknowledgement of the Uluru from the Heart Statement, we are seeing things changing rapidly."
The project has supported Indigenous artists support as they emerge in the public art space, through engaging with Traditional Custodians and giving Indigenous people the space to tell their stories.
"Public art is a way for artists to reconnect to Country, but also a way to communicate that connection to non-Indigenous viewers," Badham said.
"Sometimes the best learnings come from experience, and so to see an artist's interpretation of a story, on the land where the story takes place, can have a great effect on you."
The importance of public art in Indigenous celebration and recognition cannot be understated.
"Public Indigenous art and expression isn't going anywhere, in fact it's going to become more and more normalised, and people are going to become more aware that this is Aboriginal land," Couzens said.
"In a way, public art is a site of resistance, of asserting presence, and people are becoming more willing and open to hearing and understanding our stories."
'Listening to Country, Listening to Community: towards a co-created framework of people and place-based value and values for the Dandenong Creek Art Trail' is a project co-led by Dr Vicki Couzens and Dr Marnie Badham, supported by Contemporary Art and Social Transformation (CAST) research group at the School of Art, RMIT University.
The project outcomes, including Robert Young's documentary film about the project, are coming soon.
Information about the Dandenong Creek Art Trail can be found here.
/RMIT University News Release. This material from the originating organization/author(s) may be of a point-in-time nature, edited for clarity, style and length. The views and opinions expressed are those of the author(s).View in full
here
.