When MUSC Hollings Cancer Center researcher Marvella Ford, Ph.D., and colleague Nestor F. Esnaola, M.D., a senior leader at Houston Methodist Hospital, began a study funded by the National Institutes of Health (NIH) that aimed to increase surgery rates among Black Americans with early-stage lung cancer, they were shocked to uncover how difficult it was to find 200 patients who were eligible to enroll.
Despite expanding recruitment locations from just five cancer center sites in South Carolina and Georgia to community-based cancer centers across the U.S., most Black patients who were diagnosed with lung cancer at the study sites had already progressed to stage 3 or 4 disease.
For Ford and Esnaola, the finding was a stark reminder of the disparities that exist when it comes to lung cancer screening and treatment.
"It took us over six years and 22 sites across the country from Delaware to Nevada to reach our accrual goal, and that made us take a long, hard look," said Ford, associate director of Population Sciences and Cancer Disparities at Hollings.
"We had a number of study participants who were enrolled simply because of incidental findings. They broke their leg and went to the hospital, or they thought they had the flu and had a chest X-ray, which ended up finding lung cancer. These findings highlight the need for a national lung cancer screening program so we can reach the medically underserved and communities of color that are most at risk of developing lung cancer."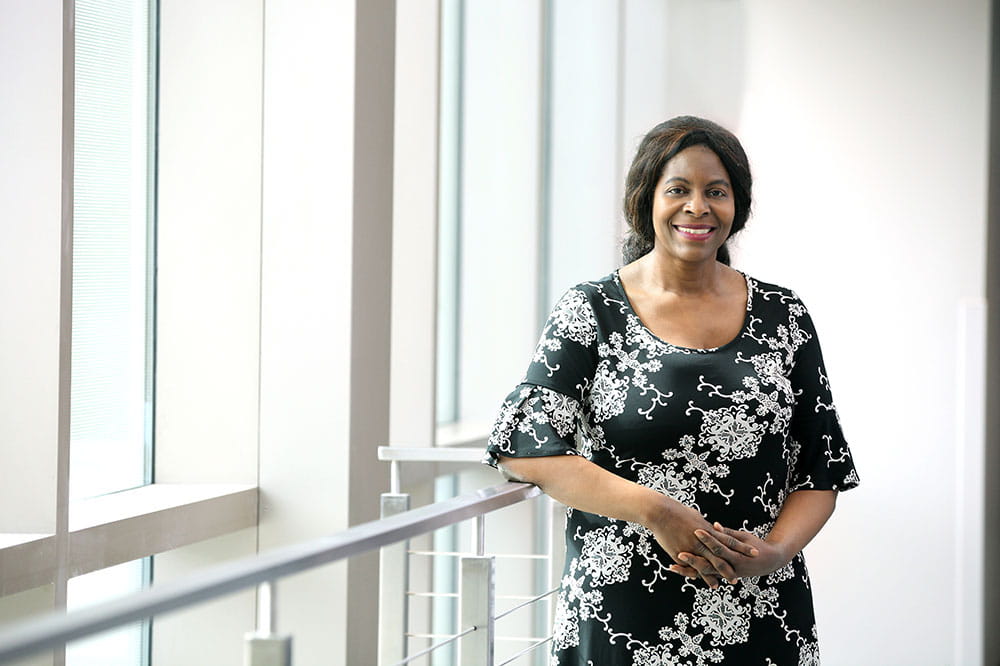 Lung cancer incidence and mortality rates in the U.S. vary by race, ethnicity, socioeconomic status and sex. Causing more deaths each year than breast, prostate and colon cancers combined, lung cancer has a particularly low five-year survival rate, partially because about 75% of patients are diagnosed with late-stage disease, when the possibility of a cure is less likely.
Evidence has shown that lung cancer screening in individuals at high risk due to their age and smoking history can result in as much as a 24% decrease in mortality. Current screening guidelines, however, don't consider racial, ethnic, socioeconomic or sex-based differences in smoking behaviors and lung cancer risk, leaving those who are most vulnerable without equitable access to screening, said Ford.
To bring awareness to these disparities, Ford and Hollings thoracic oncologist Nichole Tanner, M.D., recently contributed to a set of statements released by the American Thoracic Society to identify gaps in care and to offer strategies for ensuring equity in lung cancer screening, improving tobacco treatment and breaking down health system, provider and patient barriers to screening.
The statements were created by a multidisciplinary panel with expertise in lung cancer screening, implementation science, primary care, pulmonology, health behavior, smoking cessation, epidemiology and disparities research.
Currently, the lung cancer screening guidelines set forth by the U.S. Preventive Services Task Force in 2013 recommend annual screening in adults over 55 who have a 30 pack-year smoking history (an average of one pack of cigarettes smoked per day for 30 years or two packs smoked per day for 15 years) and who currently smoke or have quit within the past 15 years.
According to Ford and Tanner, the problem with this is that tobacco pack-year history is difficult to calculate and often changes based on a patient's memory and current smoking practices. Studies have shown that self-reported smoking history information recorded in patients' electronic medical records is wrong roughly 90% of the time, and some patients aren't even asked about their tobacco use.
"In many communities and health care systems, patients are not even being identified as smokers, they're not getting referred for smoking cessation services, and they're not getting screened. That's a major issue across the country," said Ford.
"There are several multi-level barriers to lung cancer screening, including the cost of the screening or copay, reaching people in medically underserved areas who may not engage with the health system and a lack of plain language in educational materials about the dangers of smoking."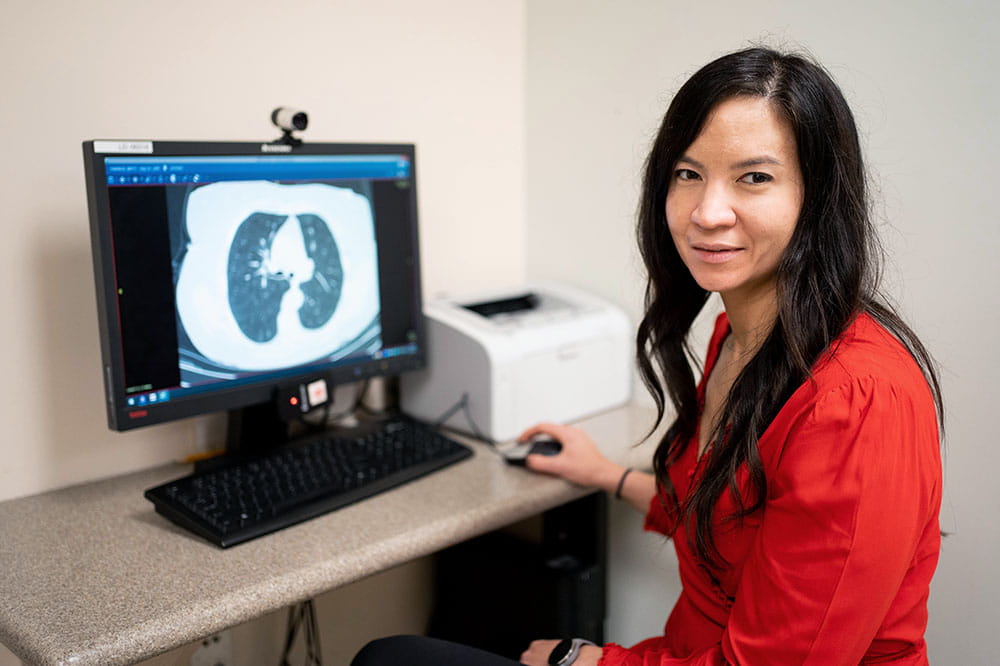 Other barriers to screening include transportation to centers that offer lung cancer screening, which may be distant from a person's community; insurance coverage that varies by state; and screenings that are only available during normal business hours, limiting the ability of those who work full-time jobs to schedule an appointment.
According to Tanner, mistrust of the health care system and stigma surrounding smoking also prevent those who are at risk from accessing screenings.
"This is the first time physicians are asking patients to come in for a screening not because of age alone, but because of a poor health habit," said Tanner. "People who smoke are less likely to have a primary care provider, they're less likely to be insured, and they're often of a lower socioeconomic status, which are all things that keep people from seeing any providers at all. Reducing stigma is huge because smokers often have a lot of guilt and may feel like their cancer was self-imposed."
Strategies offered in the recently released American Thoracic Society statements for reducing these barriers at a health systems level include:
Implementing patient navigators to increase uptake among vulnerable populations.
Providing evidence-based tobacco treatment and counseling that accounts for differences in cultural beliefs and health literacy.
Researching the feasibility of using mobile health units or telehealth to reach people who face geographic barriers.
At Hollings, Ford and Esnaola are analyzing data from their study that examined whether assigning a patient navigator to Black Americans with lung cancer could help address the transportation, social and financial barriers that may prevent some of these patients from receiving much-needed surgical treatment. Ford also leads a range of community outreach efforts aimed at understanding and reducing the cancer burden among the state's most vulnerable populations.
"When you look at the fact that Black Americans are nearly 50% less likely to receive surgery for early-stage lung cancer than white Americans, it means that a lot of people are dying unnecessarily and that there's a lot of room for intervention. That's what's exciting to me."

– Dr. Marvella Ford
Additionally, Hollings offers a comprehensive Lung Cancer Screening Program that merges screening services with a robust tobacco treatment program, offering providers an opportunity to have a conversation with high-risk patients about the dangers of smoking and to link them with specialized counselors.
Ford and Tanner hope the statements will bring attention to the need for more federal funding for lung cancer screening and treatment for the medically underserved and other at-risk populations. This includes people living in rural areas, where smoking and lung cancer prevalence is high.
While lung cancer screenings can be lifesaving, a national effort is needed to ensure all high-risk groups can benefit from them equally. Tanner said she hopes the statements will be a catalyst for change that will improve access to quality care.
"The end goal for me is to reach these patients and catch their cancer at an earlier stage when we can cure them so that they don't have to die of this. I want lung cancer to be something that people no longer have to die of," said Tanner.
Ford agreed. "When you look at the fact that Black Americans are nearly 50% less likely to receive surgery for early-stage lung cancer than white Americans, it means that a lot of people are dying unnecessarily and that there's a lot of room for intervention. That's what's exciting to me. Making lung cancer screening and treatment accessible to broader populations means that we can help people to lead longer, healthier lives, but we need increased funding to do this."
/Uni Release. This material from the originating organization/author(s) may be of a point-in-time nature, edited for clarity, style and length. The views and opinions expressed are those of the author(s).View in full
here
.