DASA funding has helped QUICKBLOCK develop a lightweight, portable structure assembly system, comprised of flat-pack building blocks that can withstand ballistics and blast fragmentation

Funded through the DASA Themed Competitions, Take Cover: Phase 2 & 3

Post-contract support from DASA's Access to Mentoring and Finance (A2MF) Team is preparing QUICKBLOCK for future investment and market readiness
Protective structures, such as vehicle checkpoints, sangars, barriers and in-field defensive structures, are essential to enhance Force Protection and to keep operational troops safe from harm in the field. In high-risk environments, it is especially important that these structures can be built efficiently and at speed, minimising the time where troops are at risk.
However, current defensive structure solutions often require plant and machinery, significant manpower and many days to build, presenting a large logistical burden.
Operational troops need the capability to build structures with materials that are lightweight, strong and can be rapidly deployed, especially in high pressure, time sensitive scenarios.
Introducing QUICKBLOCK
Scotland-based small and medium-sized enterprise (SME), QUICKBLOCK has developed a flat-packed, lightweight, modular building system which offers an alternative to traditional building materials. Originally developed for disaster relief and humanitarian aid structures, the company have been developing a suite of products for the defence and security markets.
The company has developed two QUICKBLOCK products, one which is made of recycled plastic which can then be in-filled with material, such as earth, to provide additional protection, and also an armoured solution.
The armoured solution is made from ultra-high-molecular-weight polyethylene (UHMWPE) panels, forming lightweight blocks that can be interlocked together to create any building or structure.
The product will be incredibly useful for troops whilst operational in the field." – Regimental Sergeant Major, Royal Marines.
I see implementation of QUICKBLOCK as a potential force multiplier to MACA tasks, Force Support Engineering Regiments and basic Combat Engineer tasks, releasing vital tradesmen to other tasks. SO3 Engr.Recce
The blocks, are stored in a flat-pack and pop open to form a hollow box. Owing to their form factor, 250 blocks can be stored and moved on a standard NATO pallet. Deployed troops require no specialist tools or knowledge to use the building blocks, enabling them to rapidly build sturdy structures of varying permanence, and with a significantly reduced logistical burden.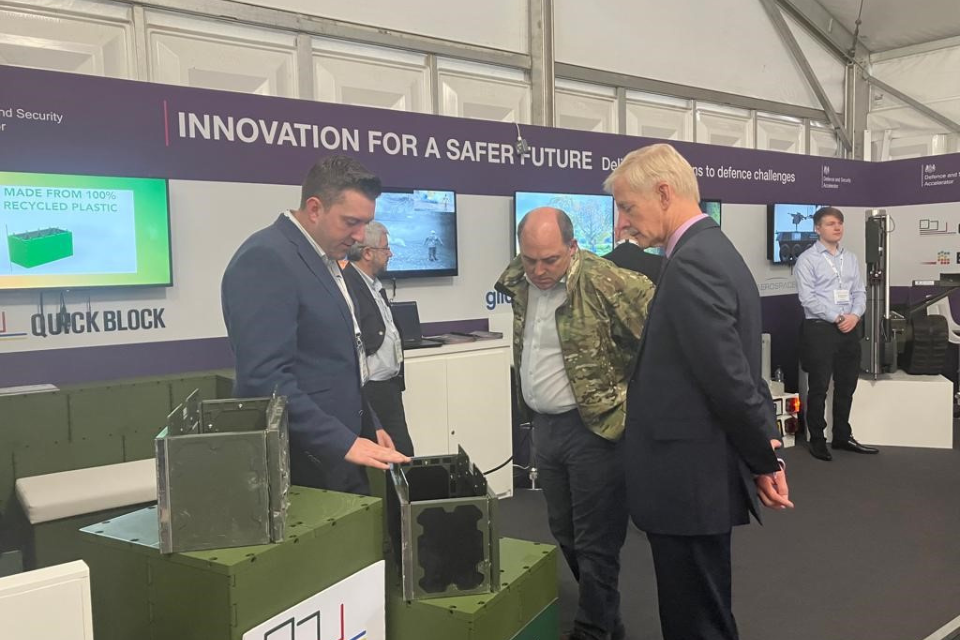 QUICKBLOCK's modular building system helps military personnel in several ways:
Ease of use: The system requires no technical knowledge or tools to build. Users simply unpack the flat-packed blocks and stack them together to form a sturdy structure.
Flexibility: QUICKBLOCK's flexibility makes it ideal for use in almost any environment, such as uneven ground, and in both rural and urban settings. For example, deployed soldiers will be able to build vehicle checkpoints, defensive structures, temporary shelters, protection for ammunition deployed around field gun positions, observation posts, and even reconfigurable training structures.
Low logistical footprint: The building blocks are self-supporting and do not require additional materials to support them; this reduces the weight, and carbon footprint and assembly time when compared to traditional building methods.
Rapid building capabilities: A team of three personnel can build and disassemble a small vehicle checkpoint sized structure in under 4 minutes.
Force Protection: The QUICKBLOCK system offers different levels of protection depending on the operational requirement. The QUICKBLOCK armoured blocks are fitted with UHMWPE plates to provide significant protection against ballistic threats and blast. The lighter weight plastic version of the product can be in-filled with gravel or sand to offer similar levels of protection.
Building to success and making an impact with DASA
QUICKBLOCK's solution started its life as a civilian product, made from a resilient plastic, for case uses such as light construction, agricultural applications, dividing walls and humanitarian aid structures.
After speaking with DASA, QUICKBLOCK realised the huge defence potential for the product. The SME submitted their innovative building system into the DASA Themed Competition, Take Cover: Phase 2 & 3, which sought solutions to provide advanced protection for small groups of front-line troops from ballistic and blast threats, demonstrated through a rapid assembly vehicle check point.
Through Take Cover: Phase 2 & 3, DASA funding enabled QUICKBLOCK to streamline the design for military use and incorporate armoured materials to the system. Extensive ballistic and blast trials proved the efficacy of the system. Feedback also allowed for the development of several solutions beyond the original vehicle check point requirement, such as hostile vehicle mitigation barriers.
End-users agreed that there were clear benefits and use cases for both the recycled plastic blocks and the newly developed armoured version to meet a variety of scenarios and threat levels.
What's next? DASA has helped QUICKBLOCK realise several commercial uses
Going from a single employee business to now a team of five since their engagement with DASA, QUICKBLOCK has undergone accelerated growth in a short time frame. DASA's impact and lessons learned from the Take Cover! Themed Competition: Phases 2 & 3, and feedback from potential end users in the British Army, have helped QUICKBLOCK rapidly improve their product and work towards several solutions, both in military and civilian case uses.
Support from the DASA Access to Mentoring and Finance (A2MF) team also helped the company hone their investment message, provide wider support around their future funding for defence and explore further investment. QUICKBLOCK has now raised two seed investment rounds in the past year.
QUICKBLOCK CEO, Andrew Vincent said: "We are incredibly grateful for the support from DASA. The project rapidly accelerated the development of our product for the Defence market and allowed us access to end-users that we would otherwise not have had. Its beauty is its simplicity, yet it has the potential to save many lives. We have developed a system which can act as a single resource to solve a variety of problems. It can flex to meet varying threat levels and also can be deployed in short-term temporary and/or longer-term semi-permanent scenarios."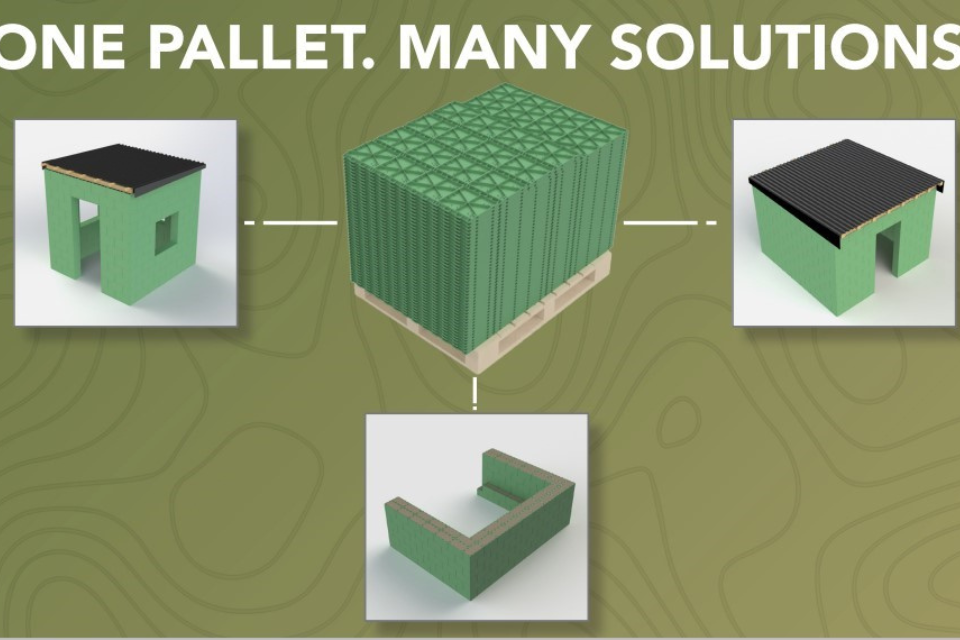 Owing to the flexibility and robustness of the modular building system, QUICKBLOCK has identified several other use cases for the solution such as rapidly deployable shelters, semi-permanent infrastructure, such as accommodation units, temporary medical facilities, revetments for aircraft and machinery and also temporary homes and shelters.
With the help of DASA funding and guidance, QUICKBLOCK have developed a full defence-centric product range, featuring different grades of the blocks that offers different levels of flexibility and protection depending on the operating environment, ranging from basic in-filled blocks, to ballistic and blast protected blocks and even full flat packed structures.
/Public Release. This material from the originating organization/author(s) might be of the point-in-time nature, and edited for clarity, style and length. Mirage.News does not take institutional positions or sides, and all views, positions, and conclusions expressed herein are solely those of the author(s).View in full
here
.