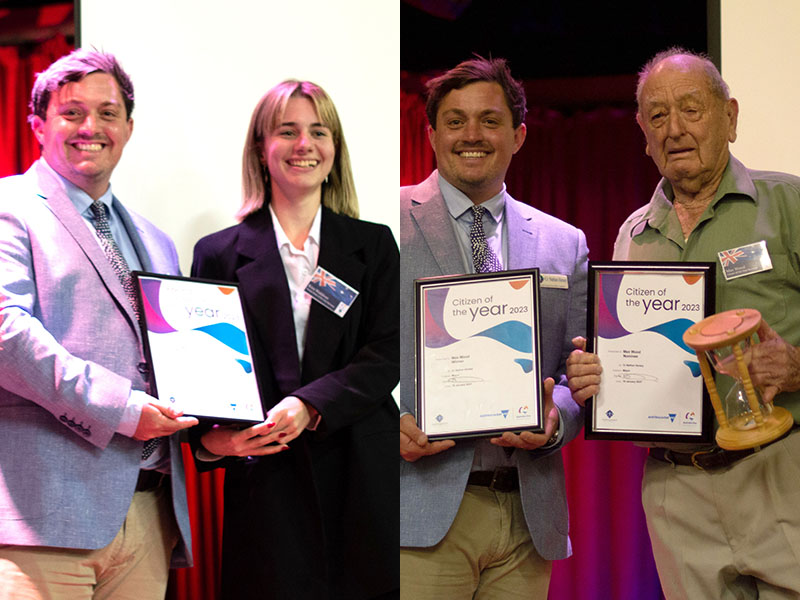 Photo: Kira Waldon (left) and Max Wood (right)
South East CFA members, Max Wood and Kira Waldron, have swept the South Gippsland Citizen and Young Citizen of the Year awards for 2023.
Max Wood – Welshpool CFA
The ever-reliable community man, Max Wood, has been commended for his generous volunteering contribution, being awarded South Gippsland's Citizen of the Year for 2023 on Wednesday, 18 January.
Although it initially came as a shock to Max, he has now taken the time to greatly appreciate the recognition.
"It was the last thing I expected, but it's a wonderful thing. My whole life I've done things and not for any accolades at all, I just do it to help the community wherever you are," Max said.
Being a valued member of Welshpool CFA for 39 years, Max also extended his volunteerism across many other committees – ranging from the town hall, tennis club, museum, golf club and local football club. His more recent passions have stemmed to the Leongatha Men's Shed and Woorayl Golf Club.
Current Welshpool Captain David Grylls describes Max as a true mentor and solely community minded.
"Max was one of those guys who was not so much a mover and shaker but a guy who was always on top of what needed be done and who should be doing what," David said.
Max joined Welshpool in the 1950s at just 15 when his uncle, a member of the brigade at the time, wanted him to join as soon as possible.
"Welshpool was a very small country town back then, and the CFA was the only resource in town – so we often did every little job that everyone needed done," Max said.
"You never had it in your head that you were volunteering your time.
"If the fire bell rang back in those days, all hell broke loose, and you just jumped to attention."
The former dairy farmer reflects on his time with Welshpool where he was Lieutenant, however, cherishes the moments spent working alongside his team the most.
"The main thing in the CFA is the camaraderie between the guys when you're working together. We were always a team down there," Max said.
"I just like to get involved, and for everything I've been a part of over the years, I've always given everyone the same level of commitment."
With volunteerism ingrained into Max's generation, his advice to young ones coming through the ranks is simple.
"Join the CFA and be a part of a good team. You've got to learn the ropes from the older people," Max said.
"You may face challenging situations, but it's certainly a way of making yourself stronger.
"You get a lot of satisfaction out of helping people when they're in an emergency."
Kira Waldron – Meeniyan-Stony Creek CFA
Meeniyan & Stony Creek Fire Brigade's own go-getter Kira Waldron was recognised for her community contribution by being named South Gippsland's Young Citizen of the Year for 2023 on Wednesday, 18 January.
The 17-year-old Meeniyan local has been a member of the brigade's Junior Program for more than four years now.
"A good friend of mine encouraged me to join the brigade's Junior Program when I was 12 years old," she said.
"I decided to put my hand up and when I eventually joined, everyone was so welcoming.
"It has been interesting to learn about being a firefighter; I've learned a lot about keeping calm and collected in stressful situations by training with the radio communications in high pressure situations."
Kira has also helped recruit a number of new members to the local brigade during her time in the Junior Program.
"The camaraderie within the brigade is great and everyone is so friendly," she said.
"There's always something new to learn and that's what I've enjoyed so much about my time at CFA.
While Kira has been a valued junior member of the local CFA for years, she has also contributed her time across other clubs, committees and initiatives such as Korumburra Gun Club, Korumburra Scouts and representing her school at the Model United Nations Assembly Competition as an advocate.
She said her motivation to volunteer her time in a range of community roles comes from working alongside other people and contributing to a common goal.
"I definitely think people my age should consider learning more about their brigade and joining a Junior Program if their brigade has one," she said.
"You learn so many skills and get an appreciation for the work emergency service workers do."
Those interested can learn more about the CFA Junior Program at cfa.vic.gov.au/volunteers-careers/volunteer-with-cfa/junior-volunteers.
/CFA News Release. This material from the originating organization/author(s) may be of a point-in-time nature, edited for clarity, style and length. The views and opinions expressed are those of the author(s).View in full
here
.