The Institute hosted Tokyo Tech CAMPUS Asia Plus Online Summer School 2022 (Summer School), an online program of CAMPUS Asia Plus, for five days from July 19 to July 25, excluding Saturday and Sunday.
CAMPUS Asia Plus is an educational program jointly operated by a consortium of four universities — Tokyo Tech, Tsinghua University, Korea Advanced Institute of Science and Technology (KAIST), and Nanyang Technological University (NTU) — as part of the Inter-University Exchange Project (Re-Inventing Japan Project) of the Ministry of Education, Culture, Sports, Science and Technology. Summer School 2022 was conducted online to prevent the spread of COVID-19, with a total of 10 students participated from Tokyo Tech, Tsinghua University, and KAIST. This Summer School consisted of team projects and presentations on the theme of "Art Thinking in Science and Technology," Japanese language classes for students from partner universities, a virtual campus tour by Tokyo Tech students, and a hybrid tour of RIKEN.
Team project
In the team project during Summer School 2022, the participating students were divided into two teams both consisting of members from all three universities. Their task was to create their own future scenarios for 2050 and 2100 while utilizing the Future Scenarios created by the Laboratory for Design of Social Innovation in Global Networks (DLab) at Tokyo Tech as inspiration. For students specializing in science and engineering, this was an outstanding opportunity to not only present solutions to achieving SDGs and other social issues using scientific and technological knowledge, but also to incorporate artistic thinking into their approach. Graduate-level students from Tokyo Tech's Engineering Design course were assigned to each team as mentors to provide advice as needed. As the teams prepared for their presentations, three special lectures on the theme of "Art Thinking in Science and Technology" also offered additional motivation.
Special lectures
Three faculty members gave special lectures related to the theme of this Summer School, "Art Thinking in Science and Technology."
Special lecture 1
Artistic Approach to Extraterrestrial Life
Professor Akihiro Kubota
Department of Information Design, Faculty of Art and Design, Tama Art University
Special lecture 2
Reframing Disability through Art
Professor Asa Ito
Institute for Liberal Arts, Tokyo Tech
Special lecture 3
Connecting Nano, Macro, and the Future
Professor Ken Nakajima
School of Materials and Chemical Technology, Tokyo Tech
The three lectures on different fields provided an opportunity for the participating students to learn knowledge outside their field of expertise, think about the differences and relationships between science and technology and artistic thinking, and consider the connections between science and technology and the future, all of which deepened their understanding of "artistic thinking in science and technology."
Japanese language classes for students of consortium universities
During this Summer School, six 100-minute online Japanese language classes were offered to the students from partner universities. The students learned greetings, self-introductions, and simple phrases expressing existence, possession, and preferences. During the sessions, Tokyo Tech students also joined in the fun with various lighthearted exchange activities.

Virtual campus tour by Tokyo Tech students
In order to familiarize students from partner universities with Tokyo Tech's Ookayama Campus, the Institute's students offered a virtual tour. The tour started in front of Ookayama Station and included live shots of the Main Gate, Centennial Hall, Hisao & Hiroko Taki Plaza (Taki Plaza), the Ookayama Library, and the Main Building. The tour not only showed participants the main structures at the heart of Ookayama Campus, but also effectively conveyed the atmosphere of midsummer at the Institute.
Hybrid tour of RIKEN
During Summer School 2022, one student, one mentor, and one of the faculty members in charge of the program visited RIKEN in Wako City, Saitama Prefecture in person, while other participants joined virtually. This was a valuable opportunity for all students involved to learn about the leading Japanese research institution, and to gain a deeper understanding of the cutting-edge science and technology, internationalization, and other efforts taking place at RIKEN.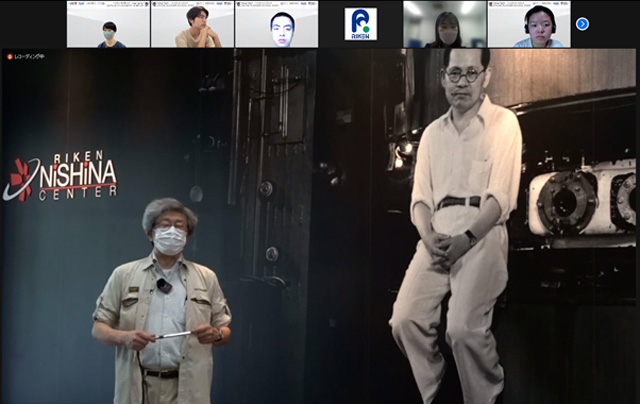 Team presentations
Professors Kubota and Nakajima, who gave special lectures earlier in the program, were also present at the team presentations, where students spoke about their future scenarios for the years 2050 and 2100. Each team's future scenario included possible challenges and descriptions on how these challenges could be solved through science, technology, and artistic thinking.
Team Chocolate Coffee
Year 2050: Autonomous Flying Cars
Year 2100: Brain to Brain Communication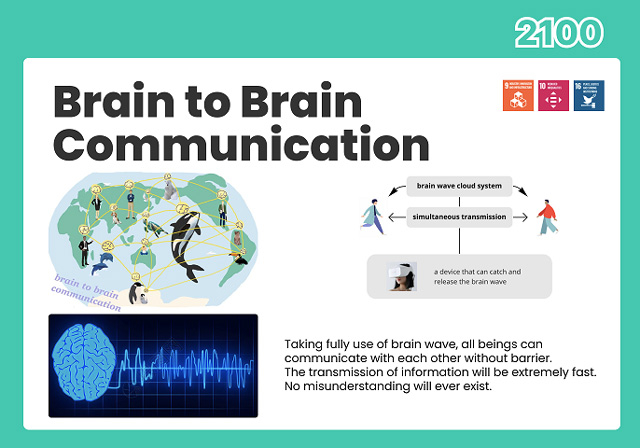 Team SHYMY
Year 2050: All children get education opportunity with the help of AI
Year 2100: Interstellar: Traveling universe freely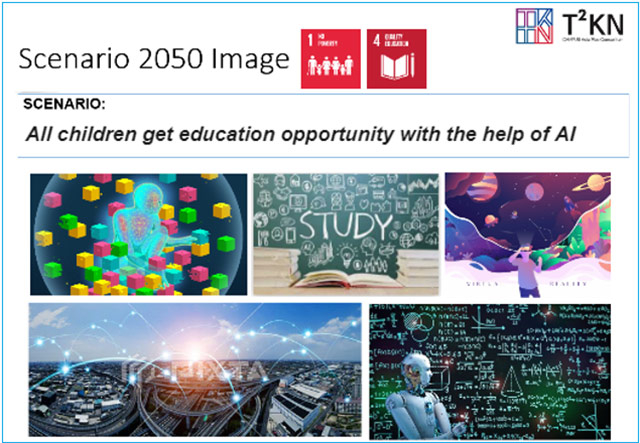 At the completion ceremony, the participating students and mentors cast their votes to award the Best Teamwork, Best Design, and Best Creativity prizes to those students who excelled during the program.
The program ended with a group photo in the "C pose" to represent CAMPUS Asia and to commemorate the moments shared during Summer School 2022.
Comments from participating Tokyo Tech students
4th year, Life Science and Technology
How would you like to utilize your experience in the program in the future?
Of all the experiences I had this time, what I would like to utilize in the future in particular is how to proceed with a group discussion. When discussing in a group, in order to incorporate ideas from others or summarize ideas from a group, I learned it was important to realize and interrelate similarities and differences between my ideas and opinions, and those of others. This will be an advantage when conducting a group discussion in the future.
In addition, even if not in discussions, I would like to be conscious about perceiving differences and empathy when listening to others in everyday life so that I can have more meaningful conversations.
Advice to prospective participants in similar programs
I believe that participating in this program will not only help me practice English discussions, but also help me develop my thinking ability by discussing topics that I do not usually think about. I think you can contribute to the team if you can actively express your own opinions, play a role in deepening the discussion, and bring it to a conclusion by stating what you think about others' opinions while referring to the points of discussion. As for my English ability, I think it is important to have as many opportunities to speak as possible, and to communicate without worrying about grammar, pronunciation, and other details. Do not be afraid of making mistakes but think of it as an opportunity for personal growth. I think you will get more out of it via active participation. So please, let yourself have fun.
1st-year doctoral student, Chemical Science and Engineering
What episodes of personal growth did you experience during or after this program?
Since it was my first time to participate in such an international exchange program, I could not break the ice in the beginning, so I just passively listened to other students' opinions. However, from the middle of the day, I was able to speak smoothly and thus, felt less intimidated in conversation in spite of my simple English.
Advice to prospective participants in similar programs
Many students think that participating in international exchange activities is too difficult. However, it is possible to communicate with students from other countries using English at the level of a Tokyo Tech student.
Even if you cannot communicate with each other well, you can have unexpectedly enjoyable conversations because we all patiently try to understand each other. I think there is a great fear of making mistakes when interacting with international counterparts or participating in international academic conferences after entering the workforce. But if it is between students, there is no one to laugh at each other's mistakes, as both parties are inexperienced in English. I think this is the best program as a first step for speaking English with people from overseas.
1st-year master's student, Social and Human Sciences
What episodes of personal growth did you experience during or after this program?
To be honest, I was surprised to realize that I had the ability to discuss issues in English. I studied abroad for half a year in my second year, but since then I have not had many discussions using English.
However, as I became a team leader in this program, I fulfilled my role and was able to actively express my opinions and lead the discussions. I am pleased with this personal growth.
Advice to prospective participants in similar programs
If you cannot decide, I recommend that you just join the program. You will not be specifically requested to do anything difficult.
If you do not have confidence in English, you will be fine as mentors and staff members help you. And last but not least, English is the second language for all participants in general so you can manage. I do not think there are many opportunities for us to discuss issues with international students in English, so do not miss the opportunity to take on a new challenge.
/Public Release. This material from the originating organization/author(s) may be of a point-in-time nature, edited for clarity, style and length. The views and opinions expressed are those of the author(s).View in full
here
.