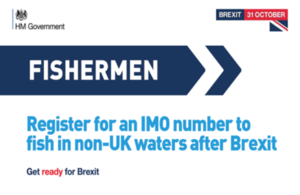 The licensing authority has been set up jointly by England, Scotland, Wales and Northern Ireland Fisheries Authorities (UKFAs) to ensure UK fishermen have the correct licences to fish legally in Norwegian, Faroese and EU seas after Brexit, in line with any negotiated agreements.
The Single Issuing Authority (SIA) will also issue licences to non-UK vessels to fish in UK waters, if access agreements are negotiated, and provided the vessels can demonstrate compliance with UK requirements.
After Brexit UK vessels will be barred from fishing in EU, Norwegian or Faroese waters unless the necessary international agreements are reached to allow them to do so. Non-UK vessels will be banned from fishing in UK waters in the same way, unless they are granted access under such future agreements.
The authority is calling on vessel owners to take action to prepare for leaving the EU.
Vessels owners in the over 12m fleet will have to ensure their vessel has an IMO number to be licensed to fish outside UK waters when we leave the EU.
Owners of vessels are urged to register now for an IMO number from the International Maritime Organisation to enable the timely processing of the subsequent licensing documentation when the time comes.
Fishing vessel owners should complete the form and send it to
/Public Release. View in full
here
.