June 24 2019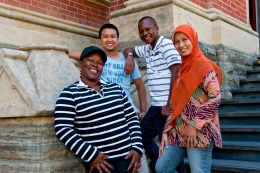 Research from the University of South Australia has highlighted the rich cultural diversity of youth with refugee backgrounds in South Australia and early findings suggest that these young Australians are actively engaged in education and are successfully working towards high aspirations.
In a major report, Demographic Profile of SA Refugee Youth Population,2019, released today as part of an Australian Research Council-funded research project looking at refugees' transition from school to further education, training and employment, researchers have shown that positive education experiences can be the vital key to future success, professionally and personally for refugees.
Lead researcher Associate Professor Tahereh Ziaian says the secondary analysis of ABS data, coupled with more than 630 surveys and more than100 interviews with young refugees, their educators, and their families, makes the project the largest of its kind focussed on young refugees.
"This lays down a really rich dataset and it will be invaluable in formulating policy and strategies to ensure refugee settlement and success is made easier for the thousands of young people who start their new lives in Australia," Assoc Prof Ziaian says.
"This is an important stage in our research because from our survey with young refugees we have built a comprehensive picture of their triumphs and challenges."
The survey group from South Australian included young refugees aged between 15 and 24 years from three core regions – Africa, the Middle East and South Asia – most of whom have been living in Australia for between 1 and 10 years.
"We know their countries of origin, their family structure, their education, both before and after arrival, their language skills and also information on their attitudes and experiences, their ambitions, how they are progressing personally and what factors are influencing their success in Australia."
The aim of this research, which has been undertaken in partnership with The University of Adelaide, Multicultural Youth SA and the Australian Migrant Resource Centre, is to investigate education and employment outcomes and pathways for refugees, to better inform education, training and employment policy and practice.
"It is clear from this work that the pattern of refugee settlement is directly related to areas of conflict around the world – so the numbers of young refugees coming to SA are clearly from nations where they have had to flee war and conflict to find safety – places such as Syria, Myanmar, South Sudan and Afghanistan," Assoc Prof Ziaian says.
"We have also observed some very positive indications that increased culturally appropriate support for students and their families, better resources for adolescent English learners, and active promotion of inclusive school culture, are all building blocks for improved self-esteem and resilience in young people from refugee backgrounds."
The study also found a very positive attitude to migration with a strong positive relationship between integration, resilience and life satisfaction.
Refugees who reported a strong sense of ethnic identity matched with a strong sense of national identity (as Australians), had more positive measures for self-esteem.
"Positive experiences for refugees seem to have a relationship with other aspects of their lives, such as emotional health and wellbeing, family relationships and more successful resettlement," Assoc Prof Ziaian says.
"When young refugees have access to the right supports, including educational environments that are sensitive to their needs, their outlook is generally very positive.
"Moving to a new country and culture is a massive adjustment for anyone and when that move is instigated by push factors, such as war or persecution, readjustment and integration is not simple.
"There is still much we can do to help refugee background youth and their families and support the development of the culturally-enriched, integrated and connected communities of which these young people will be a part."
The preliminary selection of findings from the survey will be presented in a report – Demographic Profile of SA Refugee Youth Population 2019 to be launched by His Excellency the Honourable Hieu Van Le AC, Governor of South Australia on 25 June 2019, 10.00am – 11.30am at Kerry Packer Civic Gallery, The Bob Hawke Prime Ministerial Centre, Hawke Building, Level 3, University of South Australia, City West Campus, 55 North Terrace, Adelaide.
/University Release. The material in this public release comes from the originating organization and may be of a point-in-time nature, edited for clarity, style and length. View in full
here
.