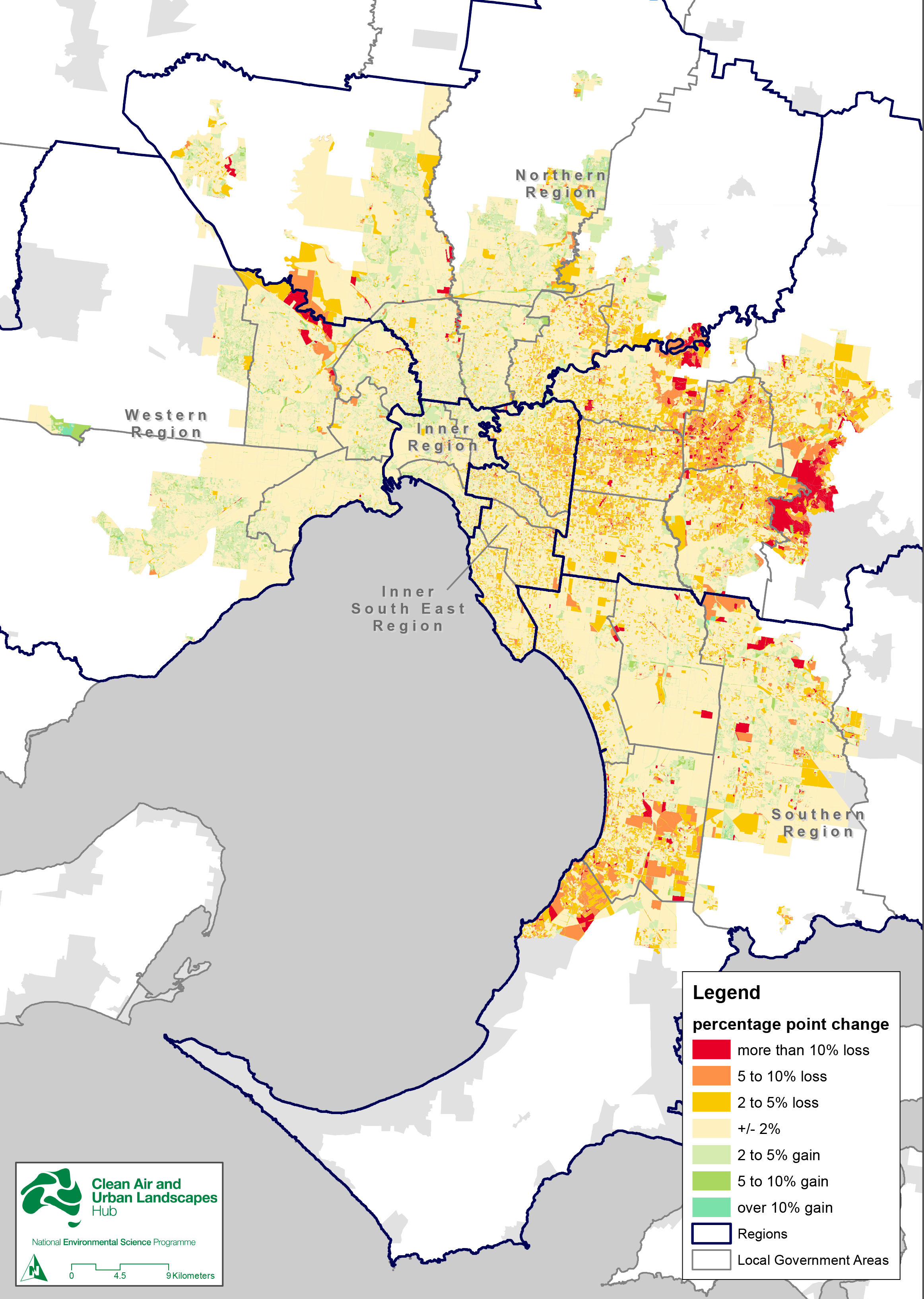 Tree cover change in metropolitan Melbourne in 2018. Author supplied.
Melbourne's eastern and south-eastern suburbs have lost almost 2,000 hectares of trees since 2014, while in the west, urban forests are growing stronger, finds new research.
Investigating tree and vegetation cover across metropolitan Melbourne, the report found that the east and south-east regions that are experiencing the highest amount of tree cover loss are losing most on residential and park land about the size of Reservoir.
Lead author of the report Associate Professor Joe Hurley from the RMIT Centre for Urban Research said the rate of loss is concerning and called for better action to preserve and enhance the city's urban forest.
"Trees are a critical part of a city's natural infrastructure.
"They substantially cool cities, enhance our mental and physical wellbeing and support our biodiversity.
"However incremental loss will weaken our urban forests and reduce the benefits it provides."
The rapid loss of tree canopy in these areas is particularly concerning as these regions are normally where vegetation cover is highest compared to the city's average.
"Our report found that private residential land accounts for nearly half (47%) of the city's urban forests, and that's where the greatest tree loss is in the east and south-east regions.
"Local government areas such as Maroondah, Whitehorse and Boroondara seem to be affected the most, although areas of loss occur across the city".
"This could be due to the impact of land redevelopment to accommodate the growing population.
"It can also be affected by the ways residents are using space on their land, for example, they may want to build a pool or extend their house.
"Trees are often the first thing to go to make way for these kinds of developments."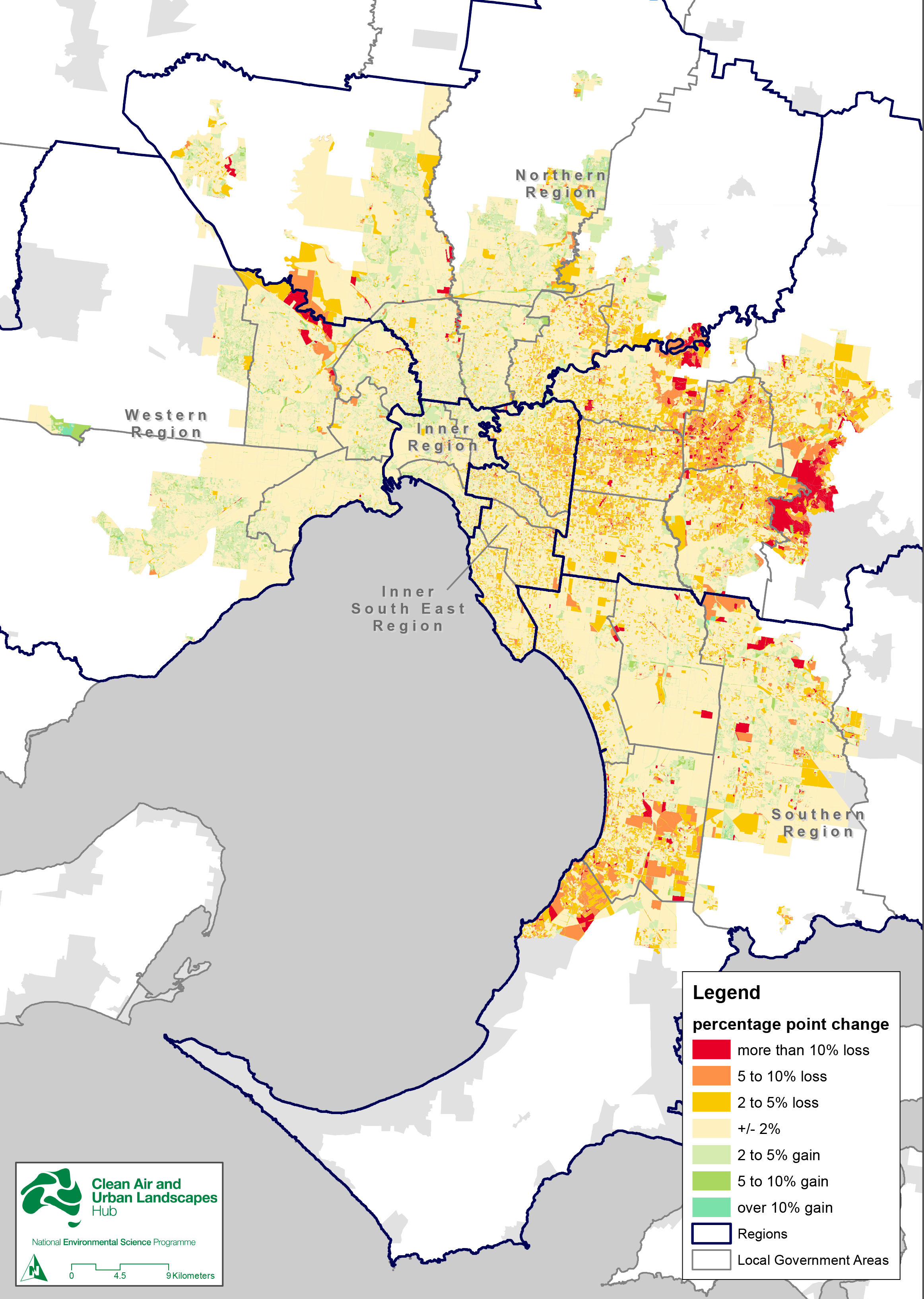 Tree cover change in metropolitan Melbourne in 2018. Author supplied.
On the west side of Melbourne, despite having the lowest baseline tree cover, the region is experiencing modest gains across residential land, parkland and streets.
Hurley says this increase may reflect the significant focus across the western suburbs on urban greening.
"In comparison to its eastern neighbours, the western region has gained tree cover on residential land and 275 hectares of tree cover across the area," he said.
"This shows how initiatives such as Greening the West are having a real impact in increasing community understanding and awareness of the vital contribution of trees in our suburbs.
Hurley says he hopes the findings from this report will help state and local government and other land managers to develop more rigorous and targeted strategic actions to protect and enhance the city's urban forest.
"While parks, public land and streetscapes are important in providing the urban forest, it is private residential land that provides the most tree cover in urban areas and where we are seeing the greatest losses in tree cover over time.
"We need to improve our strategy, policy and programs around private land management to help preserve existing canopy trees and enhance the further contribution of the private realm to the urban forest.
"Great cities need an abundant and vibrant urban forest."
The report Urban Vegetation Cover Change in Melbourne 2014-2018 is a collaborative project between RMIT University, the University of Western Australia, CSIRO and the Clean Air and Urban Landscapes Hub.
/RMIT University News Release. View in full
here
.