Some of the skeletons in the University of Wyoming's storage closets are now available for the public to view.
UW's Museum of Vertebrates, located in the Berry Biodiversity Conservation Center, and Coe Library Digital Collections recently released 65 3D scans, such as the skulls of eagles and bears. These images are available free to remote learners, researchers and teachers.
The specimens can be viewed through augmented reality and rotated 360 degrees or downloaded as still images. The 3D scans include a range of vertebrate species such as the skulls of a golden eagle (Aquila chrysaetos), grizzly bear (Ursus arctos), California condor (Gymnogyps californianus) and pronghorn (Antilocapra americana). The collection also features other bones such as vertebrae, teeth and ribs.
"These skull scans bring a wealth of information to students of all ages. I can think of so many educational subjects they can be used for: biodiversity, comparative anatomy, form and function, adaptation, evolution, systematics and taxonomy," says Dorothy Tuthill, education coordinator and assistant director at the UW Biodiversity Institute. "Plus, it's hard not to appreciate them as items of wonder — a quarter-billion years of vertebrate evolution resulting in this fascinating diversity of forms."
Sketchfab, where the models are uploaded, is a free 3D and augmented reality experience. Anyone can access, download or save these resources to a "collection." Users can save their favorite 3D scans to a public collection on their accounts, similar to Pinterest.
Each specimen is unique, and provides information about the ecosystem and how animals used and interacted with it through space and time, says Elizabeth Wommack, staff curator and collections manager of the Museum of Vertebrates.
"By collaborating with Digital Collections, we can now help open this information to more researchers of all ages and locations," she adds.
Wommack notes that Merav Ben-David, a UW Department of Zoology and Physiology professor, requested the scanning of three bobcat skulls for her students to compare each skull while learning remotely. Students were tasked with spotting the differences in adult versus juvenile and male versus female skull morphology.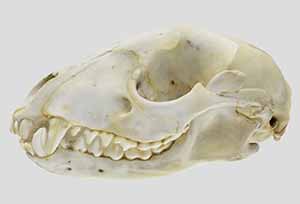 This skull is among the 65 3D digitally scanned bones in UW's Museum of Vertebrates collection. (UW Photo)
"These models let you not only digitally study what the skull of a grizzly bear looks like, but the skull of a 2-year-old grizzly bear from Park County, Wyoming," Wommack says. "By linking together the Sketchfab models to the vertebrate museum specimen data, each animal is placed in its own habitat and point in time."
Matt Carling, the museum's faculty curator, says that, while the museum had already planned to create this online resource for teachers throughout the state, the project became a priority due to COVID-19 concerns.
He hopes that UW faculty members, as well as teachers throughout the state and across the country, will use the museum's new online resource to further their students' knowledge and appreciation of the natural world.
While the Museum of Vertebrates is not currently open for campus use or public tours, the resource brings the specimens to individuals at home.
In classrooms and impromptu learning settings at home, students are now able to compare each specimen's physical attributes and adaptations, such as eye socket sizes to naval cavity positions, without needing to visit the museum in person. Meanwhile, UW Libraries reports that UW professors also are taking advantage of the 3D digitization to create collections for online classes, ranging from geology to soils courses.
To view the 3D scans from the Museum of Vertebrates, visit www.sketchfab.com/uwlibraries/collections/uw-museum-of-vertebrates. View the natural history collections at https://www.uwymv.org.
About the UW Museum of Vertebrates
The Museum of Vertebrates documents and understands regional and global biodiversity through acquisition and investigation of collections to advance academic knowledge and public appreciation of the natural world.
/Public Release. This material comes from the originating organization and may be of a point-in-time nature, edited for clarity, style and length. View in full
here
.