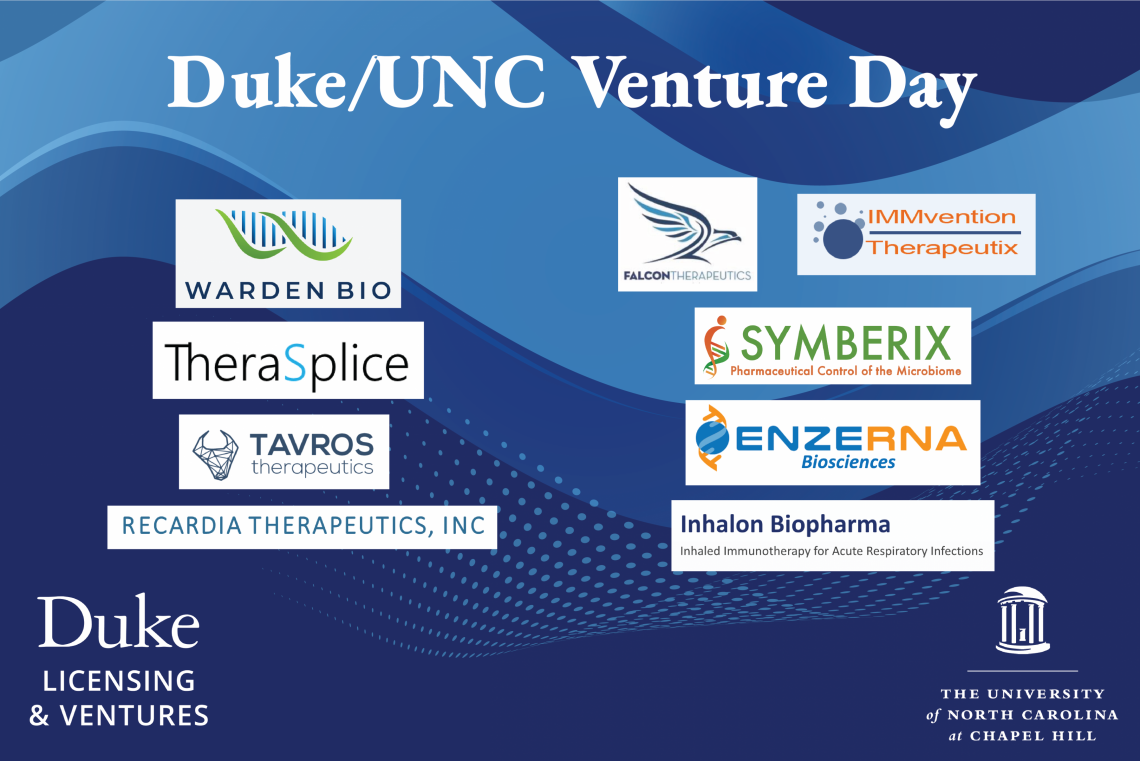 For the second year, Duke startup companies energetically pitched their ideas to potential investors through the Office of Licensing and Ventures' "Venture Day" program.
This year of course, all the pitching and conversation during the Nov. 12 program was done virtually. And, for the first time, Duke New Ventures joined forces with their counterparts at UNC, KickStart Venture Services.
Nine startups presented pitches – four from Duke and five from UNC. There were more than 80 virtual attendees, including nearly 30 representatives of venture capital firms. Some follow ups have begun, but it's too soon to tell whether any interactions will lead to a deal.
"UNC were great partners for this year's event. They selected great companies from their portfolio and allowed us to combine our investor networks to bring top VCs to the meeting," said Duke New Ventures Director Rob Hallford. "I expect this to become a must-attend event for years to come."
"We are thrilled to partner with Duke to host this event," said KickStart Interim Director Mireya Mckee. "Together both UNC and Duke have over $1 billion each in research funding. The institutions are less than 20 miles apart, and together with the rest of the Research Triangle, represent one of the strongest life science hubs in the nation. We are excited to showcase some of most promising startups in therapeutic space and engage with the biotech venture investing community."
The now-annual event is a collaborative way to put our region's spinouts in front of a national audience of venture capitalists who might be able to take the ideas to the next step. The pitching companies were asking for investments of a half-million dollars to $5 million to pursue proof-of-concept research or early-stage clinical trials.
"I was really pleased with the time and effort the faculty put into preparations for this event," Hallford said. "Pitching to investors requires a different approach verses a typical academic talk, and all of our presenters went the extra mile in making adjustments to cater their content for VCs."
The Nine UNC and Duke startups who pitched at the first joint Duke/UNC Virtual Venture Day were:
IMMvention Therapeutix was presented by their founder Anil Goyal. He and his team aim to use "first-in-class," pan-inflammasome small molecule inhibitors for the more effective control of inflammation.
Warden Bio, which aims to develop treatments for glycogen disorders, was presented by their president, Kunal Kishnani and their chief medical advisor, Priya Kishnani, who is Chief of the Division of Medical Genetics and a distinguished professor of pediatrics at Duke university.
Symberix was presented by Chairman and CEO Ward Peterson. It aims to improve human health by pioneering the development of symbiotic drugs that work by controlling bacteria without killing them.
TheraSplice was presented by Jenny Freedman and Steve Patierno, deputy director of Duke Cancer Institute and professor of pharmacology and cancer biology at Duke. Their aim is to target differential RNA splicing for precision oncology treatments.
Inhalon Biopharma, was presented by CEO John Whelan. It aims to treat and prevent respiratory infections such as coronaviruses by using muco-trapping monoclonal antibodies.
Tavros Therapeutics was presented by CEO Eoin McDonnel. Their mission is to discover innovative, targeted oncology drugs and combinations using high-throughput functional genomics.
Falcon Therapeutics was presented by CEO Susan Nichols. Their goal is to treat hard-to-reach cancers by converting the patient's own skin into tumor-killing machines.
Enzerna Biosciences is a pre-clinical stage company with a proprietary RNA editing technology to develop long-term gene therapies for rare genetic disorders. It was presented by President Joseph Ruiz.
Recardia Therapeutics, was presented by CSO Jeff Ellsworth. They are discovering novel therapeutic targets and drugs for human genetic disorders based on in-vivo modeling in humanized zebrafish.
/Public Release. This material comes from the originating organization and may be of a point-in-time nature, edited for clarity, style and length. View in full
here
.