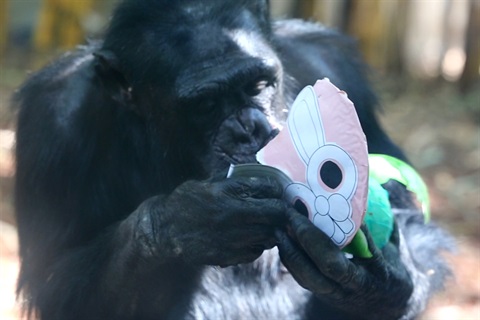 The animals at Rockhampton Zoo enjoyed their own Easter celebrations today with eggs and bunnies made especially for them.
Chair of Rockhampton Regional Council's Parks Committee Councillor Cherie Rutherford said that it was great fun to see the animals enjoying their Easter surprises.
"The lion-tailed macaques, blue and gold macaws, dingos, and chimps all enjoyed Easter treats that were handmade for them according to their diets," said Cr Rutherford.
"Volunteers and keepers made the items from actual eggs and rice paper, and others were papier-mâché with treats hidden inside.
"The staff at the Zoo have put on a few holiday activities for the animals now and they're always wonderful.
"They're also a great example of the kind of enrichment work that the Zoo is doing all the time as part of caring for our animals.
"These kinds of enrichment activities are interesting and engaging for the animals and enhance their health and wellbeing.
"You can really see how much the animals enjoy interacting with something new in their environment and trying to figure it out – especially when there's food involved.
"While the Easter egg hunt is over, visitors to the Zoo can spot animals enjoying enrichment activities every day. That could include discovering new toys, foraging for scattered food, or other activities that simulate natural behaviours.
"The Zoo is free to visit and open every day over the Easter Holidays between 8am and 4.30pm, so make sure you come down and see what the animals are getting up to.
Rockhampton Zoo is owned and operated by Rockhampton Regional Council. Head over to the Rocky Zoo Facebook page
/Public Release. View in full
here
.