August was another huge month for beef exports, with 106,000 tonnes swt of beef 'hitting the docks'. This figure is back from record-breaking levels seen the previous month but still the second highest monthly total since August last year (107,000 tonnes swt).
China remained the top destination, edging out Japan for the second consecutive month, with an August total of 26,000 tonnes swt. Despite hitting safeguard last month and an extra 6% tariff applied to Australian beef, China is expected to continue importing elevated volumes of meat as they look to stockpile product ahead of Chinese New Year celebrations in late January.
Over the year-to-August, 2019 beef exports are tracking 41,000 tonnes swt (or 6%) ahead of last year. This is unsurprising given the level of domestic stock liquidation and price support from international demand. The forecast for the next three months remains dry, so slaughter and exports will most likely remain elevated.
As outlined in the graph below, a fair proportion of the extra supply has been soaked up by additional demand from China but notable increases were also recorded to the US, Saudi Arabia and Vietnam.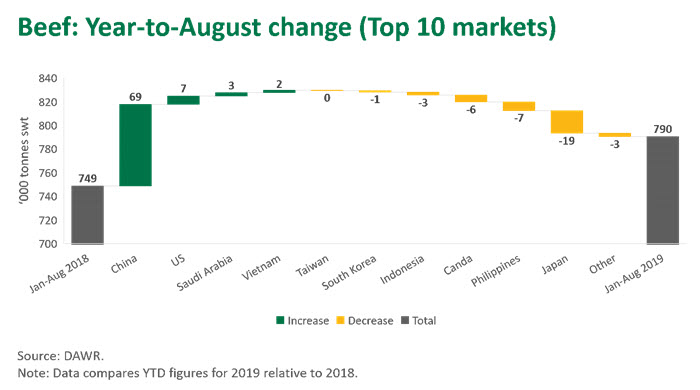 Lamb
Lamb exports are slowing, with August reaching 17,600 tonnes swt, back 5% on July and down 3% on August last year. However, due to a strong start to the year, year-to-August volume is still ahead of 2018 by 3,600 tonnes swt.
China, again, is leading the charge for lamb and year-to-August figures are up by 7,300 tonnes swt, representing a 20% increase on last year. Although this doesn't match the scale of the growth seen in the beef category, it dwarfs growth to the second largest lamb market, the US, which has increased 4% (or 1,300 tonnes swt). While these two markets were neck in neck this time last year, China has seized the top spot by a country mile twelve months later.
Mutton
Mutton export volumes for August reached 12,900 tonnes, down 18% on year ago levels. This is a decent bounce back after a slow July, when sheep slaughter fell to an annual low of 480,000 head, causing exports to fall to only 7,300 tonnes. For year-to-August volume, 2019 is tracking 2% ahead of 2018. However, over the last twelve months the national flock has been diminished after consistent high levels of slaughter due to drought. As a result, mutton exports will likely sit behind year ago levels for the rest of the year. With international demand holding strong, this should lend price support over the coming months.
© Meat & Livestock Australia Limited, 2019
To build your own custom report with MLA's market information tool click here.
To view the specification of the indicators reported by MLA's National Livestock Reporting Service click here.
/Public Release. View in full
here
.