Tokyo Tech hosts the Art with an Artist seminar twice a year with the aim of inspiring its science and technology students through the arts. This spring, the event was held on Suzukakedai Campus on May 18. Seven of the fifteen students who joined the bilingual session were international students, creating a particularly diverse environment at the event.
The lecture, hands-on practice sessions, and final critique were once again led by Zuse Meyer, a painter and poet with long-lasting ties to the Institute.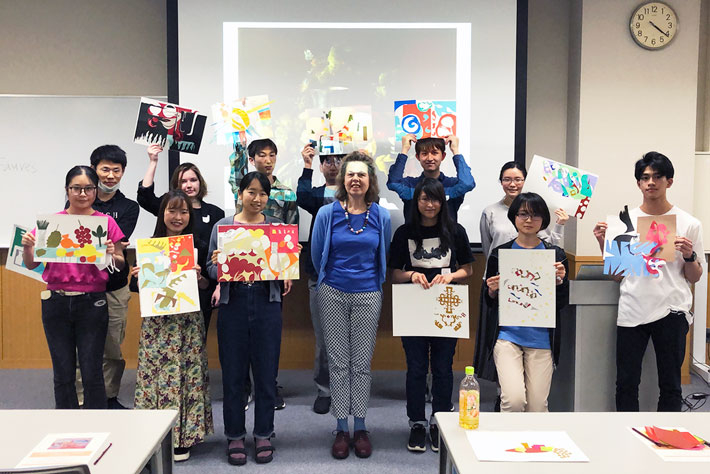 Artist Zuse Meyer
A graduate of the Berlin University of the Arts, Meyer is a former lecturer at Tokyo Tech. She is currently based in both Berlin and Tokyo, and runs an art school and art workshops in both Europe and Asia.
As is always the case in her seminars, Meyer once again drew in her students from the very start and provided informative guidance throughout the seminar.
Lecture on Matisse and the power of color
This spring's lecture was entitled "The Power of Color and Henri Matisse." The talk introduced the works of Matisse in chronological order and showed how he gradually shifted from realistic paintings using traditional techniques to a more abstract style. Meyer also explained how, in his later years, Matisse created many works using the cut-out method in which lines and colors were further simplified.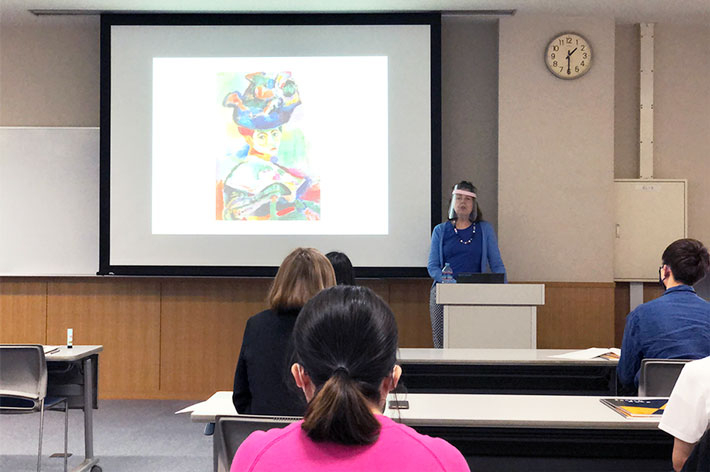 Warm-up activity: Single-stroke sketching
To warm up, students were asked to create a sketch using only one ongoing single line. A black-and-white, realistic still-life painting was projected onto the screen, which the students were then asked to reproduce. While working in their own sketchbooks, the participants took their time viewing the projected still life, at times looking slightly troubled. In the end, each student managed to express their individual creativity and style — some simply drew the outlines, while others aimed for a more complex result.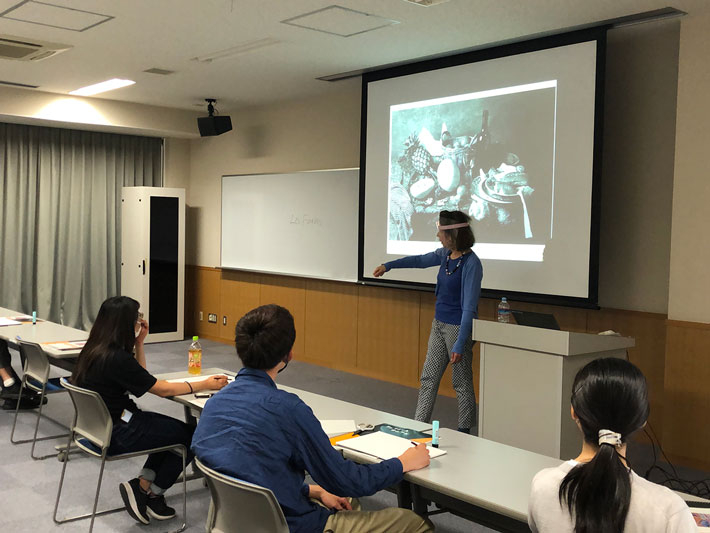 Cut-out Challenge 1: Cutting paper freely
In the next activity, students created paper cut-outs inspired by the color still-life painting projected onto the screen. The aim was to represent the displayed painting while freely expressing individual feelings and perception in color, form, and space by using scissors, paper, and glue. The finished works of the students were each so unique that it was hard to believe that they were created while looking at the same painting.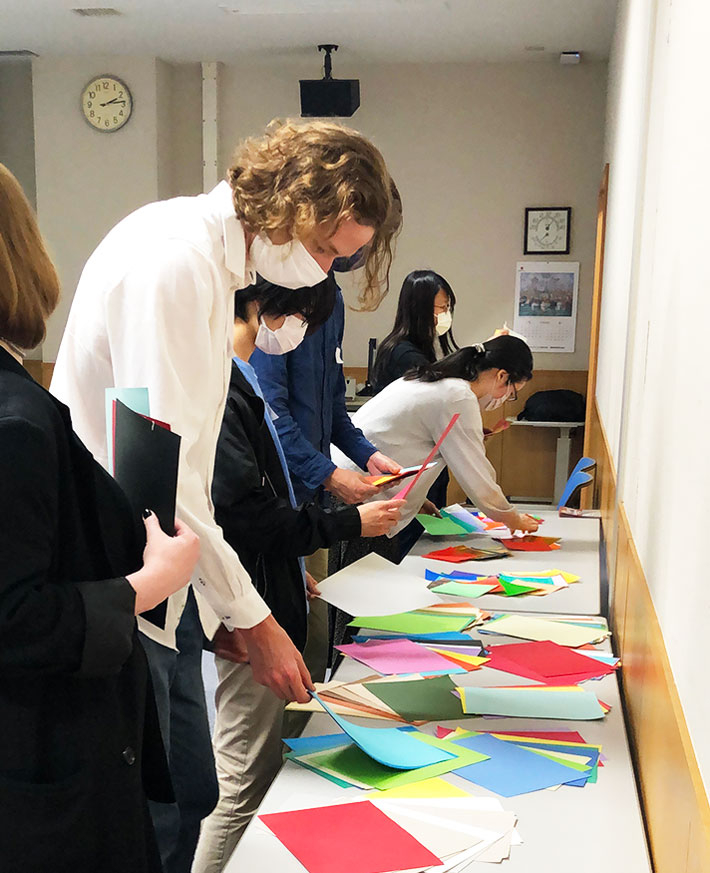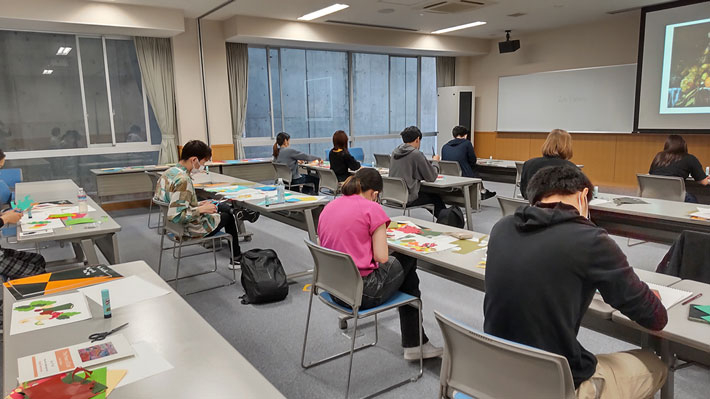 Cut-out Challenge 2: Using the remaining paper
The second part of the cut-out challenge was to freely create artwork using the leftover colored paper from the previous assignment. By combining paper with holes and sheets that had been cut into odd shapes, the students embraced the challenge. "There are no wrong or right answers, " said Meyer as she encouraged and guided the students. Once again, each participant completed a unique work of art.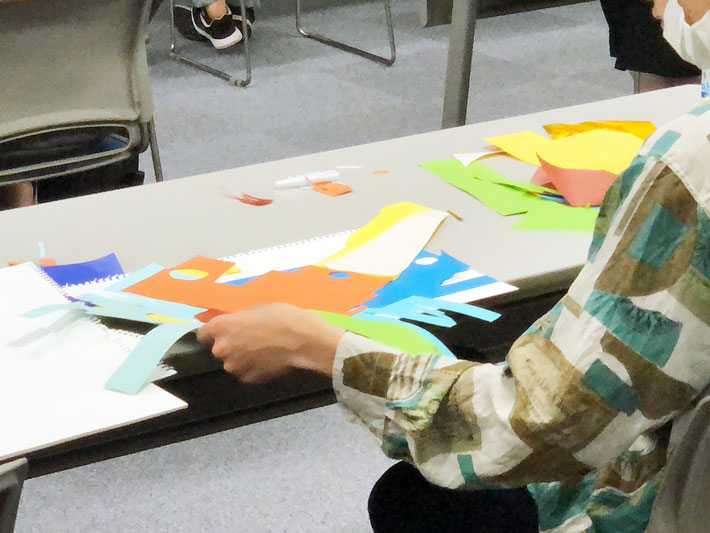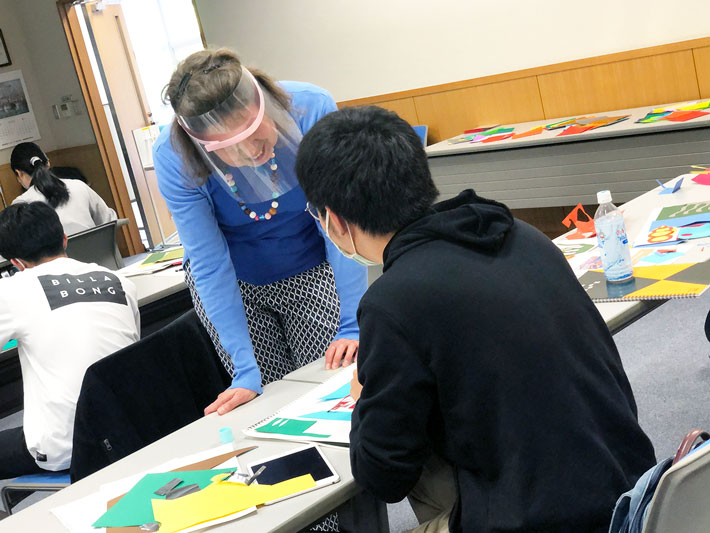 Comments from participating students
I really enjoyed it. The seminar was informative and relaxing. It was really great to look at something new in such a way.
Very positive experience. I loved learning about art and seeing everyone else work.
I felt I wanted to be original rather than worrying too much about the opinions of others.
I think that it is very good to increase students' motivation.
I enjoyed creating everything freely, and it reminded me of arts and crafts at elementary school.
I enjoyed it because I could focus freely, and it was great to get comments from the lecturer.
I was happy to hear the lecturer say things that boosted my confidence.
I felt a sense of nostalgia because it was the first time since elementary school that I cut and pasted to create a work of art. I want to try doing single-stroke sketching on a daily basis.
I participated because I was interested in colors, but the session also gave me an opportunity to think about shapes. It was excellent.
Everyone is the best and can do their best.
I was encouraged with my unique personality and power. I was also relaxed in this seminar.
It was so much fun. It was great to enjoy the freedom.
Good time, good comments from the lecturer.
It was a very enjoyable and productive experience. It was interesting to learn for the first time about the differences between impressionist and Matisse paintings, and how Matisse came to create paper cut-outs. In both the sketching and paper cut-out sessions, I was initially at a loss as to how to go about creating my own artwork for the first time in years. But as I worked with my hands, my ideas continued to grow, and I had a strange feeling that I had awakened my creativity.
---
As in previous seminars, Meyer concluded with some passionate critique to each student individually.
Based on student responses during the session and the feedback that was provided after the seminar, many of the participants had once again discovered new sides to themselves. Year after year, events such as Art with an Artist continue to broaden the horizons of Tokyo Tech students while providing them with inspiration for their studies and research.
The next Art with an Artist seminar is being planned for Ookayama Campus in November.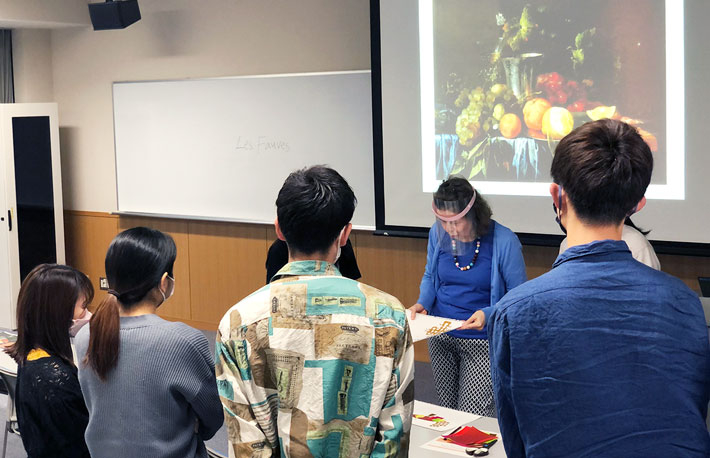 /Public Release. This material from the originating organization/author(s) may be of a point-in-time nature, edited for clarity, style and length. The views and opinions expressed are those of the author(s).View in full
here
.