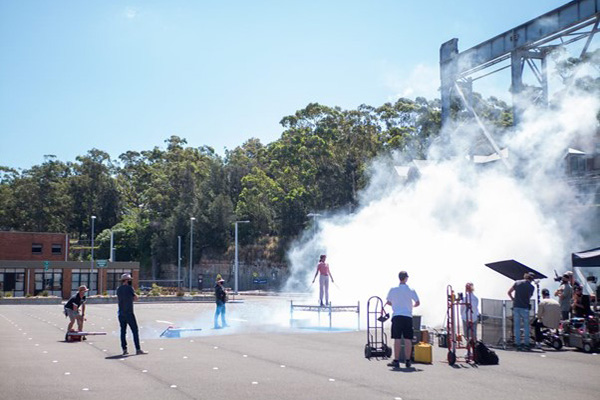 A few days on from the launch of the Australian Lamb summer campaign, Graeme Yardy – Domestic Market Manager at MLA, shares how this year's ad came together.
Australian Lamb's iconic summer campaign launched last week, showing Australia reuniting with the world after almost two years of isolation from other nations.
From brainstorming, to filming, to editing, much time and effort goes into developing these campaigns each year. Graeme Yardy, Domestic Market Manager at MLA, is one of the key figures behind it all. Here, he shares how the ad came together and how it's been received so far.
How did the idea for reuniting Australia with the rest of the world come about?
We had a very successful campaign last year with Lamb bringing down the state borders, which was occurring towards the end of 2020. Similarly, this year, while we were planning the 2021 campaign Australia had just started opening its international borders. In essence, this year's ad was a sequel of sorts to last year's.
We also started to think about the conspiracy that Australia doesn't exist, which is referenced in the ad. That we had closed our borders for so long that the world had forgotten about us. Eventually, this idea was developed into an idea that we had forgotten about the rest of the world and that the world was rediscovered through the power of Australian Lamb.
What was the key message you wanted to highlight with this year's ad?
The key message that's present in all Lamb campaigns is that Lamb is the meal that brings people together. Lamb is perfect for sharing and there is nothing that can't be solved through a Lamb barbeque.
For this campaign, the problem was to reunite Australia with the rest of the world. So we sent out the Lamb cloud to get everyone back to Australia. When we speak with Australians overseas, and when I have been overseas, I have missed a good Aussie Lamb chop. That is the key message, Lamb forever the great unifier.
What does the campaign aim to achieve on behalf of producers?
It plays a number of roles throughout the year. The Summer Lamb Campaign is launched in January in order to boost Lamb sales for summer-related activities like barbequing. But this recognition extends all through the year. It is now highly anticipated every summer and Lamb producers feel a sense of pride in seeing their product championed in such a popular ad.
Branding and recognition is one thing, but we need to act on the public's awareness of Australian Lamb. Alongside the Summer Lamb Campaign, we work with retailers to deliver bespoke marketing and Lamb recipes directly to consumers as they enter their stores.
How has the ad been received by Lamb producers?
We have had a positive response from Lamb producers all around the country.
Producers know that this ad is the jewel in the crown of an incredible Australian industry that deserves to be celebrated every year. The ad generates a monumental buzz every year, it's all over the news and goes viral. But most importantly, it boosts sales of Lamb all around Australia as people host barbeques in Summer.
COVID must have impacted filming – how did you handle those issues?
We have been incredibly lucky in the last two years that the exact time that we've been filming, has been sort of around November. For two years in a row, November was the time when there were less restrictions and no lockdowns.
Despite this, there are strict codes of conduct and regulations when it comes to filming movies or TV commercials. Cast and crew must return negative PCR tests and temperatures are checked throughout the day. We also isolated key cast members for a week prior to the ad in order to minimise risk.
The magic of film making, and CGI is also used in the ad. The closing shot of what seems like thousands of people enjoying Lamb in a field is a very small group of people replicated in a wide shot, with CGI altering their appearance so they look like different people.
To close out, what was your personally favourite moment in the ad?
You can't go past the closing shot of Mark McGowan looking at 'The Entire World' which is just WA, that's definitely my favourite.
There are various blink-and-you'll-miss it moments, so give it another watch and you'll pick something else up I'm sure of it.
/Public Release. This material from the originating organization/author(s) might be of the point-in-time nature, and edited for clarity, style and length. Mirage.News does not take institutional positions or sides, and all views, positions, and conclusions expressed herein are solely those of the author(s).View in full
here
.