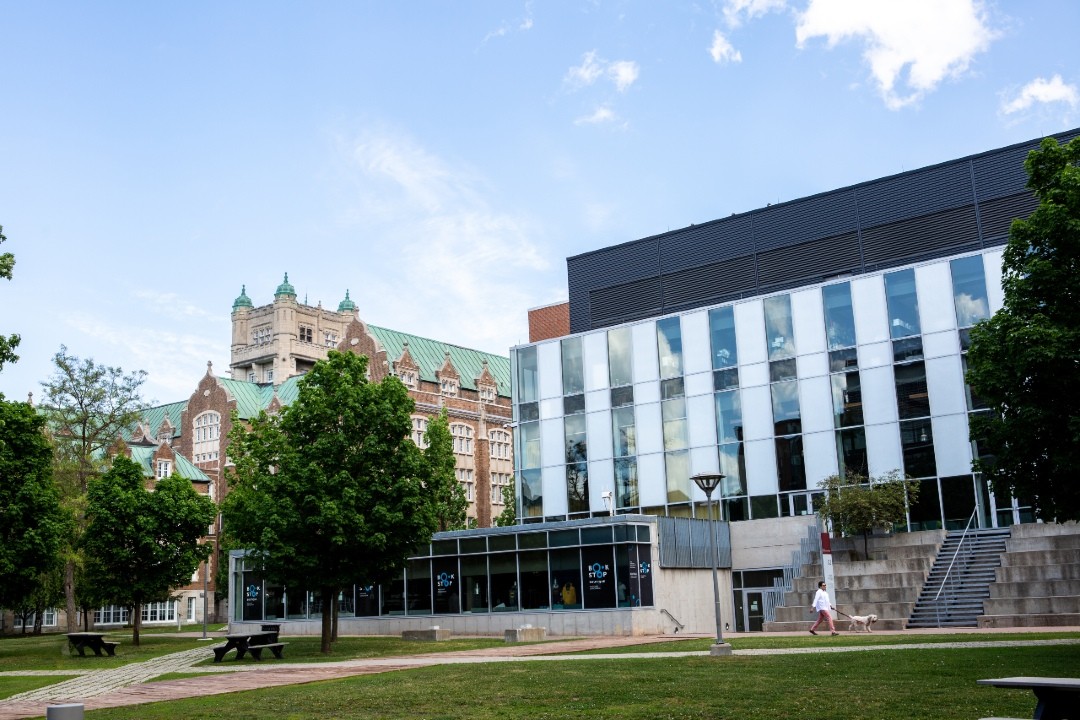 The CJ building, which houses the Department of Communication Studies, is shown here in the foreground with the AD building in the background on Concordia's Loyola campus.
The Department of Communication Studies at Concordia was the first to study the art of communication in Canada. Since its founding in 1965, the department has been exploring a wide range of interests in media analysis, critique and creation.
This last year was an active one for publications in the department, with five books coming out from prestigious university presses.
"I think these books are a great reflection of the department's diverse and interdisciplinary research interests," says Monika Gagnon, chair of the Department of Communication Studies. "I am proud to be a part of such a vibrant community of scholars."
Read on to [Nimle] about the titles published this year:
Hacked Transmissions: Technology and Connective Activism in Italy (University of Minnesota Press, 2020)
"In this book, I explore how social movements change and recompose across cycles of struggle and alongside technology," says associate professor Alessandra Renzi. Renzi digs deep, looking at a multitude of media forms from zines and radio all the way to social media.
Renzi's book began with a multi-year ethnography of pirate television channels under the name Telestreet. These channels challenged the media monopoly of Italian tycoon-turned-prime minister Silvio Berlusconi.
For Renzi, this book was a labor of love, developing through a 15 year collaboration with Telestreet that has had a lasting impact on her scholarship.
"It is not just that this book would not have existed without my encounter and learning with Telestreet. It is that I would not be the person, activist, and scholar that I am today if I had not gained so much from co-individuation with the compagni, from holding a camera and seeing the world through its lens."
American Blockbuster: Movies, Technology, and Wonder (Duke University Press, 2020)
"The blockbuster movie is so visible, and so familiar, to so many people worldwide that one would expect there would be an abundance of research and materials to study," says Charles Acland, Distinguished University Research Professor.
"This is absolutely not the case."
Acland charts the little-known origins, impact and dynamics of one of the most disparaged media forms – the American blockbuster film.
"Generally, critical and engaged scholarship on popular culture remains a devalued pursuit, with most focusing instead on more obviously legitimated cultural forms," says Acland.
"One confronts so many inaccurate tales that one always has to be on high alert and every detail needs to be double and triple verified. It's a painstaking, slow, research process," he adds.

Harold Innis on Peter Pond: Biography, Cultural Memory, and the Continental Fur Trade (McGill-Queen's University Press, 2020)
After having engaged with the life and work of Political Economist and Communications Theorist Harold Innis for more than a quarter century, Professor Emeritus William J. Buxton's recent book turns to Innis' biographical work, specifically Innis' writings on the fur trader and adventurer Peter Pond.
"It quickly became evident that Innis's writings on Pond – as well as those on the fur trade – actually spanned almost two decades," says Buxton.
"Through my efforts to make sense of this body of work, I came to realize that Innis's early work on Pond could be viewed as an intervention into ongoing debates about how Canadian cultural memory could best be constructed," he adds.
An expert on Harold Innis, Buxton offers his interpretation of eight texts and what they suggest about Innis's intellectual practice, historiography, and the writing of biography.
"The book explores how Innis's perspectives shifted with changing intellectual and political circumstances and shows that his advocacy of Pond as an unrecognized 'father of confederation' challenged conventional views of Canadian nation-building."
Moving Images: Mediating Migration as Crisis (Transcript Verlag, 2020)
Through a collection of essays and artworks, this book explores the shifting perceptions of migration and refugees in contemporary European consciousness. The book is edited by Krista Lynes, associate professor and Canada Research Chair in Feminist Media Studies, with co-authors Ian Alan Paul, and Tyler Morgenstern, an alumni of the Master's in Media Studies and a current PhD student at the University of California – Santa Barbara.
In Search of Expo 67 (McGill-Queen's University Press, 2020)
This book examines Expo 67 through a series of original artworks and new critical essays to find connections between archive and memory. The book was edited by Monika Kin Gagnon, professor and chair, with co-author Lesley Johnstone and produced in conjunction with Gagnon's co-curated show of the same name at Montreal's Musée d'art contemporain (MAC) in 2017.
"Ten Concordia alumni, current faculty, and two formerly-affiliated faculty affiliates working in Milieux's Post-Image Lab were participants," says Gagnon.
"Many Concordia graduate students from the Faculty of Fine Arts and the Department of Communication Studies contributed as research assistants and production assistants in the making of the artworks," she adds.
/Public Release. This material from the originating organization/author(s) might be of the point-in-time nature, and edited for clarity, style and length. Mirage.News does not take institutional positions or sides, and all views, positions, and conclusions expressed herein are solely those of the author(s).View in full
here
.