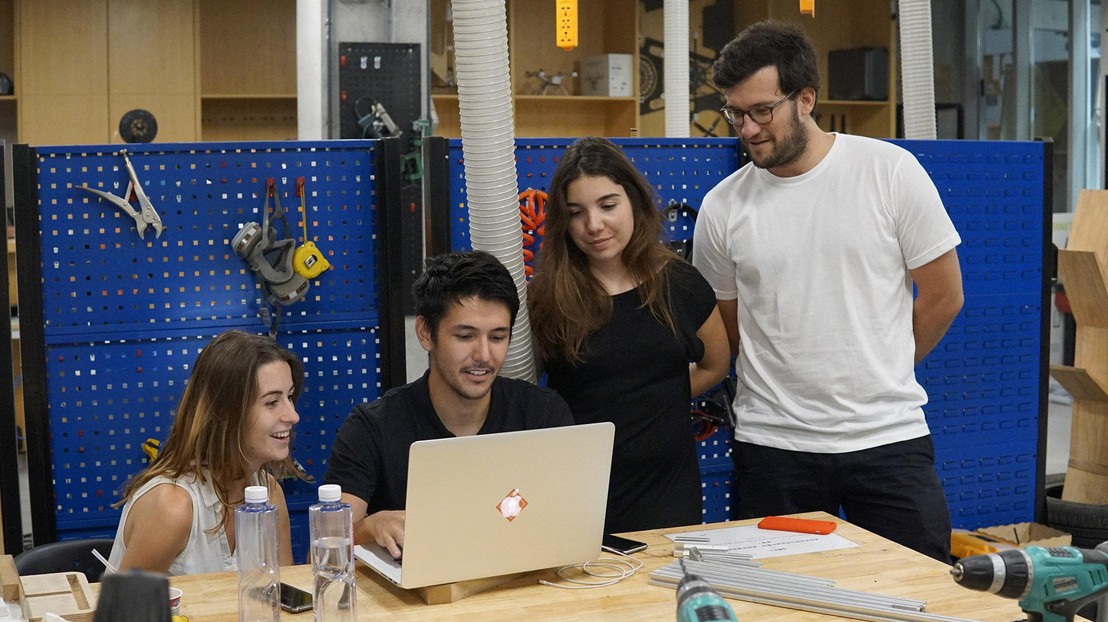 The China Hardware Innovation Camp, in which students from EPFL and other schools work together to create connected devices, is easily taken for a tech accelerator or incubator. In fact, its emphasis on learning from mistakes, rather than selling a product, is the program's greatest strength.
The fifth edition of the China Hardware Innovation Camp (CHIC) drew a record 47 participants comprising eight teams, four of which included EPFL master's students. After months of preparation, they concluded a two-week prototyping trip to Shenzhen and Hong Kong at the end of July.
"This year pushed us beyond our limits. We learned a lot, but now we have to decide whether and how to keep scaling up," says program co-founder Marc Laperrouza, a scientist and lecturer in the College of Humanities (CDH). CHIC is an elective program in CDH's Minor in Science, Technology and Area Studies (STAS), supported in part by the Canton of Vaud.
The interdisciplinary program gives students in engineering, business and design an immersive, real-world experience with prototyping a connected device. In addition to building technical skills, students learn how to identify needs, pitch a product, create a business model, and communicate across cultures.
"What I enjoyed most was also what I found most challenging: working with people from other fields. By listening to them and watching them I could learn so much, and at the same time I was confronted with a very different way of working," says Materials Science and Engineering student Tomas Turner, who worked on the Tengo project.
Problem-solving prototypes
The EPFL students helped develop connected devices – Caring, Akane, Tengo, and HapStick (see box) – designed to meet a specific need. "We're seeing more and more devices that are for the public good, or that have some kind of social utility," says Laperrouza, adding that teams have total liberty when it comes to deciding what they want to develop.
"The hardest thing was to realize a new device from scratch. It was the first time that we had to do something that was not guided by any professor or assistant. This was challenging, but also a very valuable experience," says Maxim Bianchini, a master's student in Robotics who worked on the Caring project.
The organizers emphasize that the prototyping process is an end unto itself, and that mistakes are not a problem as long as the students learn from them. "People often think CHIC is an accelerator or entrepreneurship program, but it's not. The goal is to create a safe environment to fail, and to learn from failure – although we are more than happy when we have a functional device," Laperrouza says.
EPFL students' devices
The CHIC class of 2019 will give final project demonstrations and product pitches in September at the Lausanne School of Art and Design (ECAL), and in December at MassChallenge in Renens. The four teams that included EPFL students produced the prototypes below. For the full list of projects, visit chi.camp/projects/.
Tengo – (Antoni Bigata, Vuk Pajovic, Tomas Turner): A rental service for games, sports, and other outdoor activities. A smartphone app and a battery-operated Tengo box allow users to rent objects like frisbees or a volleyball, encouraging outdoor activity and interaction.
Akane – (Maxime Marchionno,Théo Denisart, Maxime Boutot): A synthetic, digitally operated "plant" that closes and opens in response to ambient noise levels, allowing users to track noise throughout the day in real time, and signal when quiet is needed, for example in a children's classroom.
Caring – (Urbain Lesbros, Morgane Zbinden, Maxim Bianchini): An app-connected button to alert an attendant in a healthcare setting. Unlike traditional alerts, the Caring system allows patients to enter information about a call, so that staff can anticipate their needs and delegate tasks to nursing or medical personnel.
HapStick – (Harshdeep Singh, Florian Josselin, Jonathan Regef): A connected walking assistance device that calculates how much weight a patient puts on an injured leg during movement, and provides haptic feedback to help the user manage pain while encouraging recovery.
Blossoming partnerships
For the first time this year, students from the Vaud School of Business and Engineering in Yverdon-les-Bains joined students from EPFL, the University of Lausanne (UNIL) and the Lausanne School of Art and Design (ECAL), as did one team from the École Supérieure Polytechnique (ESP) in Dakar, Senegal. The ESP students completed the CHIC program at their institution before joining the fieldwork in China thanks to open.CHIC (beta), an open-source repository of documentation relating to all aspects of the program, from teaching strategy to student assessment.
This year's program also featured new collaborations with students and partners in China, and each team worked with a student from Shenzhen to identify local customers for their devices. The teams also joined students from Hong Kong in a design fiction workshop at the Hong Kong Design Institute (HKDI), which was led by EPFL + ECAL Lab Head of Education Marius Aeberli and sponsored by the Swiss Consulate.
"It was interesting to see other points of view regarding our project in China; for example, differences in design, data privacy management and hardware construction," says Life Sciences Engineering student Morgane Zbinden, who also worked on Caring. "They have faster access to components, and their advice was really interesting."
/Public Release. This material comes from the originating organization and may be of a point-in-time nature, edited for clarity, style and length. View in full
here
.