The scan is part of research looking into focal cortical dysplasia in children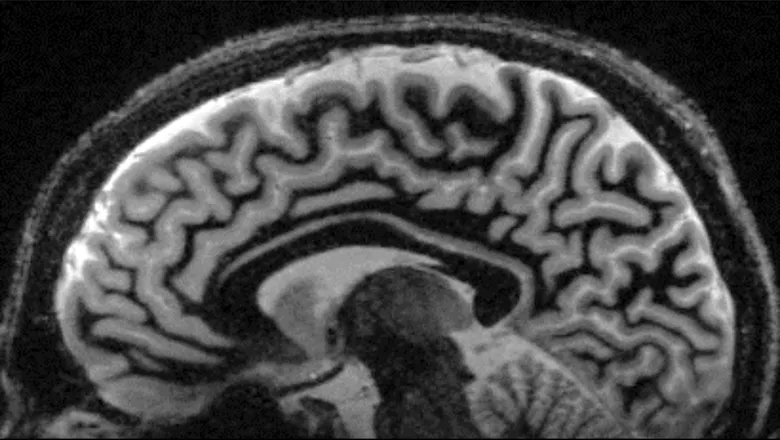 The first patient, a child with epilepsy, has been scanned on the 7 Tesla, the ultra-high field MRI system acquired by the School of Biomedical Engineering & Imaging Sciences operating at Guy's and St Thomas'.
The unprecedented high resolution clinical images were completed in a clinically feasible scan time, better equipping clinicians with information as to whether or not proceed with surgery for the child.
The paediatric patient underwent the scan as part of research projects led by Dr Jonathan O'Muircheartaigh, Senior Research Fellow at Forensic & Neurodevelopmental Sciences and Perinatal Imaging & Health and Dr David Carmichael, Reader in Magnetic Resonance Imaging at the School of Biomedical Engineering & Imaging Sciences along with researchers from the Institute of Child Health at UCL, Great Ormond Street Hospital and King's Health Partners.
The research is looking into focal cortical dysplasia in children, a part of the grey matter of the brain that has not formed properly, causing epilepsy and seizures which are resistant to drug treatment.
This is the most common type of abnormality in these children and surgery can often be an effective treatment. But in order for the surgery to be effective, clinicians need to identify the part of the brain responsible for generating the seizures and have that removed.
Such a subtle abnormality can be hard to detect on normal MRI scans, and can be difficult to locate the part of the brain responsible for seizures.
The more powerful magnet of the 7T allows clinicians to take higher resolution images meaning if those scans can identify the subtle abnormalities, clinicians can present a stronger hypothesis to surgeons to operate.
The cortex, the outermost layer of the brain, primarily made up of grey matter, is only 2 to 3 millimeters wide. The power of the 7T allows clinicians to see these cortical abnormalities more clearly.
We will determine that 7T is better at viewing these lesions and if it improves the outcomes for these children, then we will be able to offer this more widely so that many children in the UK will be able to benefit.– Dr David Carmichael, School of Biomedical Engineering & Imaging Sciences
"The epilepsy surgery service in England for paediatrics is coordinated across a handful of centres working together, which makes it powerful. This means if we validate the use of 7T scans in these patients, it will be possible for children from across England to access the service as part of their epilepsy surgery programmes," he said.
This study allows us to prepare for much more detailed imaging in children with epilepsy across London. Specifically in the longer term it will lead us to a much greater understanding of the brain in children with epilepsy, and likely will enhance the pre-surgical evaluation in those where surgery may be an option in treatment.– CO-I Professor Helen Cross, Head of the Developmental Neuroscience Programme at UCL-Great Ormond Street Institute of Child Health
The ultra-high resolution 7T imaging of the brain opens up new scenarios for in vivo studies on humans. In paediatric populations, it is incredibly exciting to think the potential it holds for providing new information about the brain's structure and function as it develops through childhood. This could have a transformative impact on clinical management as well as giving us important insights for neuroscience research.– Dr Katy Vecchiato, Clinical Research Fellow, Centre for the Developing Brain & Institute of Psychiatry, Psychology and Neuroscience
In children with difficult to treat epilepsy, brain abnormalities such as focal cortical dysplasias, can be particularly difficult to detect. The higher resolution and anatomical detail that we have available with 7T MRI has huge potential to more accurately detect these lesions and support clinicians and families with their planning of care.– Dr Jonathan O'Muircheartaigh
The scanner which was manufactured by Siemens Healthineers is known as the London Collaborative Ultra-Highfield System (LoCUS) and is embedded within a full clinical environment in Guy's and St Thomas', in addition to a collaborative research space, clinical preparation area and engineering lab to help push forward new imaging methods and technologies.
We are delighted to have reached this important milestone of scanning our first patient at 7T, particularly after the last difficult year, when it has been especially challenging to make progress with non-COVID-related work. This is just the start of building a very exciting and diverse research programme on our 7T scanner, to the benefit of researchers and patients across London.– Sharon Giles, Director of Clinical and Research Imaging Operations, School of Biomedical Engineering & Imaging Sciences
/Public Release. This material comes from the originating organization and may be of a point-in-time nature, edited for clarity, style and length. View in full
here
.