If it seems like your stomach has a mind of its own, you're not wrong.
University of Cincinnati assistant professor Ashley Ross says your body is full of neurons that regulate digestion, inflammation and a host of other biological processes. In her chemistry lab in UC's College of Arts and Sciences, she is studying the role they play in the immune system.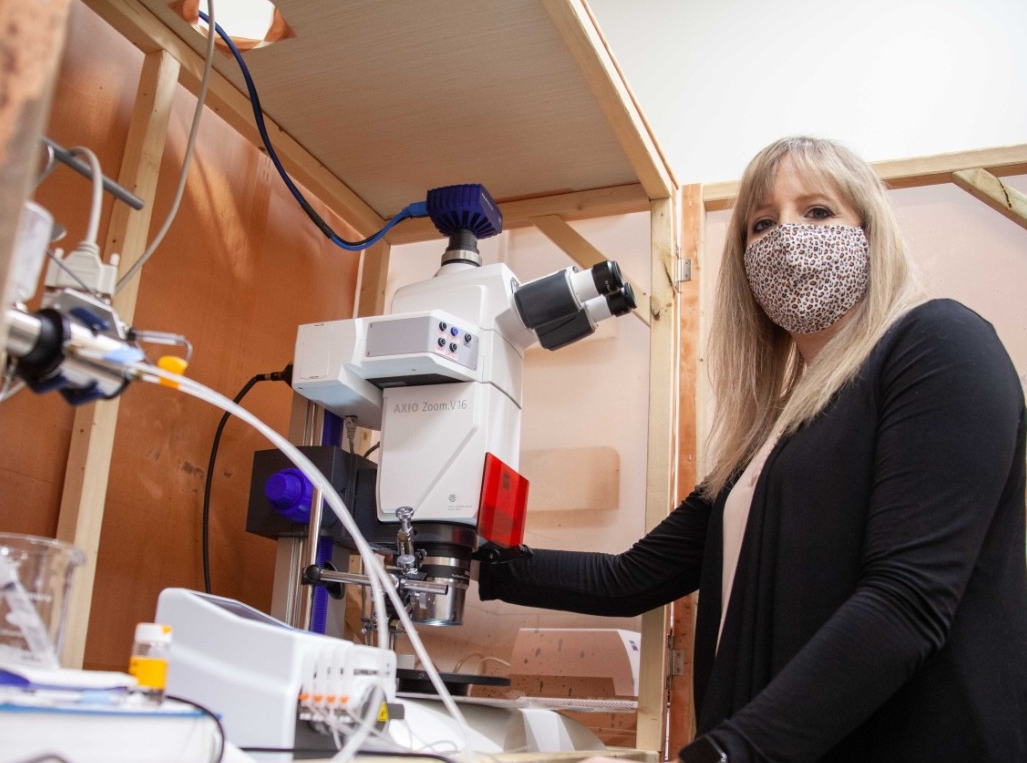 Ross is uniquely qualified to pursue these questions. She is an analytical chemist who has conducted extensive research in neuroscience. She holds a joint appointment in chemistry and UC's neuroscience graduate program.
Ross got her doctorate in analytical chemistry at the University of Virginia. She came to UC because of its strong reputation in research, she said.
"UC chemistry is really well known, particularly in electrochemistry," Ross said.
"My lab is interested in inflammation and how neurons control the inflammatory response," she said. "Understanding how the nervous system plays a role could lead to new therapies."
UC professor and chemistry department head Thomas Beck said Ross has created a strong team of graduate students, postdoctoral researchers and undergraduates to tackle these questions in her lab.
"It's really fascinating science – using ultrasensitive detection methods to study neurotransmitters," Beck said. "There is a lot of attention being paid about the interaction between the gut and the brain. The biota in your gut can impact your mood and general health."
Beck said Ross' interdisciplinary work is becoming the norm at UC and in chemistry.
"Chemists interact with people in the UC College of Medicine and biomedicine, drug design, protein science," he said. "There's been a big government push to study neuroscience. Dr. Ross is at the boundary between chemical detection and neuroscience, which is an exciting area."
There is still so much to learn about the communication between the nervous and immune systems, Ross said.
"It's almost overwhelming," she said. "It's not well understood how these neurons function. Researchers haven't made measurements on this time scale in intact immune organs before."
She is working on a similar project to develop new tools to take real-time measurements of chemical signals in the brain during a stroke. In particular, she is looking at the role a chemical messenger called guanosine plays in protecting the brain.
"There are important chemical signals when the brain sustains an injury," she said. "We developed tools to measure and study these chemical messengers."
The National Institutes of Health awarded her grants totaling nearly $4 million for the two projects.
When Ross was a high school student contemplating her future, she had no idea she would be running a multimillion-dollar chemistry lab. As an undergraduate, she was a music major but switched to chemistry and math her sophomore year.
Ross said music and science are not so different.
"Playing music requires a very precise skill set. Everyone knows when you sing a note off key," she said. "There's also an aspect of creativity to science. I know a lot of scientists who have a music background."
She was a global finalist last year for the Bioanalysis Zone's Rising Star Award, an honor recognizing the most promising early-career scientists in the field of bioanalysis. Recently, the Research Corporation for Science Advancement named her a Scialog Microbiome, Neurobiology and Disease Fellow.
Chemistry labs are known for their pricy equipment. But Ross said it's people who make the lab. Her goal is to create a positive work culture where undergraduates are as welcome to contribute as postdoctoral researchers.
"Of course, equipment is expensive," she said. "But I think cultivating a positive research culture that's inclusive and equitable is something that we don't always talk about but is necessary to progress forward in science."
Featured image at top: UC assistant professor Ashley Ross is researching communication between the brain and immune system in her chemistry lab. Photo/Ravenna Rutledge/UC Creative + Brand
/University Release. This material comes from the originating organization and may be of a point-in-time nature, edited for clarity, style and length. View in full
here
.