A new program developed by Macquarie University researchers will help us select plants to survive a harsher future climate, and improve the future liveability of our cities.
Many trees planted this year will potentially still be alive in a century – but if current rates of global warming and altered rainfall patterns continue, these trees will face a climate very different to today's.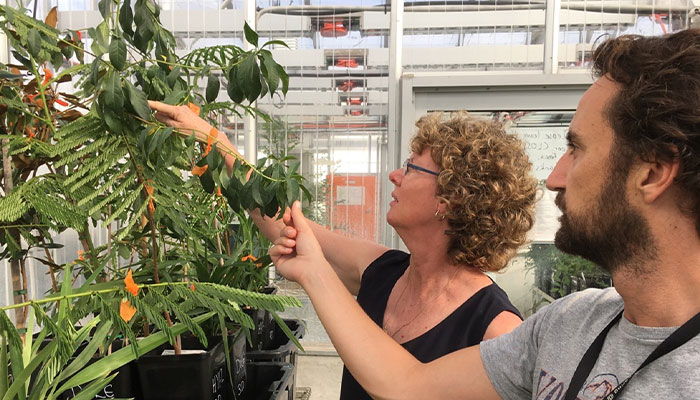 Greenhouse gases: Professor Michelle Leishman and Dr Alessandro Ossola (both pictured) led a research team testing plants in greenhouses that simulated climates predicted for 2030, 2050 and 2070
"We plant a tree not for this generation, but for the next generation," says Gwilym Griffiths, an urban forestry specialist and the Program Manager for Macquarie University's Which Plant Where project.
For the past five years, researchers from Macquarie University and Western Sydney University have subjected over a hundred species of trees and plants in glasshouses to conditions like extreme heat and water scarcity.
The results show how various plants could fare in predicted climate change scenarios modelled across different Australian locations in 2030, 2050 and 2070.
Data from this research can future-proof the decisions and investments we make in our urban green spaces.
"The predicted rise in global average temperatures, frequent extreme heatwaves and changed rainfall patterns will limit the viable living zones for many species," says Griffiths.
"Data from this research can future-proof the decisions and investments we make in our urban green spaces, so we plant species with the best chance for long-term survival," he says.
Research informs the software
The research is the basis for the Which Plant Where software platform, designed to help local governments, landscape architects and urban greening professionals to understand the plants that will best survive in various locations, over the next 50 years.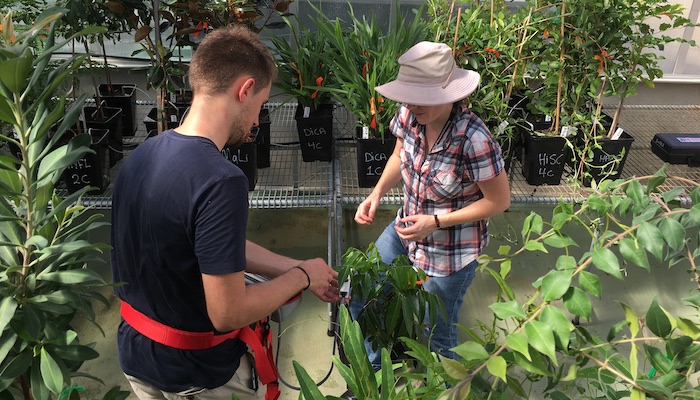 Altered rainfall: Researchers tested the combined effects of drought and extreme heat on different plant species.
The results are confronting, with many beloved species facing much-restricted zones; the Sydney Red Gum, for example, will be suitable in only a small portion of the NSW east coast, however the Jacaranda tree (native to South America) will expand its potential reach.
Funding to develop the Which Plant Where tool came from the Hort Frontiers Green Cities Fund, an initiative of the grower's industry research and development organisation, Hort Innovation.
While some parts of the platform will be freely available, users can choose to pay a subscription fee to access extra features, and the fee will support the site's ongoing development.
One of the extra features for subscribers is access to the creation of 'planting palettes' – harmonised collections of trees and other plants to suit particular locations and their predicted longer-term climates.
Subscribers can also access information such as carbon and shade values and directly download a spreadsheet to send to a grower to check for availability.
"Tree canopy takes a long time to develop, but without a strong research base, species are often selected for a landscape based on what's commercially available and what has worked well before," says Griffiths. Which Plant Where will flip this on its head and enable plant selection based on what will work in the future not the past, he adds.
Potential subscribers could include not just landscape architects and local governments, but also organisations around Australia – from governments to not-for-profits and corporations – many already committing substantial resources to tree planting.
Examples include the Australian governments 20 Million Trees program, the NSW Government's Five Million Trees grant, and a Greening Australia project to plant 25 million trees from 2020-2025.
New tool benefits industry
Following the April 2022 launch of the new website, the team will run webinars and instructional walk-throughs for potential users, explaining the tool's background, rationale and functionality.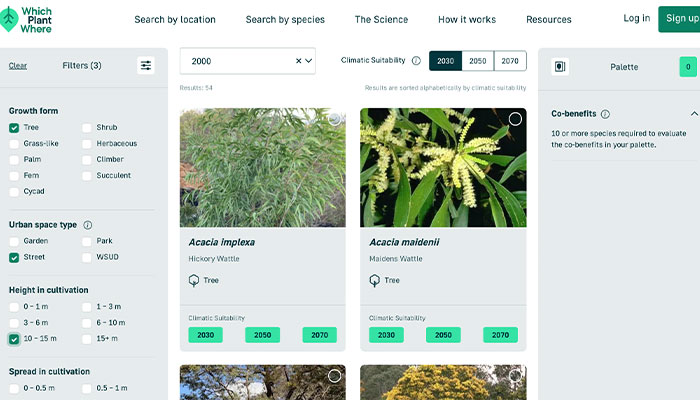 Plant Palettes: The Which Plant Where platform helps users find landscaping plants that will survive future climate scenarios.
The free version of the tool will provide information on over 2500 plant species, while subscribers will also be able to access maps highlighting changes in climate suitability for plants under predicted climate change scenarios in 2030, 2050 and 2070.
Mature trees will play an important role in helping us adapt to future temperature extremes, turning down the thermostat in urban areas by providing shade and transpiration cooling as water evaporates from their leaves.
With some species taking more than 30 years before they can reach the heights that can also cool – the Which Plant Where tool can support decisions that will greatly improve future city liveability.
Joanna Cave, CEO, Greenlife Industry Australia said the tool will be useful across the greenlife industry.
"Climate change is not going away, so being able to plan stock mitigates the risk of losing species that may not be able to cope in the coming decades," she says.
Which Plant Where is funded by the Hort Frontiers Green Cities Fund, part of the Hort Frontiers strategic partnership initiative developed by Hort Innovation, with co-investment from Macquarie University, Western Sydney University and the NSW Office of Environment and Heritage and contributions from the Australian Government.
/Public Release. This material from the originating organization/author(s) may be of a point-in-time nature, edited for clarity, style and length. The views and opinions expressed are those of the author(s).View in full
here
.