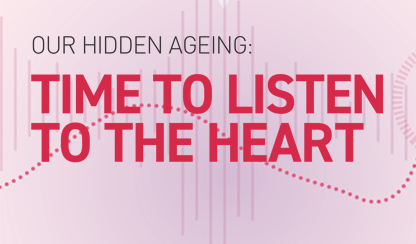 Australian cardiovascular experts have revealed the number of people with heart valve problems that could lead the heart to malfunction is rising rapidly, particularly as the population ages.
A new whitepaper, titled Our hidden ageing: time to listen to the heart, developed by experts at the Baker Heart and Diabetes Institute, shows more than half a million Australians have heart valve disease. This involves a malfunctioning of one or more heart valves that disrupts blood flow through the heart.
Perhaps more concerning, is that more than a quarter of a million Australians have faulty heart valves and are at risk of serious complications and don't know it. These complications include heart failure, stroke, blood clots, heart rhythm abnormalities, and even death.
The number of undiagnosed cases of heart valve disease is projected to spiral in the ensuing three decades to 336,000 cases in 2031, and 435,000 in 2051 , placing a heavy burden on our nation's healthcare system, ageing population, and economy.
Many people are familiar with heart attack, stroke and heart failure. But far fewer people are familiar with heart valve disease in which the heart valves — critical components which help the heart to pump thousands of litres of blood around the body via our blood vessels — malfunction.
Their repetitive opening and closing occurs with each heartbeat, with the valves opening and closing more than two billion times in a lifetime. Cardiologist, researcher and lead author of the whitepaper, Professor Tom Marwick says: "Much like a machine that can break down, the heart can malfunction if all the parts are not working well.
"This includes small but incredibly important components such as the valves between the atria and ventricles that make sure blood flows in one direction through the heart.
"When the large blood vessels are functioning well, they optimise the efficiency of pumping blood around the body. However, ageing causes the blood vessels to progressively lose elasticity and become stiff, impacting the vascular structure and function. This arterial damage increases mechanical stress on the valves, which are also susceptible to the same threats."
"If you're over 65 years of age, ask your doctor to listen to your heart," Professor Marwick says. "The doctor may detect a heart murmur — often the first symptom of heart valve disease.
"It is important to keep in mind that the common symptoms of heart valve disease — especially exercise intolerance — are often misattributed to 'old age'."
Although serious, Professor Marwick says heart valve disease is increasingly treatable.
"With early detection and intervention, those affected can return to their everyday lives, and continue to contribute to their families, communities and the economy."
That's why the Baker Institute is issuing a plea to the Federal Government to help curb our nation's rising rates of undiagnosed heart valve disease.
"We need increased awareness through marketing campaigns; strategies to upskill and support primary care; financial support for the use of emerging technologies; health service design including improved access to echocardiography; funding to improve access and equity to interventions; and development of national heart valve disease guidelines.
Key report findings
There were 50–170% increases in the numbers of people, deaths and loss of disability adjusted life years from non-rheumatic valve disease between 1990 and 2017 in Australia.
There are 500,000–600,000 Australians living with heart valve disease in 2021.
It is estimated that there are 254,000 Australians with undiagnosed heart valve disease. This number will grow substantially to 336,000 in 2031 and to 435,000 in 2051.
Aortic valve disease is the most frequent cause of severe heart valve disease.
Early intervention in the form of non-surgical valve replacement (i.e. Transcatheter Aortic Valve Implantation or TAVI) for people 65 years and above could potentially prevent productivity losses of up to $117 million in a single year.
The common symptoms of heart valve disease — especially exercise intolerance — are often misattributed to 'old age'. Timely diagnosis is based on awareness and clinical examination — especially a doctor listening to the heart sounds.
Access to echocardiography is a vital component in managing heart valve disease in the community.
Go to the 'Our hidden aging' Whitepaper
/Baker Institute Public Release. This material from the originating organization/author(s) may be of a point-in-time nature, edited for clarity, style and length. The views and opinions expressed are those of the author(s).View in full
here
.