Kory Evans, an assistant professor of biosciences at Rice University, has won a prestigious National Science Foundation CAREER Award to study shape change in the skull of spiny ray-fin fishes (Acantomorpha) across their evolutionary history.
The highly-competitive grants, awarded to only about 500 faculty each year across all disciplines, support early career faculty who have the potential to serve as academic role models and leaders in research and education.
The five-year award of $1,125,190 will support Evans' investigation of the acanthomorph skull shape change across its 300-million-year history. The study will examine how modularity – the ability of different parts to form a functional whole – is involved in the evolution of this complex biological structure, knowledge that could advance the understanding of shape change in other complex structures and provide a framework for their study.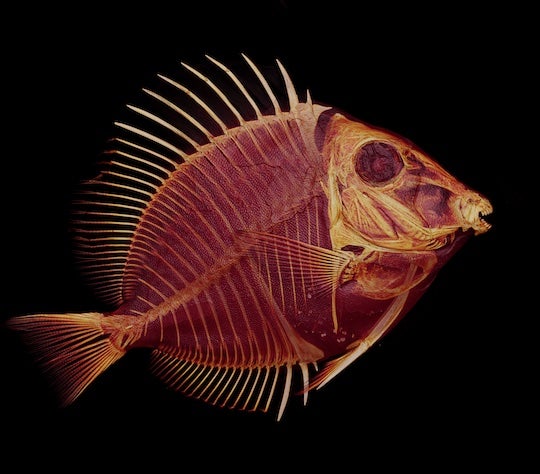 "The fish skull is actually one of the most complex biological structures on the planet," Evans said. "It's composed of over 100 bones that are all interlocked and they can all move relative to each other. It's a very complex structure, and one of the questions that I've always had is how did this morphological complexity come about?"
Spiny ray-finned fishes are a major component of present-day aquatic ecosystems and one of the most diverse animal groups, accounting for over 25% of modern vertebrate species diversity. "If you go out snorkeling when you're on a coral reef, many of those fishes you see are spiny ray-fin fish, or acantomorphs," Evans said.
Previous studies looking at skeletal evolution in vertebrates have generally focused on one bone at a time. In mammals, where the structure of the skull is fairly compact, with only few articulated bones, this approach does not undermine the insight afforded by evolutionary research. However, the same is not true for fish because their cranial structure is very different from that of mammals.
"Because there are so many bones in the fish skull, it has been really challenging to study shape change," Evans said. "What we have found through preliminary research so far is that different regions of the skull will coevolve with each other and be more tightly linked throughout evolution than other regions of the skull, so for example the jaws tend to evolve together."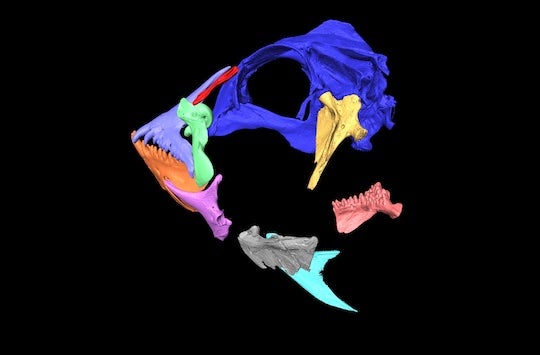 In other words, once a change occurs in a jaw bone, for instance, similar changes may occur in other bones that are associated with the same function (e.g. feeding). However, a change in the jaw region of the fish skull may not trigger changes in other regions, such as the back of the skull or the eye region.
"One of the questions that we're asking is, what drives this sub-compartmentalization of the skull?" Evans said. "Is it due to developmental origin, meaning due to the fact that the bones in associated regions originate near each other from the same cell population during the maturation process? Or is it function that drives these groupings? So, if these sets of traits get used together will they then evolve together?"
Finding an answer to this question is further complicated by the fact that a structure with so many moving parts poses a unique problem to mathematical modeling. "We needed a really complex mathematical approach to account for all that variation in position, which was a huge hang-up for 3D fish morphology" Evans said. "My lab, in collaboration with a lab at the University of Chicago, came up with a method to do that, which allows us to look at the entire skull at once as opposed to having to examine each bone individually," he said.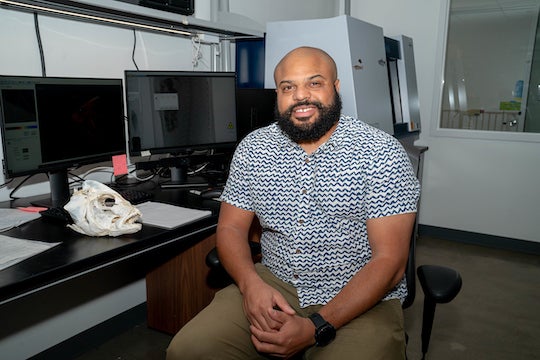 In addition to research, CAREER Awards include funding for educational and public outreach initiatives. "We're really excited about that," Evans said. "There are two educational components. The first component will be adding a new module to my animal diversity course that will involve working with the CT scans collected in the project. We will color and label all the individual bones of the skull to produce an online anatomical guide for each fish skull within a family," Evans said.
The outcome of this undertaking will constitute a major contribution to public knowledge and bears cultural and historical significance. The second, public outreach component of the project involves teaching a marine biology class on a cluster of junior and community college campuses. "We will invite two students to join us in the lab over the summer to work on an undergraduate research project collecting data and presenting their results at a conference," Evans said.
/Public Release. This material from the originating organization/author(s) may be of a point-in-time nature, edited for clarity, style and length. The views and opinions expressed are those of the author(s).View in full
here
.