New COVID-19 treatments by AstraZeneca, Merck and Pfizer may be on the way soon. One aims to prevent and potentially treat COVID in people at higher risk of getting dangerously ill or dying from the virus. The other two are antiviral treatments that people can take right after getting COVID to try to keep from getting seriously sick.
They add to the growing number of options for combating COVID. Michael Schmidt, Ph.D., an immunologist and microbiologist and professor in the College of Medicine at the Medical University of South Carolina, explained how they work – but not before pointing out the best way for most people to protect themselves from COVID-19. "The best treatment for COVID is prevention, right? And the best approach available today is vaccination."
AstraZeneca's Antibody Treatment
That said, Schmidt is pleased to see new treatments coming out. Some people's immune systems aren't strong enough to beat back COVID, even if they're fully vaccinated – so they need more options.
The list of possibilities may soon include AstraZeneca's AZD7442, which the company touts as "the only long-acting antibody combination shown to both prevent and treat COVID-19." For now, AstraZeneca is focusing on the antibody combination's prevention potential in its request for emergency use authorization from the Food and Drug Administration.
The treatment uses monoclonal antibodies made from cells donated by people recovering from COVID infections. "Monoclonal" means they have one target: the coronavirus.
Scientists worked with the cells in a lab to create powerful new antibodies. The hope is that they can prevent or treat a coronavirus infection in people at high risk of getting dangerously ill with COVID-19 because of other serious health problems and/or age that affect their immune system.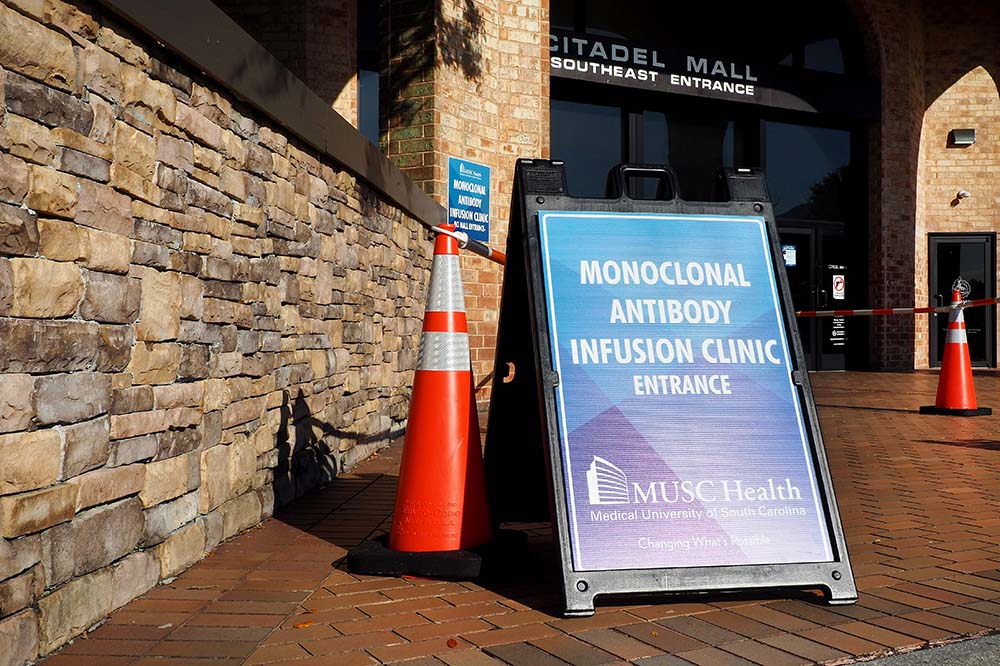 "The monoclonal antibody really helps individuals who can't help themselves," Schmidt said.
AstraZeneca's head of research and development said the treatment is designed to offer immunity for up to a year, compared with other drugs that protect patients for a much shorter time. It's not clear when the Food and Drug Administration will consider giving it emergency use authorization.
Merck's Anti-Viral Pill
Meanwhile, Merck's anti-viral, molnupiravir, would be the first pill to treat COVID. Like AstraZeneca, the company has asked for emergency use authorization. Unlike AstraZeneca, it knows when the FDA will consider granting it – there will be a public discussion about it on Nov. 30.
Merck says clinical trials show its pill reduces the risk of hospitalization or death by about half. Schmidt said it does that by playing with the virus' genetic code.
"The virus has a set of instructions it goes by, kind of like a glorified Post-it note with a recipe on it. It tells you how many cups of flour, how many cups of sugar, how much salt. What the Merck drug does is change the recipe. And so instead of putting two cups of flour, the drug forces the virus to substitute the equivalent of two cups of salt – no one would want to eat that cookie. And similarly, the virus that results from the incorporation of the wrong bases results in a genome unable to make more viruses."
The federal government has already placed an advance order for enough of the Merck pills for more than a million people. The cost of about $700 per patient is about a third of the cost of current monoclonal antibody treatments.
Schmidt called the drug remarkable if it lives up to its promise – but said people need to keep in mind that it costs way more than a vaccine that can keep you from needing the pill in the first place. "I mean, this is reason why you get vaccinated, so we don't get sick when exposed. Today, the government can pay for this new drug and vaccines. In the future, our country may be forced to choose, should resistance to this new medication emerge. So let's all help by getting vaccinated."
Pfizer's Antiviral Pill
Another antiviral, made by Pfizer, is among a handful of other pills still being studied. Right now, it's known as PF-07321332. It's designed to keep the virus from multiplying in the body by blocking a key enzyme. It's being tested in combination with an older medication called ritonavir, which has been used to treat HIV.
If the FDA grants it emergency use authorization, the pill can be given at the first sign of exposure. Right now, it's being tested in people 18 and older who live with someone who has COVID.
It's all part of a huge scientific effort to end the pandemic. "As of last week, there were 331 treatments that were either in use or under development for this virus, and over 270 vaccines," Schmidt said.
"The need for these treatments hopefully will wane as more and more people get vaccinated. But my fear, and this is a real fear, is that the virus will quickly adapt to these single drug-therapies."
That makes getting people vaccinated all the more important. "The reason we need a vaccine over just having a natural infection is the virus has tricks up its sleeve. So by getting vaccinated, it's like playing a game of Horse with your kids, where you'll spot them many letters and let your kid win. So by getting vaccinated, our immune system spots us 94 points in a hundred point game. And the virus can never out-compete that, which is why once you're vaccinated, you're not likely to end up in the intensive care unit."
/Uni Release. This material from the originating organization/author(s) may be of a point-in-time nature, edited for clarity, style and length. The views and opinions expressed are those of the author(s).View in full
here
.