Post-conference tweets show how a new twist on sharing infection biology research offers a unique benefit: networking opportunities when postdocs need it most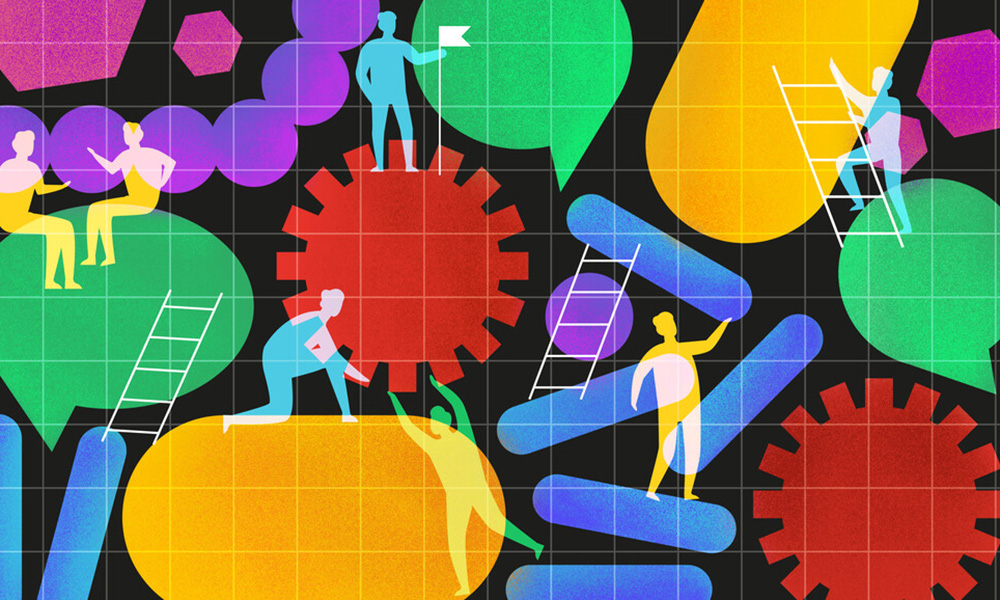 Sometimes a science conference comes along that is more than just a meeting about cutting-edge research.
EMBL's recent infection biology conference last January did exactly that.
"We wanted to give the floor to a new generation of scientists," said Nassos Typas, an EMBL group leader and senior scientist, and co-chair of the Infection Biology transversal theme – part of EMBL's new programme. The co-chairs of this theme conceived this new type of conference and together with the EMBL Course & Conference Office organised this event. "EMBL had the visibility to draw the best talent and bring together key European institutes working in infection biology."
Consequently, the organisers planned a virtual conference that would go beyond the traditional speed-networking sessions, mixer receptions, exhibit halls, and career workshops. The new virtual format featured science presentations from early-career scientists only, giving them the opportunity to shine a light on their cutting-edge infection biology research in front of representatives from Europe's top research institutions in nearly each of EMBL's 27 member states.
Ultimately, about 80 postdocs submitted videos to present their research at the conference, which were shared on the conference's online, interactive platform. Of these, 16 were given the chance to present their work in live sessions to a larger audience of more than 150 participants. Additionally, 35 organizations/institutes from 25 European countries (plus Australia) prepared short video teasers to present their current and future research directions in infection biology, and were represented by at least one scientist spokesperson in the meeting. This set-up allowed early-career scientists to grasp more about the European research landscape and fed into follow-on networking sessions.
"It has actually been very difficult for people to connect during the pandemic, yet people need to synergise, to move forward in their careers," said Edith Heard, EMBL's director general in the conference's opening session. "This conference represents what EMBL always strives to deliver with its training – the most advanced ways to prepare the next generation of scientific leadership."
The conference also included talks from eminent infection biologists, who have shaped Infection Biology in Europe and shared stories of successes as well as failures. But as much as this conference provided bountiful networking opportunities and a practical career development session with panel discussions, it very importantly showcased a broad range of frontier infection biology research – biology of pathogens, the interface between host and pathogen, deeper explorations of the immune system, and pursuits that might tie into new anti-infective drug development.
Perusing several participants' post-conference tweets offered a snapshot of the new format's impacts:
1. Networking
"Fantastic networking opportunity for #ECRs [Early Career Researchers] alongside really interesting science….one of the best virtual conferences I have attended…." – Christina Ernst, principal investigator, Swiss Federal Institute of Technology School of Life Sciences, Lausanne
"…As a scientist applying for positions in the coming years, these discussions are very important and allow me to prepare better for the future." – Laura Palma Medina, postdoc fellow, Karolinska Institute, Stockholm
2. Cutting-edge science
"#EMBLInfectionBiology covers a range of burning questions and challenges in science on #viruses, bacteria, fungi & more…." – Euro-BioImaging, European Research Infrastructure Consortium
"… it has become clear that the 2020's will be the decade of infection biology research. So many highly interesting talks from young researchers!" – (Mataleena) Parikka Lab, Tempere University, Finland
3. Advice from experienced infection biology researchers
"Really inspired by David Holden's talk – 'It is important to allow the mind to wander, to be foggy with ideas' … very refreshing to hear." – Juan Quintana, Sir Henry Wellcome Postdoctoral Fellow, University of Glasgow
"I wish I could record the current session and hear it on repeat. 'Why failure is so underrated in science", both in terms of dealing with rejections, and in terms of avoiding confirmation bias in our experimental process." – Sara Silva Pereira, Marie Skłodowska-Curie Fellow, Instituto de Medicina Molecular, Lisbon
4. New contacts potentially in new places
"Delighted [to] represent @EMBLAustralia at the #EMBLInfectionBiology conference – even if it will be the middle of the night for me! Postdocs interested in learning more about infectious disease and immunology research Down Under feel free to reach out…."- David Lynn, EMBL Australia Group Leader, South Australian Health and Medical Research Institute and Flinders University
5. Overcoming the pandemic and owning postdoc life
"…Star-struck @EMBL leading the way of providing a platform for #ECRs to share their work and interact in pandemic times" – Annika Hausmann, EMBO fellow, University of Copenhagen
Likewise, EMBL's new programme will continue a long road that supports infection biology research. As it notes in the programme description, 'the relevance of studying infection biology has never been more obvious than it is now,' citing the numerous infectious agents that have emerged in the past two decades, and the antimicrobial resistance crisis.
Until now, the major victims of infectious diseases – children in developing countries – have not had the 'lobbying power' to influence worldwide decision-making in this area," said Eva Kowalinski, an EMBL Grenoble group leader and one of the conference organisers. "The coronavirus and COVID showed just how fast an infectious disease can change an entire globe's reality. The good news, however, is that researchers could and did react immediately. They switched gears, teamed up, zoom conferenced, and accrued incredible knowledge to collectively fight an emergent pathogen. We now need this momentum to tackle other equally threatening problems: antimicrobial resistance, vector-borne diseases like malaria and Dengue fever, further vaccine development, and even climate change and its grip on every aspect of a planet's survival. The takeaway is that we can't stop now."
/Public Release. This material from the originating organization/author(s) may be of a point-in-time nature, edited for clarity, style and length. The views and opinions expressed are those of the author(s).View in full
here
.