There are many things we can do to protect our brains and reduce the risk of cognitive decline. Professor Viviana Wuthrich shares her seven top tips for keeping our brains healthy for as long as possible.
The exact number of Australians with dementia is not known, but it could be as high as 470,000. The disease affects about one in 12 people aged 65 and older, and is the most common cause of death in women and second most common in men after ischaemic heart disease.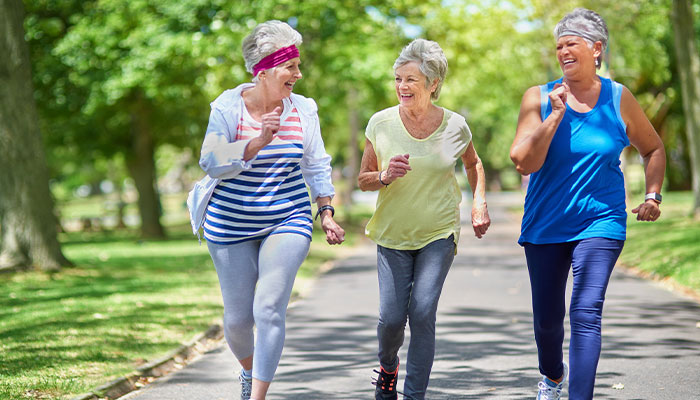 Fun run: Exercise and having lots of social contact can help stave off dementia.
There is currently no treatment for dementia, so the focus remains on how we can stop it from developing in the first place.
Only early-onset dementia is genetic, and this accounts for fewer than 1 per cent of all cases. Women are slightly more likely to be affected than men, and while age is the biggest risk factor, it is not the only one.
The good news is that there are a number of lifestyle factors that, if addressed, could reduce up to 40 per cent of preventable dementia.
We don't know yet exactly how these lifestyle factors cause dementia, but they are likely to be causing neuropathological damage (damaging the brain) or reducing cognitive reserve (the ability for the brain to adapt to degeneration or damage).
So how can we reduce our chances of developing dementia?
1. Have a hearing test
Of all the risk factors, hearing loss may be the biggest, potentially accounting for more than 8 per cent of modifiable risk.
Recent research suggests that hearing loss reduces cognitive reserve, as it means people receive less auditory stimulation in general, and it means they go out less because they can't hear the conversation, reducing social stimulation.
People who have been diagnosed with hearing problems earlier in life and have had them treated do not have the same risk as people with untreated hearing loss, indicating once hearing is improved, this risk is probably removed.
2. Use your brain or lose it
Maintaining mental stimulation is vital if we are to reduce the likelihood of losing our cognitive reserve. Good quality education is just as important for older people as younger ones: activities like learning an instrument or undertaking a degree late in life, or daily even brain teasers like the cryptic crossword or sudoku can make a difference.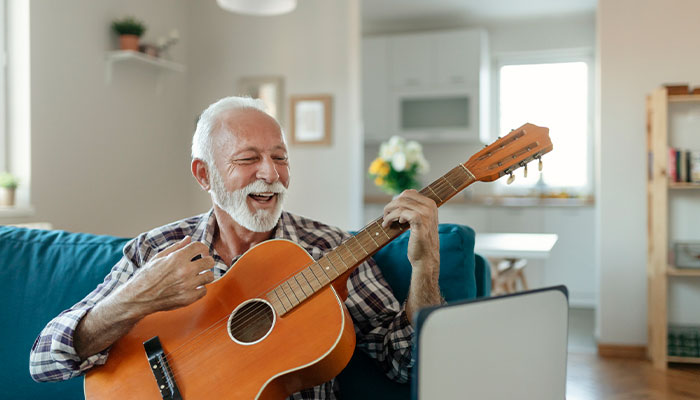 Brain waves: Activities like learning to play a musical instrument can help make a difference.
Anything that makes your brain work will reduces the risk of dementia, but interestingly so does social stimulation. Having lots of social contact, especially with people you haven't met before or don't see often, and especially in groups, is ideal.
Join a club, take a course, volunteer, or join a book group – anything to get out of the house and spend time with other people.
3. Take care of your mental health and sleep well
Depression is the third-largest modifiable risk factor when it comes to dementia. It increases cardiovascular risk, as well as reducing social stimulation, impacting on your physical activity, diet, sleep, and mental stimulation.
Sleep is also extremely important, but it needs to be in the Goldilocks zone of seven to nine hours every night. Too much sleep can be as problematic as too little.
4. Get plenty of exercise
We already know that exercise has many health benefits. For reducing the risk of dementia, regular, high-intensity exercise appears to be the best, so people who engage in leisure activities like running, cycling and kayaking are getting a double benefit.
However, any regular exercise that builds up a sweat is protective.
5. Eat well
As with many diseases, a healthy diet goes a long way to reducing risk for dementia. The Mediterranean diet is the most desirable, as it is low in fat, rich in healthy oils, nuts and fresh fruit and vegetables.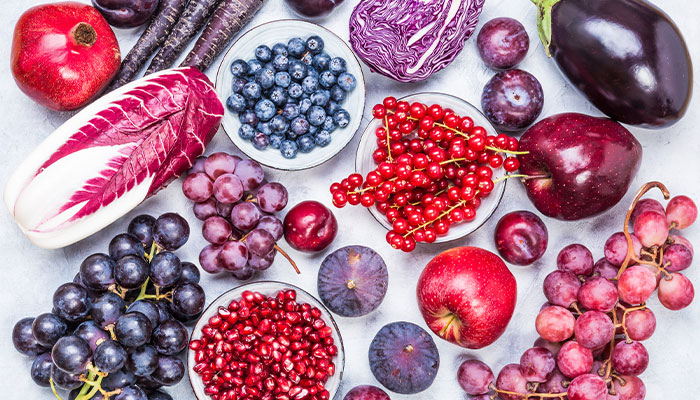 Colour codes: Diet is key – including lots of purple fruits and vegies and leafy greens.
Choose red, blue or purple-coloured fruits and vegetables like blueberries, strawberries, cherries, black grapes and plums (high in Anthocyanins), and eat lots of leafy greens.
Fish oils are an important part of the Mediterranean diet, but you should get them from oily fish like salmon or sardines rather than fish oil capsules as the benefits of fish oil are replicate in supplements.
6. Take care of your health
Factors like poorly managed diabetes, untreated hypertension, cholesterol, smoking, and drinking more than 10 standard alcoholic drinks a week all contribute to neuropathological damage.
You should also aim to maintain a healthy weight range, as being overweight affects your cardiovascular health, which in turn affects your brain health.
The more of these boxes you tick, the worse it is for your chances of developing dementia. The good news is that if you remove these factors, you reduce not only your risk of dementia, but your chances of getting a number of other diseases, including heart disease, stroke and cancer.
7. Avoid head injuries
Head injuries are a known contributing factor to dementia, whether it is one severe head injury or many smaller ones resulting in concussion.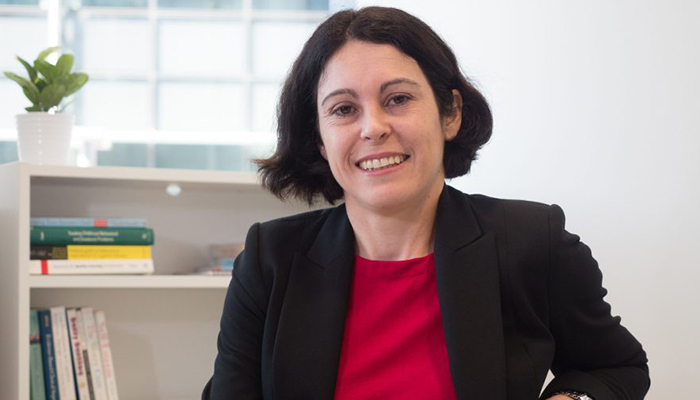 Age no barrier: Professor Viviana Wuthrich says if you are already in your 70s, it's not too late to take action.
We need to think about head injuries across the lifespan, whether they result from childhood falls, playing contact sports, accidents or falls in older people.
The likelihood of falls for older people can be reduced by removing trip hazards at home and in public, and maintaining muscular strength and fitness.
Start now, no matter your age
The earlier we start thinking about active prevention for dementia risk factors, the better it is for our health. But targeting them even in older adults can still help offset the decline in cognitive function – if you're already in your 70s, it is not too late to take action. The important thing is to make the change in your behaviour and sustain it over the long term.
Some lifestyle factors obviously put a person at risk of poor health at any stage of life, like a poor diet and a lack of exercise, but we also need to aggressively target what many of us might think of as minor aspects like spending a lot of time alone, feeling down, not sleeping well or getting a bit hard of hearing as we get older.
If you would like to learn more about reducing the risk of dementia, and the social and emotional wellbeing of older adults, register for the third annual Centre for Ageing, Cognition and Wellbeing Conference, online on 30 November and 1 December.
Professor Viviana Wuthrich is the Director of Centre for Ageing, Cognition and Wellbeing at Macquarie University, and an MRFF Emerging Leadership Fellow.
/Public Release. This material from the originating organization/author(s) may be of a point-in-time nature, edited for clarity, style and length. The views and opinions expressed are those of the author(s).View in full
here
.