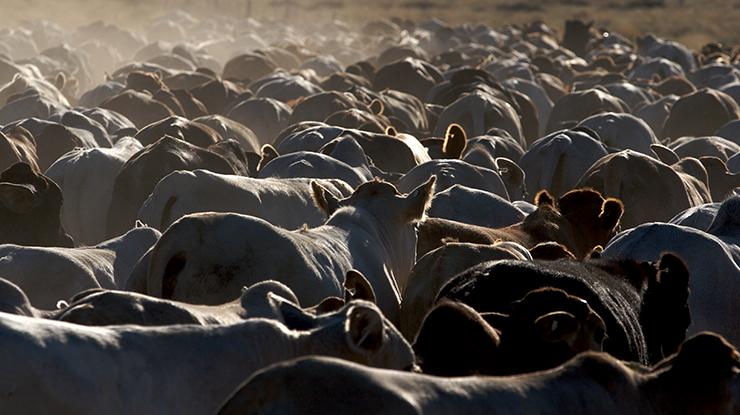 Several mating systems are used in Australian beef herds to help beef operations produce one well-grown weaner per breeder per year.
Every breeding operation has different requirements so producers need to know what works best for their enterprise. Just because you've been using the same system for years doesn't mean it will always be the right match for your business.
To ensure optimal reproductive performance of your beef herd consider which joining system is best for your operation.
Controlled joining
Controlled joining ensures the annual calf drop occurs at a specific time each year. The joining period is determined by the ideal time for calving and weaning, and varies in length (determined by environment, herd performance and management intensity).
With controlled joining producers can:
match peak lactation demands with optimum pasture availability
have even lines of weaners to sell
improve the chance of getting more heifers to critical mating weight
easily manage the herd with less mustering and decreased labour costs
have a timely pregnancy diagnosis to inform management and marketing decisions.
Restricted joining
Restricted joining is where bulls are removed to prevent calving at particular times of the year, usually the middle of the dry season. It suits enterprises where:
a tight calving period is unachievable
cows are joined at a set time each year but over a longer period e.g. >5 months
bulls can be removed from the herd.
In regions where pregnancy rates in lactating cows are low, weaning at the first round of mustering can induce cows to cycle. If bulls are removed then, out of season calves are avoided which lowers breeder mortality rates and reduces supplementation cost.
Segregated joining
Segregated breeder management is practised if it is difficult for most breeders to achieve a 12-month calving cycle. For example, where there is high rainfall variability or in herds with a P4M (pregnant within four months of calving) rate between 40–70%.
With a segregated breeding system, producers can:
reduce supplementation costs
reduce calf loss as mustering breeders with baby calves is avoided
improve herd efficiency by systematically identifying and culling non-productive rather than just older breeders.
Continuous joining
The goal of continuous mating systems is to minimise out of season calves as these breeders typically have lower re-conception rates and higher mortality rates.
This system suits properties with uncontrolled surface waters and/or very low stocking rates (2–4 AE/km2) and minimal infrastructure.
However, mustering is a major operational expense of continuous joining systems with two rounds of mustering usually undertaken – the first round occurring between March and May and the second between August and October.
Thinking of changing your system
Before changing your joining system, complete a cost-benefit analysis to assess if additional infrastructure is required, and make a plan for management strategies such as timing of weaning, disease management and bull removal.
Implement changes to your joining system gradually to minimise impact on weaning rates during the changeover.
/Public Release. This material from the originating organization/author(s) may be of a point-in-time nature, edited for clarity, style and length. The views and opinions expressed are those of the author(s).View in full
here
.