At 26 years old, Marie Curie was no Cortney Gensemer.
In the end, things turned out pretty well for the two-time Nobel Prize-winning Polish physicist, but Gensemer has still got time on her side – not to mention Instagram.
With over 11,000 followers on the popular social media platform, Gensemer – a post-doctoral scholar at MUSC – is quickly becoming the face of a condition that affects roughly 1.5 million people worldwide. How this young and energetic researcher became synonymous with Ehlers-Danlos Syndrome, a connective tissue disorder that often leads to overly flexible joints and fragile skin, is the stuff of scientists' dreams.
Ever since she was 14, Gensemer knew she was a little different. A sports fanatic who excelled at lacrosse, she was always the one on the team wearing an ankle brace or Ace bandage. While her teammates had occasional aches, she was in constant pain.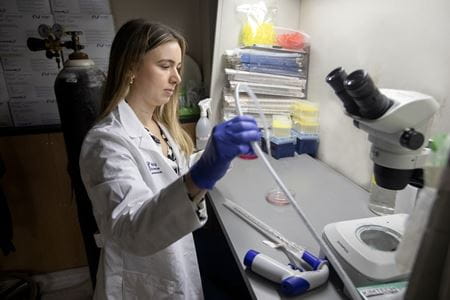 "Back then, I just didn't know any different," she said. "I just thought the pain I was feeling after a practice or games was what all my friends were calling 'soreness.'"
But a chance encounter with a physician while a freshman in college opened her eyes to the possibility that, maybe, just maybe, she wasn't simply injury prone. That's because, as fate would have it, the doctor she crossed paths with was married to a woman with EDS.
"He told me, 'There's more going on than you realize,'" she said.
Within just a few weeks, Gensemer was officially diagnosed with hEDS – the "h" standing for hypermobile, the most common of 13 subtypes of the syndrome. Less than seven years after her diagnosis, she, along with MUSC Department of Regenerative Medicine and Cell Biology professor Russell "Chip" Norris, Ph.D., and his team, identified a gene mutation associated with hEDS. In other words, there's now an identifiable marker for hEDS. Meaning, in the not-too-distant future, doctors should be able to screen for it just like they can for other types of EDS, diabetes or HIV, making their find arguably the biggest breakthrough in the world of EDS since the disorder's discovery in 1900.
"I'm not naive," Gensemer said. "I don't think we're just going to magically find a cure for EDS tomorrow, but I think it's safe to say this gets us one step closer to that goal."
So it makes sense when you think about it. Mix one part groundbreaking scientist and one part movie-star good looks, and it's not hard to understand why the Pennsylvania native is now one of the most recognizable faces in the world of hEDS.
With that platform has come some perks: In 2021, her discovery led to a visit from then-Miss America Camille Schrier, who also suffers from hEDS. During her visit to the lab, Schreir was so impressed with what Gensemer and the team had accomplished that she pleaded with her 45,000 Instagram followers to donate to the Norris Lab. Last year, Gensemer was asked to be the keynote speaker at the Penn State University Equity Summit. Closer to home, she was recognized by MUSC's College of Graduate Studies for her accomplishments inside and outside of the lab, receiving the first Student Impact Award.
And, of course, there are all the podcasts and TV interviews she does. And in the midst of all of that, with grant deadlines, lab experiments, journal submissions and a quickly approaching wedding, she's also working with MUSC leaders to develop the first-of-its-kind EDS institute in the country. And, while some her age are still searching for their callings, Gensemer, who just turned 27, is being recognized during Women's History Month 2023 for her extraordinary contributions. The only one surprised by this honor was Gensemer herself.
"Never in a million years would I have ever imagined having a seat at the table with so many important people," she said. "Sometimes I can't believe this is all real."
Nearly every day, Gensemer posts new content to Instagram, not to mention she shares any new or significant findings in the world of EDS the minute she hears about them. So basically, when she's not making the news, she's spreading it.
"When I first learned I had EDS, I wanted to know as much about it as I could," she said. "But there just wasn't that much info out there. I really think that's what's inspired me to do a lot of the work I do on social media."
In the last decade, Gensemer has had nine surgeries on her hips, shoulders and spine. She's gone through unbearable pain, and some days, just getting out of bed is an accomplishment. But her success in the lab and role as a public figure have buoyed her spirits and made her even more resolute. Her unusual dual role of expert – a term she says she's still coming to grips with – and patient make her the perfect role model. In fact, the Norris Lab even now has a summer intern program named after her – and it only hires college or graduate students who have EDS themselves – paving the way for the next generation (or is it same?) of Gensemers of the world.
"Never in my wildest dreams did I think any of this would happen," she said. But for all her success, she has remained grounded, at her core the same self-described "nerdy scientist" who loves making people smile.
"I really think big things are coming in the world of EDS discovery, maybe eventually a cure," she said, then added with a laugh: "I can't think of a better way to end up out of a job."
/Uni Release. This material from the originating organization/author(s) might be of the point-in-time nature, and edited for clarity, style and length. Mirage.News does not take institutional positions or sides, and all views, positions, and conclusions expressed herein are solely those of the author(s).View in full
here
.