The Hon Linda Burney MP today launches the first major report into autism in Aboriginal and Torres Strait Islander communities, conducted by researchers at Macquarie University.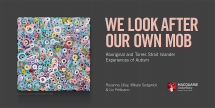 The report reveals a lack of support and services, with many families feeling isolated and uncertain about their children's futures.
While autism is likely to be as common in Aboriginal and Torres Strait Islander communities as other groups, the report reveals that there are fewer tailored services and support available to these families meaning that autism supports fail to be inclusive of the distinctive cultures of Aboriginal and Torres Strait Islander peoples.
The first major study of its kind, 'We Look After Our Own Mob' was funded by Positive Partnerships, a national project to support school-aged students on the autism spectrum, and written by Macquarie University academics, Dr Rozanna Lilley, Mikala Sedgwick and Professor Liz Pellicano.
The researchers interviewed Aboriginal and Torres Strait Islander families living in areas from inner-city suburbs to remote and regional communities across Australia. They found families were deeply dissatisfied with the state of autism-related services in their communities. Cost of diagnostic services, lengthy waiting times, limited access to diagnostic professionals (especially in regional and remote areas), and absence of post-diagnostic support for children and family were identified as major gaps.
The report recommends the development of a 'roadmap' of post-diagnostic support services available to parents and caregivers of Aboriginal and Torres Strait Islander autistic children, and the development of a better network of support groups for families.
"All autistic people deserve the same sorts of chances in life: to be able to enjoy trusting, nurturing relationships with family and close friends, to feel safe, secure and valued at school, at workplaces and in communities, and to develop their skills and talents to the maximum possible extent", says report author
"This research shows that this just isn't happening for many Aboriginal and Torres Strait Islander families now and we have to put that right," she concluded.
"This research is really important because often Aboriginal and Torres Strait Islander people aren't given an opportunity to talk about autism or they aren't given a voice to say what might work for them or what are the barriers for them."
Full copies of the report are available at: https://bit.ly/2OLX1eR
/Public Release. View in full
here
.