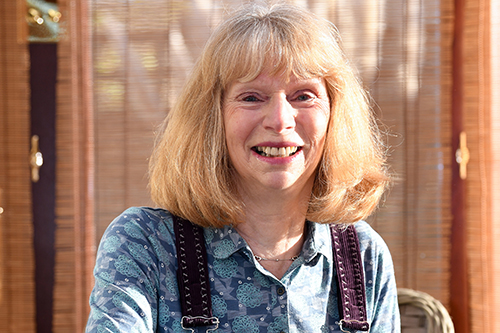 Yvonne Smith, one of the first people to receive red-blood cells grown in a laboratory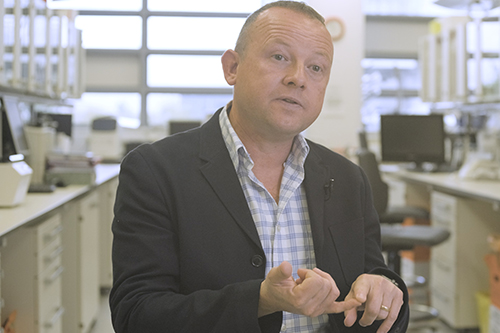 Ashley Toye, Professor of Cell Biology and Director of the NIHR BTRU in red blood cell products
One of the first people to be transfused with red blood cells grown in a laboratory has spoken about her experiences.
Yvonne Smith, 69, from near Bury St Edmunds in Suffolk, became one of the first of two people to receive red-blood cells in the world leading RESTORE trial (1).
The trial is a joint research initiative by NHS Blood and Transplant (NHSBT) and the University of Bristol, working with the University of Cambridge, Guy's and St Thomas' NHS Foundation Trust, NIHR Cambridge Clinical Research Facility, and Cambridge University Hospitals NHS Foundation Trust. It is part-funded by a National Institute for Health and Care Research grant.
This is the first time in the world that red blood cells that have been grown in a laboratory have been given to another person in a blood transfusion. NHSBT announced the trial was underway in November. Yvonne is the first recipient to be named.
Yvonne received two injections of up to 10mls of red blood cells, both originating from the same donor. One injection contained red blood cells that grew naturally in the donor. The other injection contained red blood cells that had been grown in a lab from some of the same donor's stem cells. Yvonne does not know which injection was which. She received regular follow ups to check the health of the transfused red blood cells and her own health. (2) (3)
Yvonne was previously a blood donor herself, making about 60 donations, after being inspired to start by the famous 'The Blood Donor' episode of the TV show Hancock's Half Hour.
However, Yvonne is no longer able to donate herself after a case of breast cancer in 2014.
She said: "I thought 'what else can I do?' I ticked a box and put my name forwards for research.
"I always wanted to be a nurse so it felt normal to help. Years later I was asked about taking part in the RESTORE trial.
"I wasn't worried about getting the blood that was grown in the lab. They explained everything to me. They wouldn't be doing it if there was a good chance something would go awry. It was straight forward. I am not squeamish. The injections were into my arm on the side of the elbow, where you donate blood. I couldn't tell which one injection was the lab grown blood.
"I would encourage anybody to do it. There's nothing to fear. You are just getting a little bit of blood and it's going to help other people. I know the research could help people with sickle cell and other diseases where it's difficult to find matching blood. Otherwise those people have a raw deal.
"So why wouldn't you do it? I hope just hope some good comes from it."
Yvonne is a retired civil servant with two children and two stepchildren. She has volunteered for 20 years in a primary school and for 18 years with a National Trust sewing group making costumes.
If proved safe and effective, manufactured blood cells could in time revolutionise treatments for people with blood disorders such as sickle cell and rare blood types. It can be difficult to find enough well-matched donated blood for some people with these disorders.
The trial is studying the lifespan of the lab grown cells compared with infusions of standard red blood cells from the same donor. The lab-grown blood cells are all fresh, so the trial team expect them to perform better than a similar transfusion of standard donated red cells, which contains cells of varying ages.
The trial is the first step towards making lab grown red blood cells available as a future clinical product. For the foreseeable future, manufactured cells could only be used for a very small number of patients with very complex transfusions needs. NHSBT continues to rely on the generosity of donors.
Ashley Toye, Professor of Cell Biology at the University of Bristol and Director of the NIHR BTRU in red blood cell products and responsible for the delivery of the trial for the funders, said: "I had a fantastic opportunity to be able to thank Yvonne in person. We are so thankful to all our participants for helping make this ground breaking clinical trial happen."
Co-Chief Investigator Dr Rebecca Cardigan, Head of Component Development NHS Blood and Transplant and Affiliated Lecturer at the University of Cambridge, added: "We are completely reliant on the generosity of our volunteers. You can't underestimate the contribution that people like Yvonne have made towards making lab grown blood available for transfusion in the future."
Co-Chief Investigator Cedric Ghevaert, Professor in Transfusion Medicine and Consultant Haematologist the University of Cambridge and NHS Blood and Transplant, explained: "This clinical trial is groundbreaking because it is a first time we are producing red cells in the laboratory in such a way we can compare how they behave after transfusion compared to standard donated red cells. We are immensely grateful to our trial participants. Without them, this clinical trial would never see the light of day."
Steve Barclay, Health and Social Care Secretary, said: "We are proudly supporting this world-leading research which has the potential to transform the lives of those with diseases including sickle cell. I look forward to hearing more on how the results of the trial can support the system to deliver the best possible care to patients and if effective, revolutionise some people's search for well-matched blood."
/Public Release. This material from the originating organization/author(s) might be of the point-in-time nature, and edited for clarity, style and length. Mirage.News does not take institutional positions or sides, and all views, positions, and conclusions expressed herein are solely those of the author(s).View in full
here
.