The School of Biomedical Engineering & Imaging Sciences is back at the UK's largest sciences festival, New Scientist Live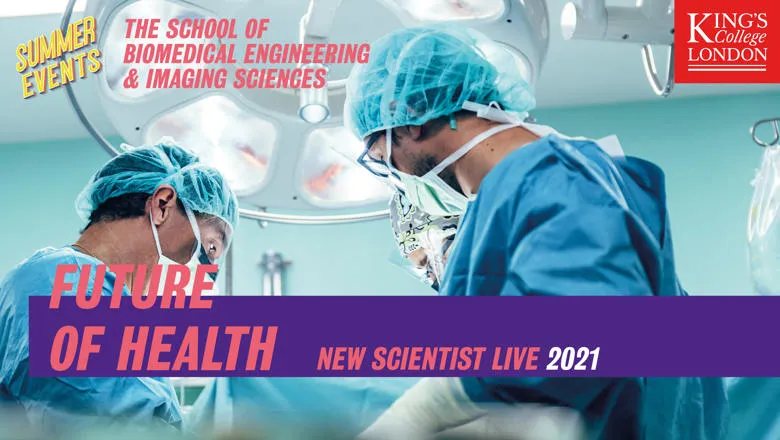 Researchers from the School of Biomedical Engineering & Imaging Sciences are back at the UK's largest science festival, New Scientist Live, to share the latest breakthroughs in healthcare, surgery and artificial intelligence. The newly online event will feature sessions with our researchers in 3D printing, neuroanatomy, placenta imaging, future of at-home cardiological care, jobs in research and nuclear science.
Professor Kawal Rhode
3D Printing in Healthcare: Live Demo
In this session you will experience how 3d printing is being used to improve the delivery of healthcare for our society– Professor Kawal Rhode
3D printing is revolutionising healthcare by providing novel methods for visualising body parts, planning surgery and even treating patients.
Kawal Rhode, Professor of Biomedical Engineering and Head of Education will present a live 3D printing demonstration to show how it can be used in healthcare by taking a 2D medical scan of his own body and transforming it into a 3D print.
Dr Ana Baburamani & Lizzie Burns
Folding of the Brain: Exploring Science through Origami
We hope our audience will get inspired on how our brain develops while getting creative through origami– Dr Ana Baburamani & Dr Lizzie Burns
During early years the human brain undergoes astonishing changes in structure, becoming a highly folded network of neurons.
Dr Ana Baburamani from the Centre for the Developing Brain and Dr Lizzie Burns, a science-based, creative specialist and visiting academic in the Department of Physiology, Anatomy and Genetics, University of Oxford, will merge science and art to explore how scientists study the changes in the brain while workshop participants learn an origami fold.
Dr Andrew Melbourne, Dr Rosalind Aughwane
What Did Your Placenta Ever Do For You?
The placenta is essentially the lifeline for a growing baby, and arguably one of the most important organs in the human body, critical to birth.
Dr Rosalind Aughwane and Dr Andrew Melbourne will discuss new concepts and therapies that are currently being introduced in the UK alongside state-of the art technology to explore the placenta in detail and may show a real placenta during the event.
Dionysios Malas, Aishwarya Mishra, Jie Tang, Ryan Stanyard, Chirag Mehra, Dr Charlotte Pretzsch, Dr Judit Ciarrusta
Careers Talk- Paths to Becoming a Scientist
In this specially curated session, researchers at different career levels, from doctoral to postdoctoral, will introduce themselves, their work and share with audiences how a day in their life of research looks like. Researchers and participants will explore together the areas of research in neuroscience, biology, nanomedicine, medical imaging and medical robotics.
Professor Pablo Lamata & Salome Bazin
Echoes, How Collaborations Between Science and Design are Shaping the Future of Healthcare
Collaborations between design and science have the potential to create a future where interactive technologies lead to inclusive and individualised healthcare.
Heart Researcher Professor Pablo Lamata and designer/founder of Cellule studio, Salome Bazin collaborated to create ECHOES, a mobile application which records the sound of a human heartbeat, sending anonymised data to researchers to better understand the potential of mobile technologies to monitor cardiac health, while also demonstrating how the app can be used by everyone in a beautiful and playful way. Participants are encouraged to download the application on echoesapp.org before the workshop.
Aidan Michaels & Professor Alexander Hammers
The Future of Medical Imaging: An Interview with Professor Alexander Hammers
PhD student Aidan Michaels is host of Radio Nuclear, a science podcast from the Centre for Doctoral Training in Smart Medical Imaging at King's and Imperial College London. Aidan's podcast aims to engage people outside of scientific research in molecular imaging and nuclear medicine.
Joining him on a special live recording of the podcast will be Professor Alexander Hammers, a Neurologist with a particular interest in epilepsy, and Head of the King's College London & Guy's and St Thomas' PET Centre at St Thomas' Hospital.
Professor Seb Ourselin, Head, School of Biomedical Engineering & Imaging Sciences will also deliver a keynote on Artificial Intelligence in Healthcare, guiding audiences through how AI tools are built, what they will do, and how we can expect to see them in hospitals around the UK. The talk will also touch on some of the key challenges of deploying these tools into our healthcare systems.
This year's event follows on from the overwhelming success of the 2019 Operating Theatre of the Future, which saw over 10,000 guests, from young children to adults. Join us and explore the current research and technologies being worked on at the School of Biomedical Engineering & Imaging Sciences.
This year's New Scientist Live will feature a powerful display of the healthcare research and engineering being undertaken at our School. Despite the limitations imposed by the covid19 pandemic, I warmly invite all to join us and learn more about the exciting future of healthcare with us.– Professor Seb Ourselin, Head of School, School of Biomedical Engineering & Imaging Sciences
/Public Release. This material comes from the originating organization and may be of a point-in-time nature, edited for clarity, style and length. View in full
here
.