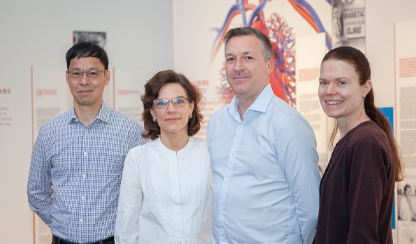 Four of our scientists have been awarded Heart Foundation Vanguard grants to support their critical work into the treatment and management of major heart conditions.
The grants, totalling $450,000, were awarded to Professor Julie McMullen, Associate Professor Morag Young, Associate Professor Bing Wang and Professor Andrew Murphy.
For the many patients who cannot benefit from current heart failure drugs due to negative side effects in the kidneys, A/Prof Young's work offers early hope.
"Drugs that block a specific receptor, the mineralocorticoid receptor (MR), are commonly used to treat heart failure," A/Prof Young said. "But current MR-blocking drugs (MRA) can also lead to dangerous levels of potassium in the blood and damage the kidneys.
"We already know from previous work that MR activation in heart/immune cells promotes cardiac disease, so we're hoping to demonstrate through this study that novel MR-blocking drugs that we have developed will protect the heart but also eliminate the kidney side-effects."
A/Prof Young's study is a critical step before human testing and clinical trials can begin.
Prof McMullen is optimistic her current study that looks at PI3K, a protective gene that is found in the heart, will help to define a person's cardiac risk and lead to identification of future treatment strategies for diseased hearts.
"An enlarged heart caused by disease is associated with impaired heart function, whereas when the heart enlarges in response to exercise, that is associated with enhanced or preserved heart function," Prof McMullen explained.
"We have already demonstrated that exercise and activating PI3K in the heart improves heart function in animal models with heart disease, and that lower PI3K in those models leads to premature heart failure."
This study, however, will allow Prof McMullen to define the markers that signify PI3K activity in human plasma samples from patients with a healthy heart and those with severe aortic valve stenosis or heart failure. This work is being led by Prof McMullen and A/Prof William Chan at Western Health. Other CIs include Dr Kawa Haji and Dr Yow Keat Tham.
A/Prof Wang has been granted $150,000 for his work to determine if a specific protein kinase inhibitor can provide therapeutic benefits for patients who have heart failure with preserved ejection fraction (HFpEF).
"Our study will be performed to demonstrate the potential of this novel inhibitor in the prevention and treatment of HFpEF, which we hope will lead to a novel strategy for HFpEF management," A/Prof Wang said.
Prof Murphy is also hoping to develop a unique heart disease risk score, superior to the current estimate of heart attack risk that is used, based upon traditional heart disease risk factors.
Prof Murphy's grant will go towards his study that will measure lipid levels within immune cells that can provide more specific information about both genetic and lifestyle risk factors.
"We hope to use this information to develop a unique heart disease risk score, superior to the rough estimate of heart attack risk based upon traditional heart disease risk factors like blood pressure and smoking status that is currently used," he said. "Down the track, we hope to uncover immune cell lipid pathways that can lead to the development of new drugs that reduce heart disease."
The Heart Foundation has also funded Future Leader Fellowships to A/Prof Xiaowei Wang and A/Prof James McFadyen, and a Postdoctoral Fellowship to Clinical Associate Professor Kegan Moneghetti in this latest funding round.
The fellowships support aspiring scientific leaders who are currently developing their own cardiovascular research portfolio, as well as established leaders with extensive research portfolios.
A/Prof Wang has an impressive portfolio of research and heads our Molecular Imaging and Theranostics laboratory. Her research focuses on preclinical molecular imaging across a range of technologies, including MRI, ultrasound, PET, microCT, fluorescence and photoacoustic imaging.
A/Prof McFadyen is a Consultant Haematologist at the Alfred Hospital, Melbourne, and one of our Research Fellows. His growing body of work focuses on platelet biology, platelet functional assays, in vivo models of thrombosis and intravital imaging to investigate novel platelet-targeted therapeutics.
Dr Kegan Moneghetti is a Cardiologist and Clinical Associate Professor of Medicine at the Baker Department of Cardiometabolic Health with a key interest in exercise medicine, cardiac imaging and precision health. His current research focus includes how to optimise the use of exercise testing in clinical care, and to personalise cardiac rehabilitation to reduce the risk of a secondary heart event and improve quality of life.
/Baker Institute Public Release. This material from the originating organization/author(s) may be of a point-in-time nature, edited for clarity, style and length. The views and opinions expressed are those of the author(s).View in full
here
.