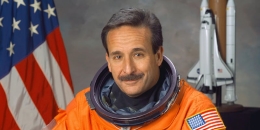 One of the key research engineers to work on discovering just what went wrong with the Columbia Space Shuttle when it disintegrated on re-entry in 2003, Charles Camarda will be in Adelaide this week to talk about space, science and maths education, problem solving, new ways of learning and creativity.
In a busy two-week schedule, Camarda will deliver two public lectures, visit the Australian Space Agency, the new SmartSat CRC and a range of local high schools.
He will also deliver two public lectures at City West on August 6 and August 8.
The August 6 lunchtime lecture, The Role of Creativity and Innovation in NASA's Return to Flight STS-114, will look specifically at the issues NASA faced when after 27 successful missions the Colombia Space Shuttle disintegrated on re-entry, killing all seven crew members.
"Contributions provided by the three NASA Researchers Centers were pivotal in understanding the technical cause of the Columbia accident, mitigating the cause of the problem, and developing the necessary technologies to ensure a continued, safe, return to flight," Camarda says.
"By reaching out to the research communities to use the latest advances in analysis, testing, inspection, monitoring and fabrication, we gained a tremendous amount of insight into how to develop innovative concepts and use innovative solution strategies."
And it is creativity, innovation and systems for problem solving and learning that will be at the heart of his schools' visits while in SA and a focus for engagement with UniSA's Centre for Change and Complexity in Learning. The Centre explores how new knowledge, processes and economic models influence how universities teach, how individuals learn, and how employability skills are assessed and validated.
Camarda's second lecture is being hosted at UniSA's Innovation Collaboration Centre at the Cancer Research Institute Building, City West at 4 pm on August 8.
Timely, given the anniversary of the lunar landing and announcements that several secondary players in the space industry are planning moon landing expeditions, the lecture is titled How NASA lost its way and how it can recover.
Bookings for both public lectures can be made through Eventbrite.
/University Release. View in full
here
.