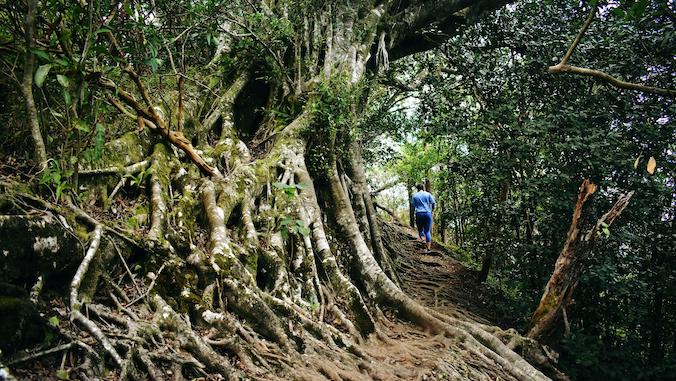 How many Native Hawaiians have a health condition called "metabolic syndrome," a cluster of the most dangerous risk factors for having a heart attack or stroke? The answer is complicated because there are several different ways doctors can diagnose people with metabolic syndrome, and risk factors include high cholesterol, high blood pressure, raised glucose levels and a large waistline. New research from the University of Hawaiʻi at Mānoa shows that Native Hawaiians are particularly affected by which definition doctors use.
Thompson School of Social Work & Public Health researchers, led by recent bachelor's degree graduate Chloe Asato, examined data on about 1,500 Caucasian, Filipino, Native Hawaiian and Japanese residents of Kohala on Hawaiʻi Island. The data were gathered as part of The Native Hawaiian/Multiethnic Health Research project and findings were published in Metabolic Syndrome and Related Disorders.
"We wanted to find the prevalence of metabolic syndrome in each of these groups using different definitions to diagnose metabolic syndrome," said Asato, who is now a first-year medical student at the John A. Burns School of Medicine.
Criteria definition matters
Determining the cut-off criteria for metabolic syndrome is still a debate. For example, the World Health Organization uses a blood pressure of 140/90 mmHg or greater in its criteria, but the International Diabetes Federation uses a blood pressure of 130/85 mmHg or greater.
Asato and her colleagues found that the prevalence of metabolic syndrome in the study population could be as low as 22%, or as high as 39%. "This shows that the definition used matters greatly," she said.
When the researchers looked at only the Native Hawaiian participants in the study, they found that the prevalence of metabolic syndrome could be as low as 26.9%, or as high as 48.6%. Among all groups in the study, only Native Hawaiians had such a significant difference in prevalence depending on which definition was used.
Asato and her co-authors also found that Native Hawaiians had the highest prevalence of metabolic syndrome of any group no matter which definition was applied, after the researchers adjusted for age. After Native Hawaiians, Filipinos had the second highest prevalence in all definitions, and Japanese had the third highest prevalence in all definitions.
"These findings suggest there are ethnic disparities in the diagnosis of metabolic syndrome, and varying definitions exacerbate these disparities," said co-author Denise Nelson-Hurwitz, assistant professor with the Office of Public Health Studies. "More research is needed to identify the best way to define metabolic syndrome and to find better ways to prevent the condition."
Asato and Nelson-Hurwitz's co-authors on the paper also included Thomas Lee and Andrew Grandinetti, both also of the Office of Public Health Studies.
This work is an example of UH Mānoa's goal of Excellence in Research: Advancing the Research and Creative Work Enterprise (PDF), one of four goals identified in the 2015-25 Strategic Plan (PDF), updated in December 2020.
/Public Release. This material comes from the originating organization and may be of a point-in-time nature, edited for clarity, style and length. View in full
here
.