The 2022 edition of the U.S. News & World Report "Best Graduate School" rankings released March 30 shows several programs at the University of Cincinnati moved up significantly.
The rankings are based on expert opinions about program excellence and statistical indicators that measure the quality of a school's faculty, research and students. UC colleges celebrating strides include the College of Medicine, the College of Nursing, the College of Engineering and Applied Science, the Carl H. Lindner College of Business, the College of Law and the College of Education, Criminal Justic and Human Services.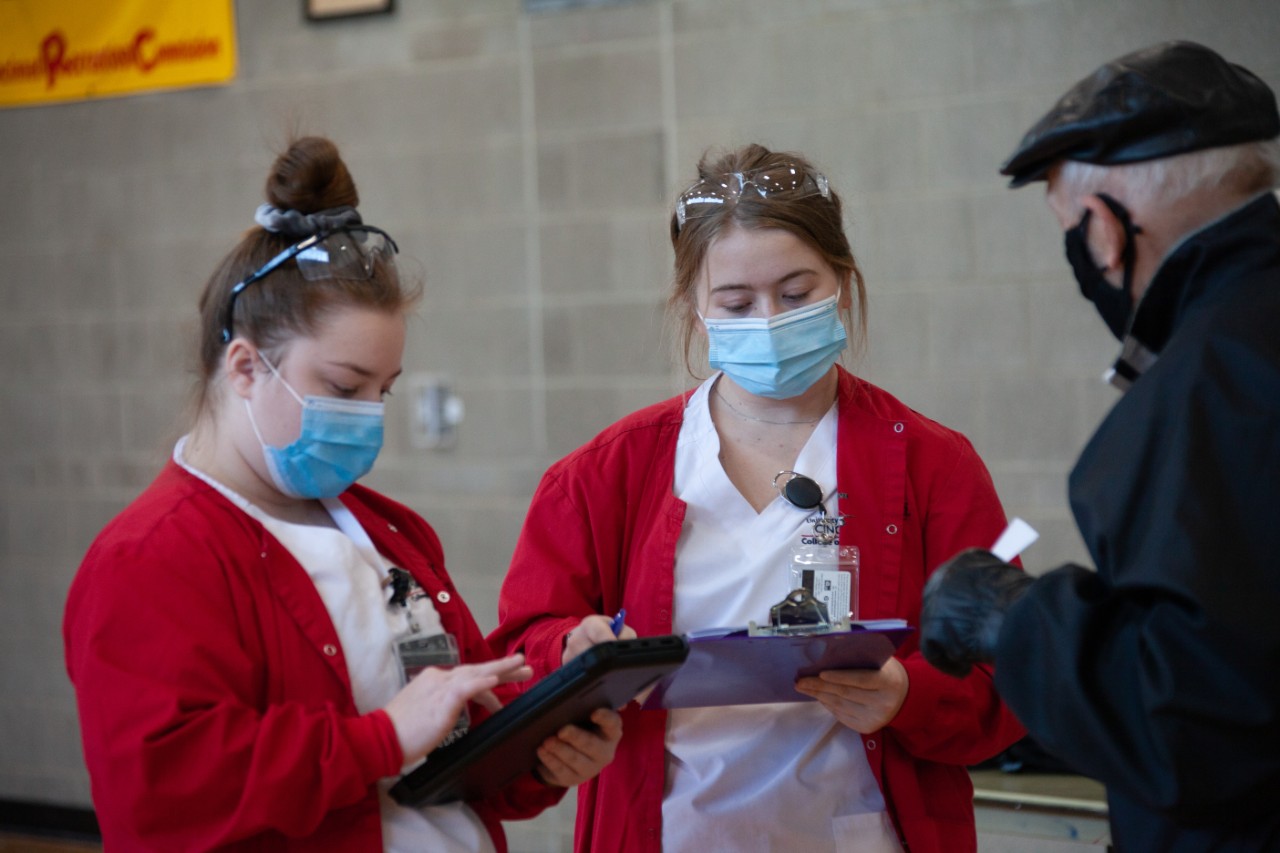 The UC College of Nursing saw its Master of Science in Nursing (MSN) program jump 12 spots from last year. The MSN program jumped from 51 last year to 39 this year. That continues a trend that saw an increase of 10 spots the previous year.
"We are excited to see UC once again as a top-ranked nursing school in the country, but our true accomplishment is knowing that, in a time of unacceptable health inequities, we are preparing advanced-practice nurses who hold the potential to have a positive impact on their patients' health and well-being by providing quality and safe care to all," says Greer Glazer, dean of the UC College of Nursing.
UC's College of Medicine saw graduate ranking improvements for pediatrics – improving from 5th to 3rd nationally – and came in at 17th in a brand new diversity index ranking by US News. Also new this year is a ranking for rural medicine, which placed UC at No. 67.
"I am proud that the U.S. News rankings continue to place the College of Medicine strongly in the top third of all U.S. medical schools," says Andrew T. Filak Jr., MD, senior vice president for health affairs and Christian R. Holmes Professor and Dean of the College of Medicine. "I am also pleased that the college ranked near the top in the new diversity Index. It is vital that we graduate classes that are racially diverse to better reflect the population. There is still much to be done, and we will continue with our efforts in diversity, equity and inclusion."
UC's College of Engineering and Applied Science maintained its overall ranking from last year at 92. Five UC engineering programs saw their rankings improve over last year: aerospace (38th), environmental (49th), materials (72nd), computer science (83rd) and electrical (99th).
Dean John Weidner says UC's high rankings are a testament to its co-op program, which allows students to earn valuable job experience in their chosen fields while attending class. This helps students launch their careers while making money during college.
"The strength of all of our programs is our mandatory co-op, among the top-ranked engineering co-op programs in the country," Weidner says.
UC pioneered co-op in 1906, fittingly in engineering, and has expanded the concept across its colleges.
"Not only does this provide excellent pay while attending college and a competitive advantage due to work experience upon graduation, but alternating semesters between the classroom and real-world experiences is the optimal way to learn the advanced skills required in an increasing complex world," Weidner says.
The master of science in criminal justice graduate program at UC ranked 4th. This program in the College of Education, Criminal Justice and Human Services was established out of the growing need to fill advanced occupations within the criminal justice industry related to law enforcement, criminology, and related areas. Graduates in this program are prepared to become educators, researchers, policy changers and high-ranking law enforcement officers.
With more than 170 students currently enrolled in the program and 395 graduates between 2014 to the present, the program continues to provide an academic rigorous and well-developed program that meets the needs of the industry.
"We are incredibly proud of our graduate program in the School of Criminal Justice," says J.C. Barnes, Ph.D., interim school director of the School of Criminal Justice. "We have some of the best students and faculty in the world, which are two of the reasons we have maintained a top ranking in our field for the past two decades."
The master of science in Business Analytics (MS-BANA) program at the University of Cincinnati Carl H. Lindner College of Business broke into the U.S. News & World Report 2022 rankings at the No. 39 spot.
Lindner's MS-BANA program – which has also been ranked No. 1 in the U.S. by Predictive Analytics Today, outpacing programs at Northwestern, Columbia and Cornell – focuses on developing the in-depth knowledge of statistics, modeling and technology that is in high demand today.
"I congratulate the tremendous faculty, staff, students, alumni and industry partners who have worked hard over the past several years to craft what is truly a destination program, complete with the academic rigor and rich professional experiences that focus on solving real-world problems," says Lindner College of Business Dean Marianne Lewis, PhD. "We are pleased – more importantly, energized – by this impressive ranking and will continue to innovate, with the student experience as our focus."
Lindner's spring 2020 graduating class in the MS-BANA program boasted a 97% job placement rate within three months of graduating and an average salary of $91,599 (with 99% of program graduates as survey respondents).
UC's College of Law improved two spots to No. 81 for its full-time program.
"We are pleased that this year's rankings reflect what we already know: Cincinnati Law is on a positive trajectory, thanks to the ongoing efforts of our entire community," says Dean Verna Williams. "Our faculty are productive, innovative academics and educators, earning recognition for their scholarly contributions.
"Our students are engaged learners, whose grit and determination have led to such accomplishments as prevailing in the Sixth Circuit Court of Appeals, in addition to competing successfully in regional, national and international moot competitions, such as the Vis Arbitration Competition.
Law's staff includes thought leaders in such areas as admissions, academic success, and student affairs, whose depth of knowledge ensures that the student experience is top rate.
"We're excited for what the future holds for the College of Law," says Williams. "With the leadership of our faculty, the energy of our staff and the vision for our new home, we are well positioned to advance our mission of educating leaders committed to social justice."
The data for the rankings comes from statistical surveys of more than 2,125 programs and from reputation surveys sent to more than 23,000 academics and professionals, conducted in fall 2020 and early 2021. Find more details on the Best Grad Schools complete listing.
/University Release. This material from the originating organization/author(s) may be of a point-in-time nature, edited for clarity, style and length. The views and opinions expressed are those of the author(s).View in full
here
.