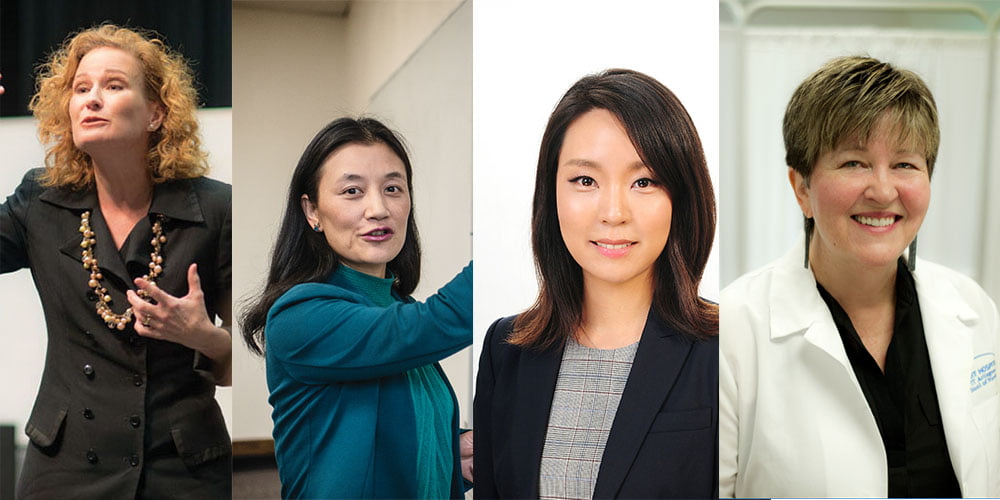 In a 2018 survey of 20,000 U.S. adults, nearly half reported that they sometimes or always feel lonely—placing national loneliness levels at an all-time high.
The causes of chronic loneliness or social isolation are robust, encompassing mobility challenges, age, socioeconomic status and more. And the effects can extend far beyond feelings of sadness, putting individuals at greater risk for a variety of diseases as well as premature mortality.
Four researchers at The University of Texas at Arlington are tackling the problem of social isolation from multiple disciplines: social work, health care, civil engineering and theatre arts.
Shakespeare-quoting robots
For Julienne Greer, UTA assistant professor of theatre arts, social isolation research involves an innovative combination of robotics and theatre.
In recent years, Greer and her colleagues have seen marked success with this approach, which they used in a study involving older adults at an independent living facility interacting with robots reciting Shakespearean sonnets. After three weeks of interactions, the adults experienced significant drops in depression and increases in human-robot social engagement.
"We are using theatre arts to design ways for robots to create bonds of trust and emotion with humans of different ages and improve their quality of life," said Greer, who also is director of the Emotional Robotics Living Lab. "Theater has a way of giving more depth to one's identity and creating a deeper sense of self-expression. Robots do not judge or get their feelings hurt, thus creating a safe space for people to be expressive."
Family support
Among Greer's collaborators is Ling Xu, assistant professor of social work. Xu recently received a grant from the National Institutes of Health to research ways of reducing the isolating stress experienced by families caring for loved ones with Alzheimer's disease.
When it comes to social isolation, Xu said her interest is rooted in intergenerational and family support that promotes social inclusion of older adults as they cope with significant life changes. A social work approach is necessary, she said, to reach real-world solutions.
"Social workers directly engage clients," Xu said. "Our work is empathic in nature, so we know the perspective of our clients and can take the initiative and advocate for them. We do not propose new theoretical solutions, we propose action models like intervention or policy."
Transportation challenges
The research interests of Kate Hyun, assistant professor of civil engineering, focus on mobility and transportation challenges that can lead to social isolation.
Hyun analyzes data to decode human behavior related to transportation usage, with the goal of advising cities on how to fortify their public transportation systems to better serve their communities. One challenge: addressing inadequate infrastructure that prevents elderly adults and those with disabilities from using public transportation.
"The data we have available represents people actively utilizing the transportation infrastructure," Hyun said. "Older people or those with mobility challenges have barriers to using this infrastructure, whether they're economical, technological or physical in nature. This leads to isolation.
"Social workers know these people and can help us understand the barriers they face in order to engineer solutions that inform decision-makers."
Loneliness across the lifespan
While social isolation is easily recognized in older adults, it's becoming more common across one's lifespan, said Kathryn Daniel, UTA associate professor and director of the Adult Gerontology Nurse Practitioner program.
The 2018 report that determined loneliness was at an all-time high also revealed that the youngest generation of adults is the loneliest of all. Younger populations socialize through their mobile devices more and more, reducing the face-to-face interactions that research shows generate supportive, validating social networks.
In addition, there are other marginalized groups at risk for detrimental isolation, including prisoners, immigrants and other overlooked populations. Faculty in UTA's College of Nursing and Health Innovation expose students to other cultures and points of view to instill empathy and better recognize the warning signs of social isolation.
"To put it simply, we are not meant to be isolated," Daniel said. "Social networks are imperative in a healthy society. When it comes to tackling the effects of social isolation as a modern-day challenge, a tighter, more cohesive society with greater diversity of age, race and culture is a win-win for everyone."
/Public Release. This material comes from the originating organization and may be of a point-in-time nature, edited for clarity, style and length. View in full
here
.