Political and economic instability has severely shaken Venezuela to its core, while a humanitarian emergency crisis has quietly unfolded in the background. Food shortages, lack of medicine and violence have led an increasing number of Venezuelans to flee the country and seek safety in neighbouring countries such as Colombia, Brazil, Peru and Ecuador.
This is the largest number of displaced people in the history of the Western Hemisphere.
Host countries are struggling to attend to the needs of fleeing Venezuelans, who arrive with whatever they were able to carry with them along the journey. Children are among those in urgent need of humanitarian assistance and seek protection from exploitation and violence.
Explore facts about the Venezuela crisis and learn how you can help Venezuelans
How did the Venezuela crisis unfold?
What is happening in Venezuela?
Where are Venezuelans going?
How is the Venezuela crisis affecting children?
What is World Vision doing about the Venezuela crisis?
How can I help Venezuelans?
1) How did the Venezuela crisis unfold?
The humanitarian crisis in Venezuela is a consequence of economic and political issues that have been brewing in the country for several years.
In 1999, Hugo Chávez was elected on the promise to fight the steep socioeconomic inequality that marred the country. His government invested in policies to lift people out of poverty while heavily relying on the country's oil production to generate income – Venezuela is home to the largest oil reserves in the world.
Making Venezuela dependent on oil brought about severe challenges. The price of crude oil plunged over the following years due to several factors which included a drop in global demand, and new technologies that helped to increase oil production around the world.
By the time Chávez died in 2013 and his successor, Nicolás Maduro, was elected president, Venezuela had entered a deep recession.
In a short two-year period, Venezuela saw its oil income drop drastically. In 2014, the price of a barrel was about $100 (USD). New drilling technologies boosted the production of oil, but the global demand for oil decreased causing the price of an oil barrel to sink to $26 (USD) in 2016. The price has since increased, but not to what it used to be in 2014, thus sharply reducing Venezuela's income.
In spite of the country running out of cash, the government continued to rely on its oil revenues. According to experts, the Venezuelan economy has shrunk by more than 50 percent in the past six years. The subsequent hyperinflation, shortages of food, basic goods and medicine have taken the country to an unprecedented humanitarian crisis. In 2014, thousands of Venezuelans started leaving the country to escape unemployment, rampant violence and poverty.
In May 2018, in a controversial election, Nicolás Maduro was re-elected for a second six-year term. Opposition parties deemed the electoral process fraudulent and boycotted it. The opposition-controlled National Assembly did not recognize Maduro's re-election. Currently, the presidency is being disputed by the president of the National Assembly, Juan Guaidó, who declared himself interim president on January 23, 2019.
2) What is happening in Venezuela?
The political and economic instability in Venezuela has resulted in severe consequences to the population, including food and medicine shortages, hyperinflation, unemployment and increasing violence.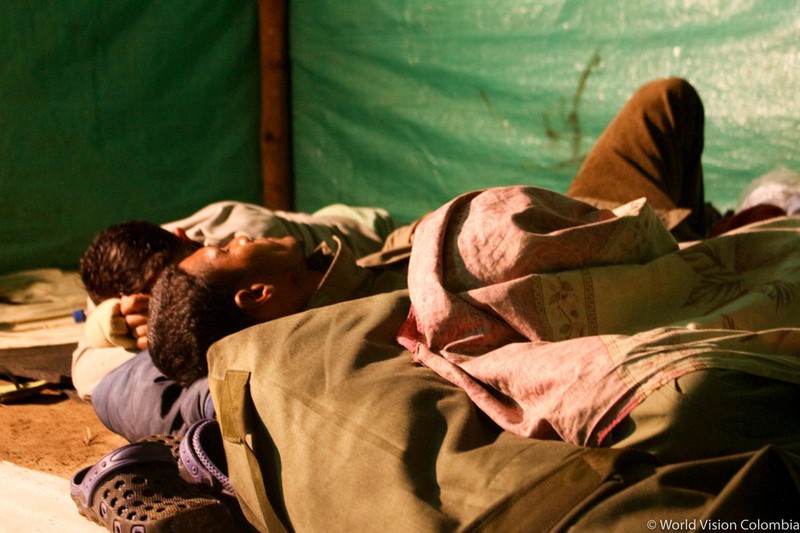 Colombia is the country receiving the largest number of Venezuelans. Young men try to get some rest after arriving in the border city of Cúcuta, Colombia. Photo: World Vision Colombia
Food shortage
Venezuelans are going to bed hungry, losing weight as the food crisis in the country gets worse. Reports indicate that more than one-third of the Venezuelan population eat only one meal a day. According to the 2017 Survey on Life Conditions of Venezuelans conducted by three major academic institutions in the country, 64.3 percent of respondents reported losing 11 kilograms in 2017.
Researchers say that it is not only concerning that Venezuelans are skipping meals, but that they are also not eating enough nutrients. Venezuelans are becoming anemic as they are not consuming enough iron-rich foods such as meat, green vegetables and the national maize flour, which has become scarce and is being substituted by imported versions that are not as nutritious.
The research also pointed out the fact that 87 percent of Venezuelans are currently living in poverty.
In another study conducted by the non-profit organization Human Rights Commission for Zulia State, a state in the northwestern part of Venezuela, 72 percent of food items were in short supply in October and November.
Experts say that the food crisis has become a source of conflict within impoverished families, forcing children and youth to leave their homes. In Venezuela's capital, Caracas, the number of street children seeking shelter has soared to 50% to 60% in the past couple of years.
Healthcare
A recent survey of 104 health facilities in Venezuela indicated that they are lacking the most basic items such as medicines, catheters, surgical supplies and infant formula. 79 percent of them had no running water.
Since the crisis escalated in late 2014, children have been one the most affected groups. According to a report from The New York Times, the number of severe malnutrition cases at the country's leading paediatric health centre in Caracas more than tripled in 2016, and the situation has since become direr.
Latest figures from the Venezuelan government showed that the number of pregnancy-related deaths increased 66 percent, and that 11,466 children under the age of 1 had died in 2016, a 30 percent increase in one year.
Hyperinflation
Venezuela's inflation rate reached 80,000 percent per year by the end of 2018. Since November 2016, the country has been engulfed in hyperinflation, which may be the longest hyperinflation episode in modern history.
Hyperinflation occurs when prices rise out of control and the value of the domestic currency falls sharply. This leads to consumers needing a lot of money to purchase everyday essentials. Price rises occur frequently. A cup of coffee, for example, may double the price in a matter of weeks, tampering with consumers' purchasing power.
Hyperinflation has gotten so bad that in August 2018, it took Venezuelans 14,000,000 Bolivars, the equivalent of $2.22 (USD) to purchase a 2.4-kilogram chicken.
Even with the government having raised the minimum wage six times in 2018, the average person cannot afford to live in Venezuela.
Unemployment
The Venezuela crisis is also marred by a high unemployment rate. It was forecasted that by December 2018, the rate would reach 33.3 percent.
The economic crisis has led multiple national and foreign companies to close or reduce payroll across Venezuela. According to reports, between 2016 and 2017, the country lost around 1 million private sector jobs.
Those that still have formal jobs struggle with extreme low wages and cannot afford to buy basic goods to provide for their families.
Violence
Rampant violence has been one of the devastating side effects of the Venezuela crisis. Hunger has been one of the leading reasons of the rise in crime. In the capital Caracas, reports indicate that an unprecedented wave of violence claims 73 lives per day.
Violence has also stained street protests. The UN reported that, in January 2019, more than 40 people were killed and 850 detained in demonstrations in Venezuela.
3) Where are Venezuelans going?
It is estimated that every day, more than 35,000 Venezuelans are entering neighbouring countries, including Colombia, Brazil, Peru and Ecuador.
Colombia accounts for the largest number of arrivals from Venezuela. The total number of Venezuelans living in Colombia has reached 1.1 million.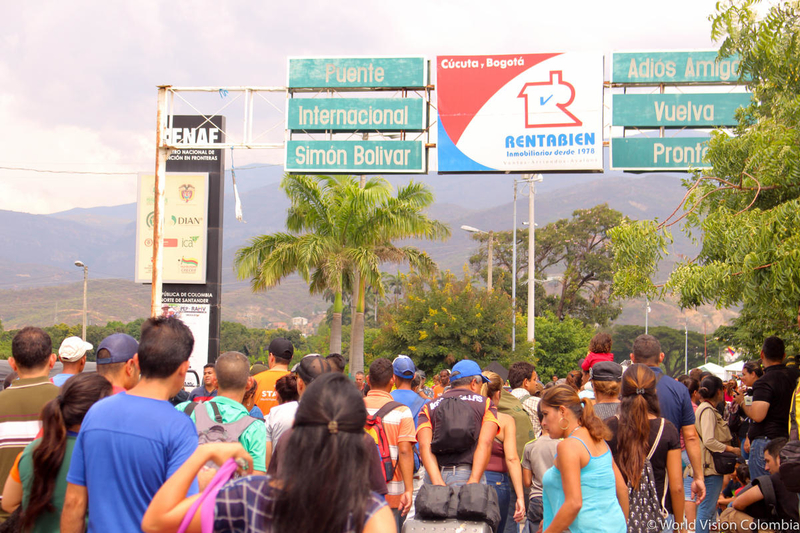 Millions of Venezuelans have arrived in neighbouring countries fleeing from the humanitarian crisis. Cúcuta in Colombia receives hundreds of people on a daily basis. Photo: World Vision Colombia
4) How is the Venezuela crisis affecting children?
As the Venezuela crisis worsens, an increasing number of children are in urgent need of shelter, protection and access to basic services, including food, medicine, clean water and sanitation.
Children and youth on the move are particularly at risk of criminal activity or of being separated from their families. Women and girls will continue to be disproportionally affected by this humanitarian crisis, especially in terms being at risk of gender-based violence and human trafficking.
In addition to lack of food, water, shelter and protection, children have been missing out on education. Families have not been able to afford school supplies, food and other necessities to send their children to school. In some parts of the countries, schools struggle to hold classes due to lack of power, inadequate sanitation and insufficient food.
Migrant children from Venezuela are also missing out on their education as host countries scramble to assimilate them in their local schools.
The consequences of the humanitarian crisis on children can be devastating to the future of the country. Experts alert that Venezuela may lose an entire generation of children.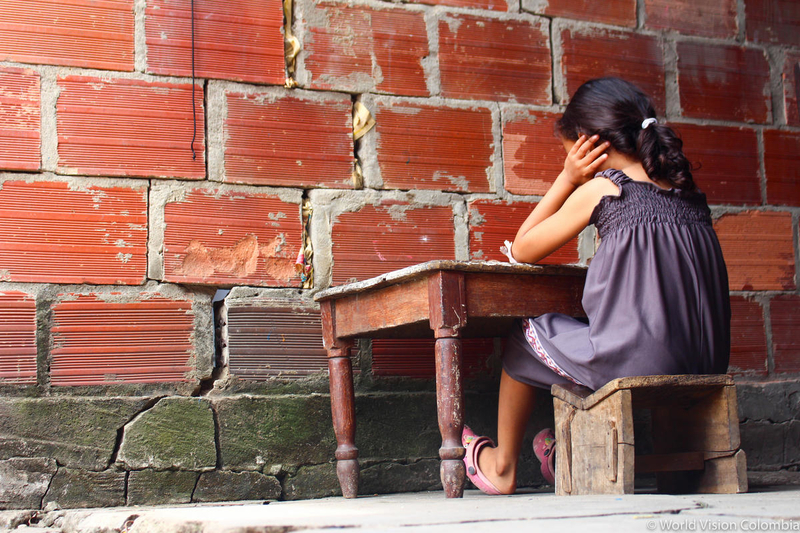 Children have been severely affected by the humanitarian crisis in Venezuela. Photo: World Vision Colombia
5) What is World Vision doing about the Venezuela crisis?
To mitigate the challenges of the Venezuela humanitarian crisis, World Vision has moved quickly to assist the arriving Venezuelans in Colombia, Ecuador, Peru and Brazil, by providing them with hygiene kits, food, medicine, shelter, and by creating child friendly spaces for social and psychological support. World Vision is also working to integrate displaced individuals with the host populations to prevent xenophobia and labour exploitation.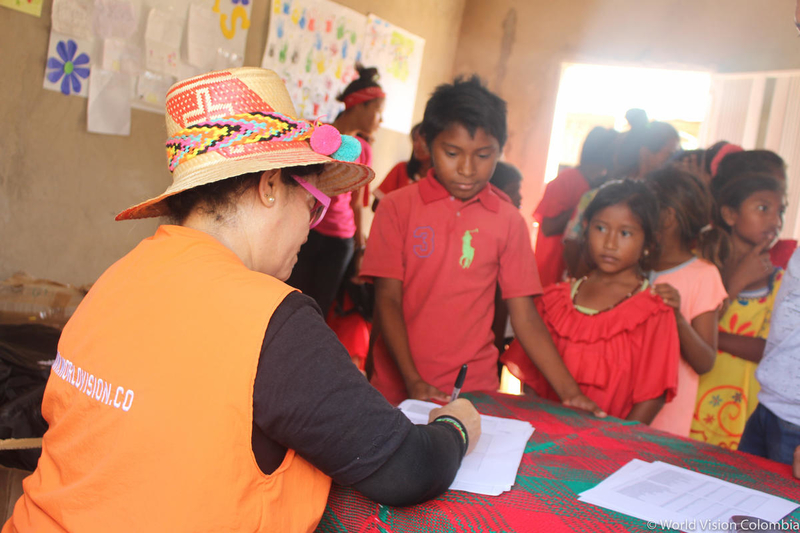 World Vision has served more than 71,000 people who are fleeing the Venezuela crisis. Photo: World Vision Colombia
In Colombia, World Vision has installed Child Friendly Spaces to receive children in distress and has reserved special spaces for breastfeeding.
In Brazil, families are provided with hygiene kits to prevent diseases and improve their health conditions after being on the move for weeks with little or no access at all to food, medicines and clean water. At least six Child Friendly Spaces (CFS) are operating in the border state of Roraima.
In Peru, World Vision is concentrating its efforts in Tumbes, a border community which receives thousands of people from Venezuela daily. Besides food, livelihoods and medicines, World Vision provides legal assistance to obtain documentation and works to prevent xenophobia and labor exploitation.
In Ecuador, Venezuelans are being provided with coupons that allow them to buy food and medicines. Parents and caregivers are later incorporated in entrepreneurship trainings to ensure a steady income to provide basic needs for their families.
6) How can I help Venezuelans?
You can help provide emergency assistance to children as they flee the Venezuela humanitarian crisis by making a donation today.
Quick Facts
Approximately 35,000 Venezuelans are reportedly leaving the country every day.
So far, World Vision has served more than 71,000 Venezuelans who are temporarily or permanently living in Colombia, Ecuador, Peru and Brazil.
There is a shortage of about 85% of all medicine in the country.
50% of the Venezuelan population is estimated to be living in extreme poverty.
/Public Release. This material from the originating organization/author(s) may be of a point-in-time nature, edited for clarity, style and length. The views and opinions expressed are those of the author(s).View in full
here
.