Which Australian beaches are microplastic hot-spots? Citizen scientists working with Macquarie University's AUSMAP project have collected more than 3 million plastic fragments from more than 300 beaches, helping track the pollution to its source.
Microplastics are mounting up on Australia's coastline, and results from a longitudinal research project at Macquarie University can now help visitors pinpoint low-pollution beaches.
Plastic pollution is a huge and growing global problem, and the biggest hazard involves microplastics – tiny fragments that degrade from the estimated 12 million tonnes of plastic ending up in oceans each year, harming marine life and potentially entering our food chain.
Researchers have now mapped more than 3 million microplastic fragments collected from more than 300 beaches around Australia, as part of the Australian Microplastic Assessment Project – a world-first citizen science project designed to understand how plastic pollution is playing out on coastlines.
The data feeds into an interactive hot spot map showing the types and quantities of microplastics sampled along our coastline.
Around Sydney, very high levels of microplastics were found along Botany Bay's Cook Park and in Manly Cove, while Dee Why, Tamarama and Bronte Beach all had very low levels.
"This is the most substantial data we have on the scope and impact of microplastics in Australia's waterways," says AUSMAP Research Director Dr Scott Wilson, from Macquarie University's Department of Earth and Environmental Sciences.
The researchers grade microplastics density at each site using a six point scale, Wilson says.
Very low (green) sites have less than ten microplastic fragments per square metre; sites with 251-1,000 microplastic items per square metre are rated high (red), while very high (black) level sites have 1,001 to 10,000 microplastic fragments in a square metre.
Around Sydney, very high levels of microplastics were found along Botany Bay's Cook Park and in Manly Cove, while Dee Why, Tamarama and Bronte Beach all had very low levels.
"Australia's massive coastline makes us particularly vulnerable to microplastics," says Wilson.
"While we know that we have a big problem with plastic pollution entering ocean currents everywhere, one of the major findings we have uncovered through this project is that most of the microplastics on a shoreline will be from that local catchment."
Tracking back to the source
AUSMAP plays a dual role of collecting data to inform a national approach to plastic pollution management – while also educating Australians about the problem and encouraging people to reduce their own plastic use using citizen science and public education, he says.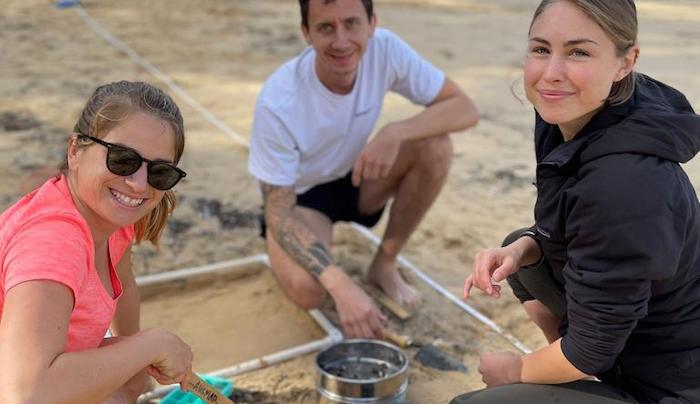 Digging in: The citizen scientists' work involves setting out a square frame and scooping up the top few centimetres of sand within it, then sifting it.
Working closely with local, state and federal government and other groups, the team tracks hot-spot pollution sources from beaches back up into local catchments, to hunt down the sources of plastic.
"We've put nets into stormwater outlets in smaller creeks and tributaries, to see which part of the catchment that drains into a beach is contributing to a hot-spot," Wilson explains.
"We capture street-level rubbish from the stormwater drains at the side of roads to show which streets or neighbourhoods that most of the microplastic litter comes from."
The next step involves community or stakeholder workshops to educate residents or local business about what is coming off their streets – and where it ends up.
"Sometimes they're not aware of it, sometimes they just don't have the right practices to stop it – but these education awareness programs can give them the tools," Wilson says.
Eureka prize for citizen science
The AUSMAP data on microplastic distribution is supplied by volunteer citizen scientists trained to use "scientifically valid methods" to collect and record plastic fragments in their local area.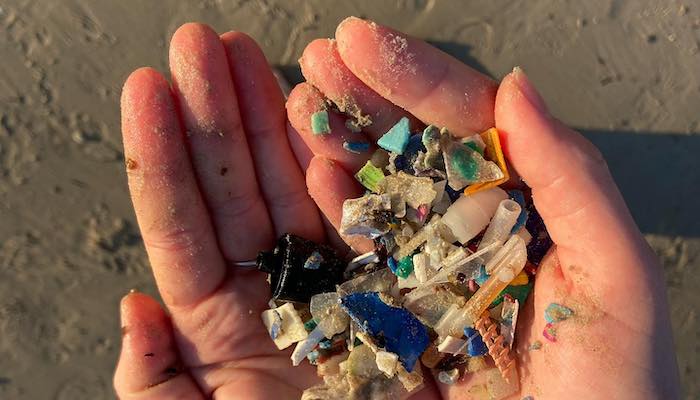 Hands on: Plastics collected at Brighton Beach in South Australia … the colourful fragments are broken down by sun and water over time.
The program was awarded the coveted Eureka Prize in 2021 for Innovation in Citizen Science.
"We've engaged hundreds of citizen scientists in this project over the past three years, helping to build knowledge and scientific literacy, and also giving participants a greater say and commitment to research," Wilson says.
Nearly 800 volunteers have had formal training through the program since it was established in 2018, with Macquarie University and the Total Environment Centre leading a consortium of research, environment, government and business partners.
Ali Devlin has worked with the AUSMAP program for a couple of years now, turning up each month with around 10 regular volunteers who collect microplastic samples from Manly Cove, a busy stretch of harbourside beach near the ferry terminal.
"We talk to dozens of people passing who stop and ask what we are doing," she says.
School groups and community groups also come along for education sessions, sending a powerful message about the impact of plastic pollution, she adds.
Devlin says that Manly Cove is a plastic pollution hot-spot which the group has now tracked for more than two years, giving them solid data about microplastic spread in the area.
Counting microplastics
The Manly Cove AUSMAP group sets up at the same place each month, measuring three sample sites from a 60-metre stretch of beach near Manly Wharf.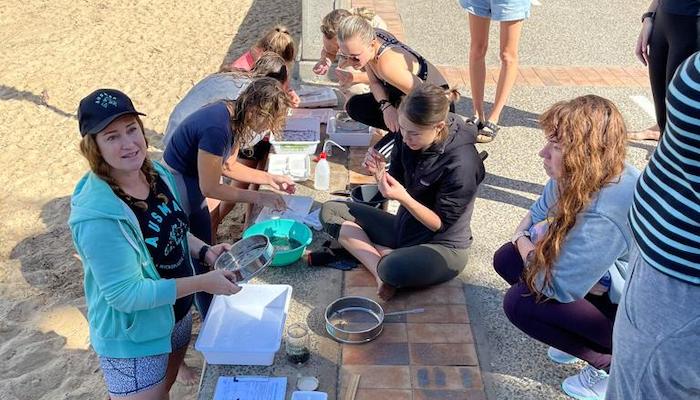 On the job: AUSMAP volunteers at work at Manly Cove, which has been found to have very high levels of microplastics.
"We use the same sampling technique, month-in, month-out," Devlin says, adding that volunteers are carefully trained so that collection and recording techniques are consistent.
The citizen scientists set out a square frame (ironically, it's plastic), scooping up the top few centimetres of sand within the frame, then sifting it through a sieve to collect microplastics which they then sort into pre-defined categories using tweezers.
There's always plenty to be found, particularly over summer when the beach and harbour are busier, Devlin says.
Most microplastics come from single-use items, and plastic never completely breaks down – every bit of it ever made, is still around somewhere.
The colourful fragments are broken down by sun and water over time to be mostly unidentifiable from their original form – whether that was take-away containers, drink bottles, kids' toys, or fishing gear.
Some of the smallest microplastics were originally synthetic fibres from fleece tops and active-wear, shed into the breeze or passed into the ocean from wastewater treatment plants via the grey-water from millions of domestic washing-machines.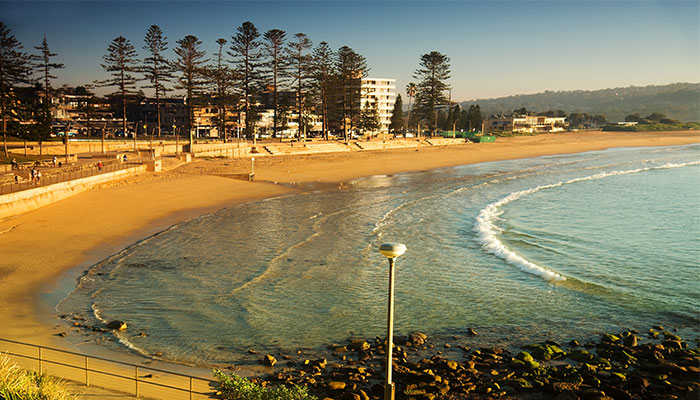 Got a tick: Dee Why on Sydney's northern beaches strip was found to have low levels of microplastic compared with nearby Manly Cove, which had high levels.
These fibres are now spread widely across our beaches, throughout our waterways, even in the air – posing a threat to marine creatures, who mistake them for food, but also to humans, with increasing evidence that we are breathing and ingesting microplastics which can accumulate in our bodies.
"Most microplastics come from single-use items, and plastic never completely breaks down – every bit of it ever made, is still around somewhere," says Devlin.
A selection of the sorted fragments is sent to Macquarie University's environment team to identify the polymer, or type of plastic using a spectral spectrophotometer, and also analyse any contaminants in the plastic.
"Plastic surfaces act like sponges, absorbing a whole range of substances from a waterway including heavy metals and pesticides and other organic pollutants," says Wilson.
"We don't know yet, what the long-term effects will be from ingesting micro plastics and how much of these harmful chemicals will find their way into humans.
"What we do know, is that we can't wait around to find out how bad it is. AUSMAP will help us to track where microplastics are coming from so we can stop it at the source."
Dr Scott Wilson is a Senior Research Fellow in the Department of Earth and Environmental Sciences
.
/Public Release. This material from the originating organization/author(s) may be of a point-in-time nature, edited for clarity, style and length. The views and opinions expressed are those of the author(s).View in full
here
.