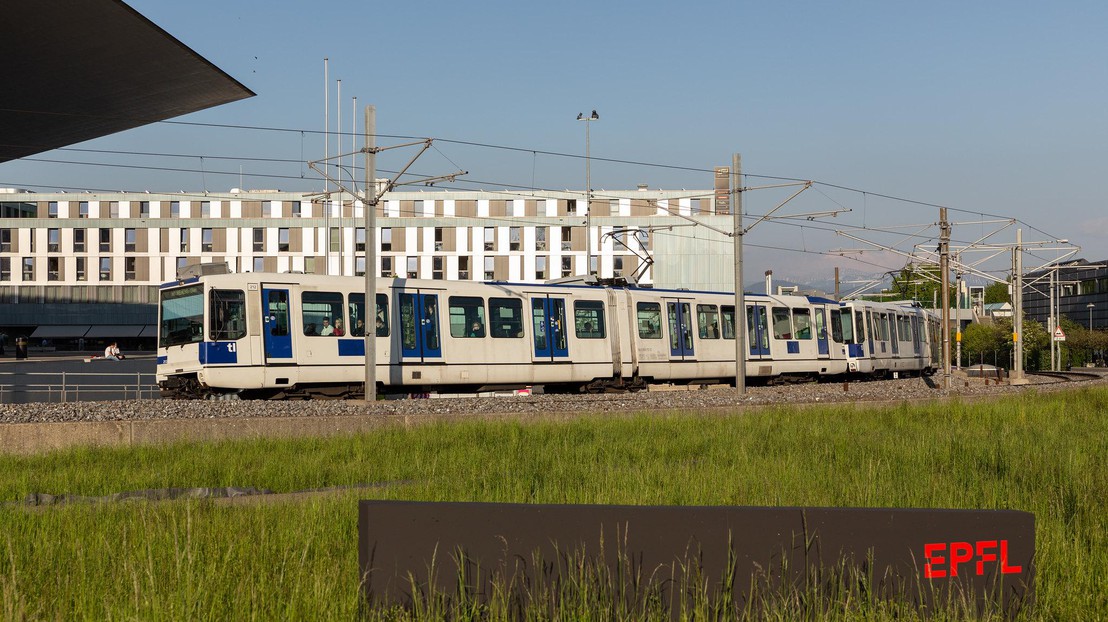 As classes get under way, our latest mobility survey revealed that over 80% of respondents use public transportation or other clean ways of getting to campus.
When given a choice, people generally opt for sustainability. That's the encouraging conclusion of our latest mobility survey,* carried out among EPFL students and staff in May. This good news comes as some 11,000 students head back to EPFL this week and the EU celebrates its annual Mobility Week. It turns out that the percentage of respondents who walk to school more than doubled between 2003 and 2019 (rising from 5% to 12%), while that of those who cycle grew by 50% (from 14% to 21%). Crucially, the percentage of people who drive fell by 17 percentage points (from 30% to 13%). "These improvements were achieved entirely through voluntary measures backed by targeted incentives and initiatives," says Luca Fontana, in charge of mobilties at Durabilité EPFL. "That encourages us to continue rolling out our innovative, ambitious mobility plan."
Around 30% of EPFL students and staff – or some 4,600 people – responded to the survey (24% of students and 38% of staff). This response rate is up 8.6 percentage points from the last survey, in 2017. We learn, for example, that six out of ten respondents live either in Lausanne, near the Ecublens campus, or in one of the four surrounding towns. And more than half of commuters (54%) arrive on campus between 7:45am and 8:30am. "That's good to know because it means we should consider measures to spread out the morning commute and therefore alleviate the traffic on roads and public transportation systems," says Fontana. People tend to leave campus at different times, however – generally between 5pm and 7pm.
Differences between students and staff
The survey also found that students and staff differ in their commuting habits (see diagram). Among students, the percentage who walk to campus rose from 6% to 15% between 2003 and 2019, while the percentage who cycle grew from 15% to 22% – and those who drive or ride a motorcycle plunged from 21% to 5%. The percentage of students who use public transportation was relatively unchanged at 57%. However, it's worth pointing out that there was no student housing on campus before 2003.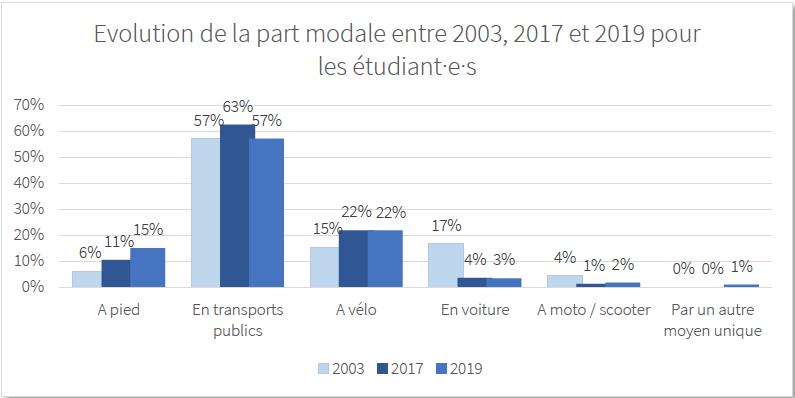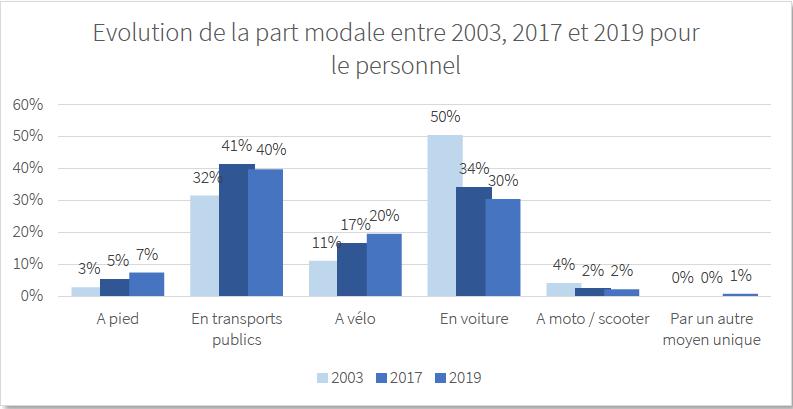 Regarding EPFL staff, they are also more likely to use green transportation. The percentage of low-carbon commuters has risen 13 points since 2003; now some 20% cycle to work, up from 11% in 2003. Public transportation has surpassed the car to become the most popular commuting option; usage of the former grew from 32% to 40%, while that of the latter fell from 50% to 30%.
Electric bikes and the PubliBike system are catching on
Of course, the transportation method that people use also depends on the weather. Commuters are more likely to cycle in the summer (up 12 percentage points to 27%); most of them usually take public transportation, while some normally drive. The number of bicycles on campus is 70% higher during the summer months – and that of electric bikes doubles (around 15% of total bicycles). The number of cars is 15% lower.
The survey also indicates that EPFL's PubliBike bike-sharing system has been a huge success. Nearly half of respondents use it – with the percentage of students twice that of staff (66% versus 31%) – and over 120,000 commutes were made on PubliBike in under a year. In addition, around 20% of students have used the EPFL Bike Center to have their bikes repaired or to buy a used bike at discounted rates. And 22% of respondents have tried out the Mobility car-sharing service (29% of staff and 15% of students).
Carpooling campaign
These encouraging survey results do not mean the EPFL sustainability team will rest on its laurels. More initiatives are under way, and their effects will be visible from this fall. For instance, electronic discount cards for Lausanne's public transportation system will be available to EPFL staff starting in October. And 24 electric vehicle charging stations will go into service in September through a partnership with Greenmotion.
While very few students drive to school (3%) – largely because parking is too hard to find – 30% of staff take their car to work. And in the vast majority of cases (77%), the person drives alone. But the survey found that these commuters are open to carpooling. Therefore the EPFL sustainability team will launch a campaign in October to promote carpooling and introduce a new website that puts commuters in touch with drivers. During the campaign, participants will get free parking and their commute home refunded if something comes up.
*Carried out in association with the Swiss Centre of Expertise in the Social Sciences (FORS)
/Public Release. View in full
here
.