Bringing the Human to the Artificial showcases the breadth of artificial intelligence research at King's and explores the challenges society must confront.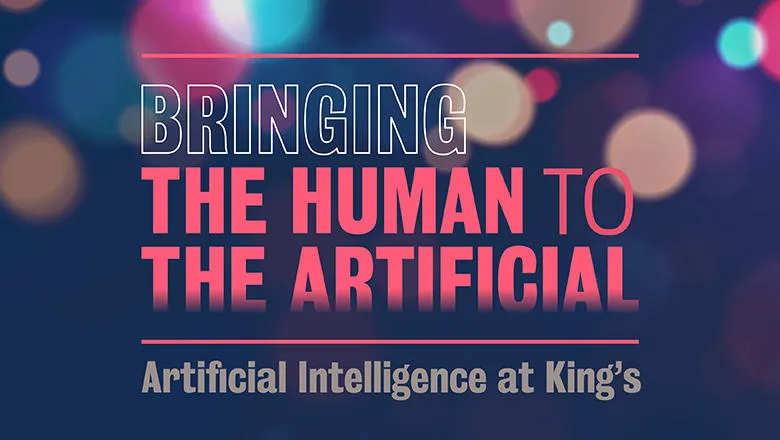 Bringing the Human to the Artificial, a new exhibition presented by the King's Institute for Artificial Intelligence, showcases cutting-edge research from across the university exploring the effects of artificial intelligence (AI) on different aspects of our lives.
Presented in collaboration with King's Culture, the exhibition runs from 2 May to 30 June at the Arcade, Bush House. It will showcase emerging applications for AI that shape our everyday lives. Research featured in the exhibition will include work exploring possibilities for the use of AI in the NHS and the justice system, driverless cars, facial recognition, national intelligence and security, and the creative industries.
As well as providing an introduction to AI and the range of technologies that underpin AI applications, Bringing the Human to the Artificial will present the future potential of augmented intelligence: for machines to work inextricably with humans, to support them, to interact with them, and to relate to them.
Featuring work from a range of disciplines and from different perspectives across King's – including social sciences, law, arts, humanities, security, science, engineering and health – the exhibition encourages visitors to consider a society enriched by these technologies but also the concerns and challenges they inevitably present.
AI is having, and will continue to have, a profound impact on the range and diversity of what we do at King's. The applications are almost unbounded and have the potential to greatly change what we do in art and literature just as much as in medicine and science. Even at a technical level, AI is a field that draws not just on computer science and engineering, but also on philosophy, psychology, economics and many other areas. There are massive potential benefits for many King's research areas.– Michael Luck, Institute Director, King's Institute for Artificial Intelligence
Bringing the Human to the Artificial will reflect a rich portfolio of current and emerging work in the field of AI research at King's. Visitors to the exhibition can find out about AI applications that are improving healthcare systems, machine learning programs that can be improved with human feedback, the role of automated decision-making in our justice system, the ethical implications of AI in fields such as defence and medicine, and more. As part of the exhibition, visitors will also be able to see some of the robots at King's.
The work on display from King's researchers and academics will celebrate the potential for integrating emerging technologies into our lives, while acknowledging that the need to develop systems that are safe, responsible and trusted, and informed by a diverse range of perspectives, has never been greater.
Accompanying the exhibition, the Institute will present a scheduled series of demonstrations and interactive exhibits during the two-month period, allowing researchers and visitors to explore AI in its various forms at King's. The full schedule of demonstrations will be published here from late April 2023.
Supported by King's Culture, Bringing the Human to the Artificial will be followed by a season at Science Gallery London, Guy's Campus exploring AI and Ethics from June 2023 to January 2024.
From health to retail to government, AI is changing every aspect of our lives; provoking excitement and fear, and asking fundamental questions about what makes us human. It makes a thrilling theme for this exhibition in the Arcade, as well as for a new season at Science Gallery London, exploring the ethical implications of AI, opening in June. Through these programmes, King's Culture is showcasing the breadth of AI research across King's and creating platforms for exploring the latest applications and uses for AI from our thought-leaders in the field, dispel misconceptions and probe the moral consequences of a subject that affects us all.– Beatrice Pembroke, Executive Director, King's Culture
Visitor Information
Bringing the Human to the Artificial
Dates: 2 May – 30 June 2023 
Opening times: Mon – Fri, 10.00 – 18.00
Address: The Arcade, Bush House (South Entrance), King's College London, The Strand, London, WC2B 4PJ 
Free entry  
/Public Release. This material from the originating organization/author(s) might be of the point-in-time nature, and edited for clarity, style and length. Mirage.News does not take institutional positions or sides, and all views, positions, and conclusions expressed herein are solely those of the author(s).View in full
here
.