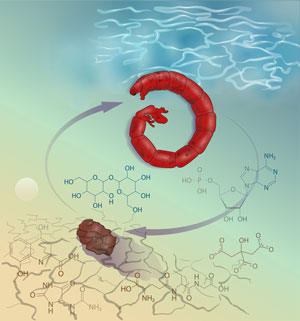 The larvae of a species of midge from Africa use the sugar trehalose as both a protective shield and an energy source to help them survive long periods of severe dehydration.© 2020 RIKEN Baton Zone Program
A sugar that acts a protective shield for the larvae of a species of midge from Africa during long periods of severe dehydration also doubles as an energy source, RIKEN biologists have found1. This discovery could be used to develop new techniques for preserving cell lines and tissue samples without freezing.
Anhydrobiosis is an ametabolic state that helps plant seeds and microorganisms survive water loss in drought conditions. It is common among tardigrades and nematodes, but the largest animal and only insect known to undergo anhydrobiosis when conditions are dry is the sleeping chironomid-a non-biting midge found in northern Nigeria and Uganda.
During dehydration, the sugar trehalose replaces water, resulting in a protective, glass-like state that enables larvae to survive for decades in extremely dry conditions. When conditions become wetter, the larvae resume normal functioning within hours of rehydration.
In recent years, researchers have learned more about the genetic factors that drive anhydrobiosis, but they know little about the biochemical and metabolic changes that underlie the desiccation-rehydration cycle.
Now, Oleg Gusev of the RIKEN Baton Zone Program and his international team have shown that trehalose switches to an energy resource during the rehydration phase. This is due to the presence of trehalase, an enzyme that converts trehalose into glucose during the rehydration process.
"It's a very evolutionarily smart way to rapidly produce energy at the start of the recovery process," says Gusev.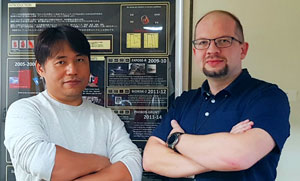 Takahiro Kikawada of the National Agriculture and Food Research Organization (left), Oleg Gusev of the RIKEN Baton Zone Program (right) and their co-workers have discovered how the sugar trehalose enables larvae of the sleeping chironomid to survive water loss.© 2020 RIKEN
The researchers also found that larvae accumulated citrate and adenosine monophosphate in the dry phase. These compounds are used to kickstart mitochondrial activity in the cells and metabolic activity.
As rehydration is a highly stressful process, metabolic waste is stored as the stable and non-toxic compounds allantoin, xanthurenic acid and ophthalmic acid. These compounds may also act as antioxidants that protect larvae against the damaging effects of oxidative stress.
In addition to revealing the inner workings of anhydrobiosis, the insights could be useful for generating cell lines that are resistant to dehydration so they don't need to be stored in the freezer to be preserved. "We knew which genes drive the process, but now we know which products and components we will need to preserve tissues without water," Gusev explains.
Gusev and his team intend to take a deeper look at the metabolomic profile of anhydrobiosis in sleeping chironomids as well as explore whether cell lines from other experimental organisms, such as fruit flies, can be 'taught' to resist water loss.
/Public Release. This material comes from the originating organization and may be of a point-in-time nature, edited for clarity, style and length. View in full
here
.