Some people just aren't motivated to change. For every seven smokers who desperately wish they could kick the habit, there are three more who have no interest in stubbing it out-maybe they dismiss the health problems, believe the damage has already been done, or perhaps they simply enjoy it too much.
If you've ever watched a New Year's resolution-hit the gym more, cut back on the cookies, have an alcohol-free January-founder before February, you'll know that quitting a bad habit or forming a good one is hard enough when you want to do it. So, how do you help someone who has no interest in changing?
"It's a challenge for me: how do you motivate the unmotivated?" says Belinda Borrelli, director of the Center for Behavioral Science Research at Boston University's Henry M. Goldman School of Dental Medicine. She's studied how to help people quit smoking, improve their oral and dietary health, and stick with medication and treatment plans-whether they want to or not. "How do you create an engaging treatment for people who aren't motivated to change-or change isn't even on their radar?"
Her work draws on cognitive and behavioral psychology, looking for ways to boost people's motivation and confidence to help them believe change is possible, then pairing treatment plans to their readiness to act. There's no point, she says, alienating people by repeatedly telling them what they should do-like handing out nicotine patches to those with no interest in quitting.
"It's a mismatch," says Borrelli, an SDM professor of health policy and health services research. Instead, she encourages clinicians to "enhance the person's motivation to change and match your approach to where they're at."
In a series of new research projects, Borrelli is examining if technology can help provide a spark for the unmotivated. In two clinical trials, she's testing the potential of virtual reality (VR)-during dental cleanings to spur smokers to quit and in high school health classes to curb teen vaping. Another trial is looking to see if text messages can be used to help improve kids' oral health. The projects build on a decade of work developing and testing digital technologies to help combat unhealthy behaviors.
With approximately 50 percent of premature deaths in America resulting from preventable or behavioral causes-smoking, poor diet, lack of exercise-Borrelli is determined not to leave anyone behind.
"Most people just focus on those who are motivated to change," she says, "but just because someone is not motivated to change, doesn't mean that we should give up on them."
How to Motivate the Unmotivated
One of the most important steps in helping people change their behavior, says Borrelli, is showing them all the effort will be worth it. In her research, she's found that wherever people are in their journey, however motivated or not they are, they do better when they know something good is waiting at the end-otherwise, why bother?
Lessons on Motivating the Unmotivated
How clinical psychologist Belinda Borrelli helps people make big life changes.
1. Make sure there's a payoff-and that it fits the person's values. "What does the person most value? And how can this change dovetail with that value, support that value?"
2. Teachable moments matter. "People who are undergoing a health event are more receptive to change at that moment."
3. Skip the finger-wagging-it doesn't work. Instead, "help them by saying it's normal to have ambivalence about any big change and we're going to help you resolve it, you're going to make the choice."
4. Meet people where they're at. If someone isn't ready to quit smoking, don't start sending them nicotine gum. And make change easy and integrated into their everyday life, so it's a low burden. "Enhance the person's motivation to change and match your approach to where they're at."
"Time is precious. If I do all this work toward quitting or taking my medication to manage a chronic disease, there's going to be a payoff," says Borrelli. "What does the person most value? And how can this change dovetail with that value, support that value? Building in some intrinsic value is really important. A big concept of behavioral science is enhancing outcome expectations."
In one clinical trial, for instance, Borrelli investigated whether smokers might be more motivated to quit if it improved their kids' health. When parents took their children to the emergency room after an acute asthma exacerbation, they were offered the chance to join an asthma education study. Those who signed up got home visits from a nurse or asthma management expert and free secondhand smoke sensors.
"The sensors enabled us to give feedback to the parents, like, 'Your child was exposed to as much smoke as if they smoked 10 cigarettes themselves that week,'" says Borrelli, who moved to BU's dental school in 2014 from Brown University in Providence, R.I., where she was a professor of psychiatry and public health. "That really motivated change in the parents, because they could concretely understand the effect of their smoking on their child's health."
She found that when those parents were also given an intensive dose of motivational counseling, they were more likely to quit smoking and that their kids' asthma outcomes improved too. The randomized trial included parents of healthy children-but the researchers found they were less motivated to quit smoking than the parents of children with asthma.
"We were the first to actually test the teachable moment-that people who are undergoing a health event are more receptive to change at that moment-and we found strong evidence for it," she says. "Parents of children with asthma were more than twice as likely to quit smoking and have non-detectable levels of secondhand smoke exposure in their homes than parents of healthy children who received the same intervention."
The study also found that the biomarker feedback from the sensors was important: those who just received counseling were less likely to quit.
No Finger-Wagging
Borrelli, half-jokingly, calls her smoking studies "stealth interventions," because they're often wrapped up with other health issues that matter to people, like their child's asthma or stress management. She's found it useful for recruiting the unmotivated, not just those committed to ditching the habit.
"You don't have to want to quit," she says, "you could be in the study, perhaps learn a few things, collect your 100 bucks, and be on your way. I want to capture people who aren't necessarily seeking to change their health behavior. As a result of being in the study, perhaps they will make changes three months from now, rather than three years from now after more damage has been done."
One of Borrelli's latest projects uses a similar approach in aiming to motivate teens to stop vaping-or not start doing it. According to the federal 2022 National Youth Tobacco Survey, more than three million middle and high school students in the United States are currently using tobacco products-with electronic cigarettes being the most popular choice.
Instead of hitting them over the head with a "don't do drugs" slogan, Borrelli is testing whether virtual reality could be used to address some of the drivers of teen vaping: "We have to figure out how to be cooler than Juul," she says. As part of the study, she's working with industry partners, including Another Reality Studio, to develop immersive, interactive VR games that address key catalysts of teen vaping, such as sadness, anxiety, boredom, and peer influence. The intervention, which will be used in high school health classes, also tackles topics like managing cravings.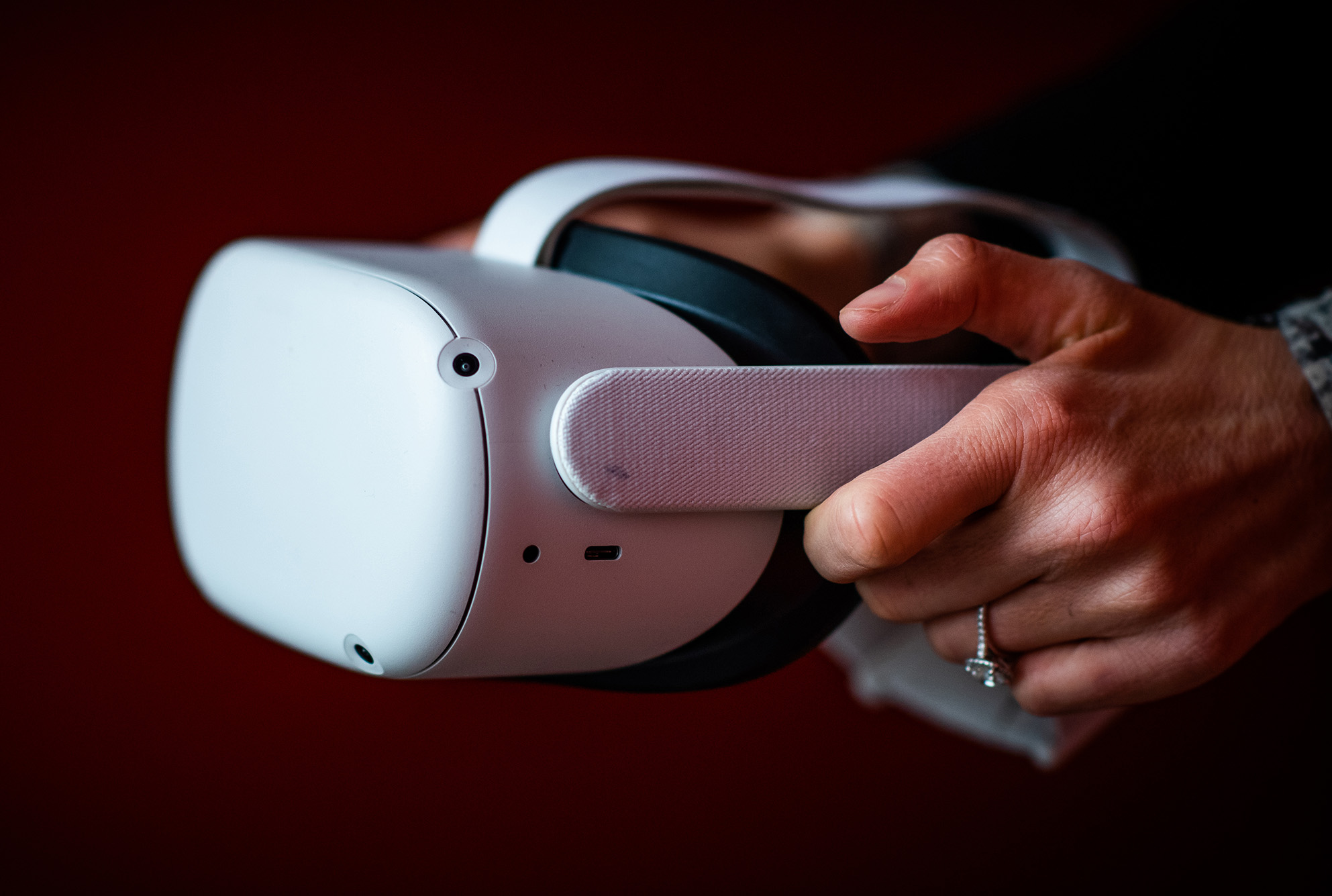 "The students don't have to want to quit vaping to be in the study, they just have to want to have fun," she says. "Vaping prevention and cessation will be in the background of the intervention, while mood management and building resiliency will be in the foreground, resulting in a more holistic approach."
She's also trying the VR method in another setting: dental clinics. In a separate clinical trial, cigarette smokers coming in for a dental cleaning can watch short films on a VR headset while their teeth are scraped and polished. Those randomized to a smoking cessation group-other participants will watch a wellness video-are shown different videos depending on their readiness to quit: either a film with concrete strategies for beating the habit or one that addresses their doubts about change.
"Finger-wagging doesn't work, especially with those who are not motivated to change," says Borrelli, who's also a visiting professor at the University of Manchester, United Kingdom, where-with help from the BU Hariri Institute's Software & Application Innovation Lab-she's developing a mobile app for smokers who are not ready to quit. "Instead, we help them by saying it's normal to have ambivalence about any big change and we're going to help you resolve it, you're going to make the choice."
Although the study is still in progress, she's noticed most people are happy to be distracted from the whirring and buzzing of the dental tools-and that the VR films seem to make contemplating a big life change easier.
"The VR headset is also a good paradigm for people who aren't motivated to change, because they don't have to go somewhere, they don't have to call someone," says Borrelli. "They don't do anything extra. They're just going about their normal life getting their teeth cleaned and they're getting an intervention."
And it takes the burden off busy providers. Past evidence has shown that if clinicians counsel their patients on behavior change, it can have a big impact; the trouble is, most just don't have the time or training. Given that the effects of smoking-from gum disease to oral cancer-are something most dentists have to deal with on a regular basis, Borrelli says it's important to give them the skills, and the tools, to better help patients beat the habit.
"Learning about behavioral science principles is important for their work to get treatment adherence and health behavior change," says Borrelli, who gives lectures to BU's dental students on motivating health behavior change in general, as well as when it comes to smoking.
Expanding Access to Treatment
For many underserved populations, it's often not a question of motivation, but whether they have access to the education and support they need to make a big life change. Borrelli says economic and social inequities, a lack of care options, and other barriers restrict access to preventive care. Even if someone finds a provider, treatment materials might not be tailored to their language, culture, or values.
"You need to craft an intervention that's going to engage different populations," says Borrelli, who's consulted on health behavior change with a range of organizations, groups, and people, including the Lakota Nation. "A one-size-fits-all approach doesn't work for engagement or effectiveness."
With Michelle Henshaw, an SDM professor of health policy and health services research, she's wrapping up a clinical trial testing an intervention to improve the oral health of children living in low-income Boston neighborhoods. Borrelli says that while low-income parents might have access to a pediatrician, affordable dentists can be harder to find, so "there's a disproportionate amount of dental caries," or tooth decay, among their kids. During the study, the researchers are recruiting parents at four Boston-area primary care clinics, with those signing up randomized to receive oral health or child wellness text messages. Participants randomized to the oral health group are sent strategies and tailored, game-style goals and challenges for their kids-as they complete chosen tasks, like brushing twice a day, they unlock a series of animated characters.
"It's low burden and it's fun," says Borrelli of the program, which is offered in English and Spanish. "They get these animated characters, which they would then share with their kid to motivate brushing and other oral health behaviors."
So far, she says, feedback has been positive and the next step, after publishing findings later this year, will be to roll the program out nationwide.
Borrelli's approach to motivating change has also been applied to other areas, from medication adherence to sleep apnea, and she frequently collaborates with researchers from across BU and beyond. She recently mentored Deepak Kumar, a College of Health & Rehabilitation Sciences: Sargent College assistant professor of physical therapy, as he built an app to help older adults with osteoarthritis improve their physical activity.
"That's how people collaborate with me," says Borrelli, who directs BU's Mobile & Electronic Health Affinity Research Collaborative. "I help them build their interventions, but also develop a plan to measure behavioral science mechanisms to see that they're affecting the ultimate variable, whether that's smoking, treatment adherence, or some other health behavior."
Borrelli says her goal-even as far back as middle school-has long been to support those who are struggling and give them the help they need.
"I remember in seventh grade, all the other students would tell me their problems-I would listen carefully and try to help," she says. "I went to graduate school intending to hang out a shingle and be a practitioner, but I really like doing research-I guess I felt I could help more people doing research than one-on-one."
Borrelli's asthma and smoking studies were funded by the National Heart, Lung, and Blood Institute and the Robert Wood Johnson Foundation, the oral health text message and dental clinic VR studies by the National Institute of Dental and Craniofacial Research, the mobile app for unmotivated smokers by Cancer Research UK, and the vaping VR study by the American Heart Association.
/Public Release. This material from the originating organization/author(s) may be of a point-in-time nature, edited for clarity, style and length. The views and opinions expressed are those of the author(s).View in full
here
.