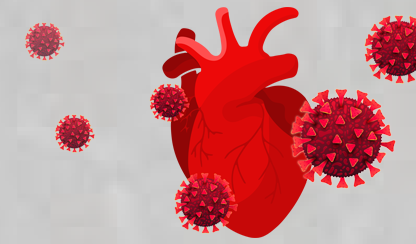 More than 1000 people in Victoria and New South Wales who have had COVID-19 are being sought to take part in a multimillion dollar intervention study to understand the persistent cardiovascular effects of this infection, and to inform screening and management strategies.
The study called PERCEIVE, which is funded by $2.5 million from the Medical Research Future Fund, aims to understand whether COVID-19 causes damage to the heart chambers and blood vessels and impacts functional capacity. It also aims to determine if best practice management (e.g. heart medication or exercise training) can restore function.
The study, being led by Dr Erin Howden and Professor Tom Marwick, comes as concerns regarding 'long COVID' continue. COVID infection can have consequences for all body systems, with particular concern about the heart and circulation. The frequency of these problems has varied with geography and type of testing — ranging from 80% in Germany to less than 10% in Scandinavia.
Professor Tom Marwick says: "There has been huge variation in the scientific literature to date on the cardiovascular impacts of COVID-19 in Europe but we have no idea what the patterns look like in Australia.
"There has been a lot of talk about the 'long-haul' COVID-19 symptoms but the mechanism is very unclear and there is much to be learnt in this area.
"Despite its onset as a respiratory infection by SARS-CoV-2, we do know that cardiovascular injury is common in COVID-19 disease, accelerated by inflammation, heart muscle cell death, blood clotting disorders and hypoxia," Professor Marwick said.
Participants will be required to undergo cardiac scans and exercise testing to see if any damage has occurred to their heart. If there is evidence of heart damage, they will receive a review with a cardiologist and will either receive exercise training or medication to help their heart recover.
While there have been many COVID-19 observational studies, there have been few intervention studies.
More than 30,000 Australians have developed COVID-19, with most of those people residing in Victoria.
Recruitment in Victoria will be focussed on Melbourne's West, which saw among the highest rates of infection in the country and which, like other areas globally, was disproportionately impacted by COVID-19 due to socioeconomic disadvantage.
A paper published in the Journal of the American College of Cardiology found that a substantial proportion of US COVID‐19 hospitalisations appear attributable to major cardiometabolic conditions. Of the more than 900,000 US adults hospitalised for COVID-19 until November 2020, an estimated 20.5% hospitalisations were attributable to diabetes mellitus, 30.2% to total obesity, 26.2% to high blood pressure, and 11.7% to heart failure.
"By better understanding the impact of cardiovascular complications of COVID-19, we can inform screening in patients who have recovered from the infection; a COVID-rehabilitation clinic focussed on controlling heart failure; and the use of cardioprotective medicines such as statins, ACE inhibitors and SGLT2 inhibitors.
We are looking for more people in Melbourne who have had COVID-19 to take part in this study. Details here /research/clinical-trials/perceive-study.
/Baker Institute Public Release. This material comes from the originating organization and may be of a point-in-time nature, edited for clarity, style and length. View in full
here
.