October is breast cancer awareness month – a time to honor those who have battled breast cancer, encourage loved ones to take preventive measures and bring light to advancements in breast cancer research. Breast cancer is currently the most diagnosed cancer and the second leading cause of cancer-related deaths in women in the United States and South Carolina, causing 40,000 deaths annually nationwide. MUSC Hollings Cancer Center researchers are working together to reduce these numbers through the improvement of breast cancer prevention measures, diagnostic tools and treatment options for patients.
Hollings Cancer Center Transdisciplinary Breast Cancer Team
Hollings Cancer Center believes collaboration between research scientists and physicians is critical for medical advancement. Collaboration is supported through the transdisciplinary cancer teams (TCT), where researchers and physicians unite with a unified goal of bringing cancer therapies from bench to bedside.
The breast cancer TCT is led by Hollings researchers Nancy Klauber-DeMore, M.D., and Mike Ostrowski, Ph.D. "We are a team of approximately 20 researchers that meet monthly to discuss current projects and to stimulate collaboration through open discussion about ongoing research and clinical trials," said Klauber-DeMore, a breast surgical oncologist at MUSC Health and the BMW Endowed Chair in Cancer Research.
Mike Ostrowski, TCT co-leader and the WH Folk Endowed Chair, said anyone at MUSC that is involved in breast cancer research is invited to participate in the team's monthly meetings. "The purpose of these teams is to get clinicians speaking with basic scientists with the hope that we can move basic science discoveries more quickly toward clinical applications."
Hollings' TCTs also serve to inform members of available resources at MUSC, such as the Translational Science Lab, which provides shared space, equipment and trained personnel to assist in clinical research projects. It also provides support to researchers through grant opportunities, like the Team Science Award, which encourages multi-investigator, interinstitutional collaborations, and the Idea Award, aimed at early-phase, high-risk projects.
Ostrowski pointed out that collaboration is key when it comes to the large interdisciplinary undertaking of breast cancer research. Hollings investigators have joined forces to approach the complex and devastating disease from multiple angles.
Finding molecular markers in breast tissue to predict patients with high risk
Ostrowski focuses on understanding breast cancer tumor microenvironments, which is the interaction of tumor cells with the surrounding tissue. His laboratory found that the decrease of a specific protein, PTEN, in breast tissue, is an indicator of high breast cancer risk.
To investigate this further, Ostrowski teamed up with Peggi Angel, Ph.D., Hollings Developmental Cancer Therapeutics program leader, who specializes in mass spectrometry imaging of tumor tissue. The powerful imaging technique known as MALDI imaging provides a molecular fingerprint from a selected tissue sample. Using this technique, she is able to compare tissue samples from individuals at high and low risk for developing breast cancer.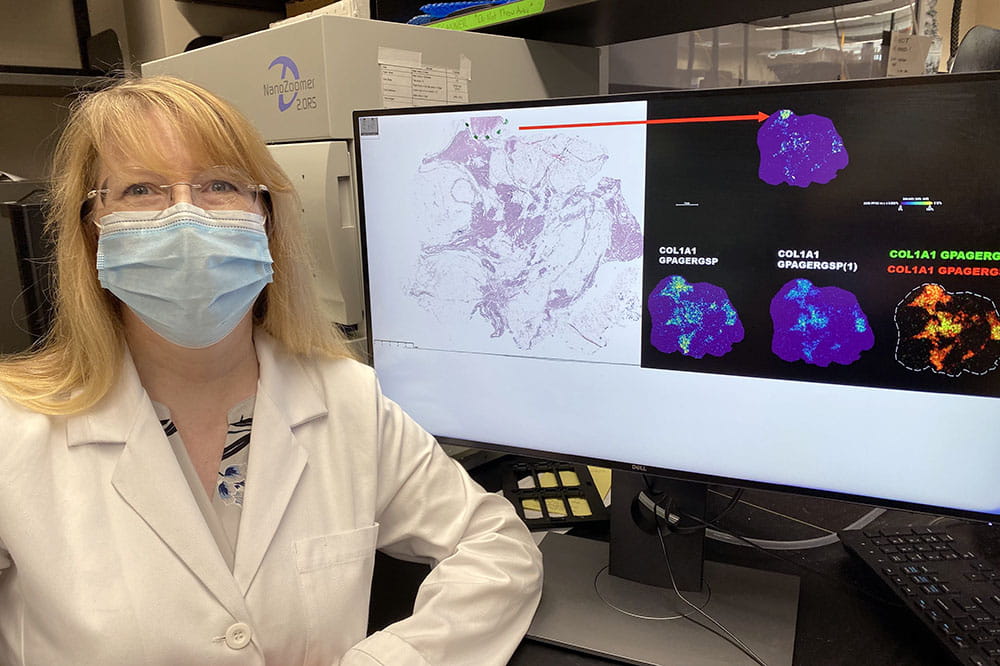 One area of specialty for Angel is the study of collagen fibers and women who have dense breasts, which have more fibrous tissue in them. "In breast cancer, there is a very specific reorganization of collagen," said Angel. "As cancer develops, an interesting thing happens where the cancer cells build collagen highways out of the tumor, resulting in metastasis." Angel's team measures collagen reorganization in patient samples with MALDI imaging and can correlate it to the patient's risk of developing breast cancer.
Angel and Ostrowski received a Hollings Idea Award to look at collagen signatures from high-risk and low-risk breast tissue samples provided by the Susan G. Komen tissue bank and to correlate risk class to PTEN expression. "Preliminary results show that there are very specific collagen peptides that correlate to PTEN expression in normal breast tissue," explained Angel.
Going forward, they will continue to pinpoint the specific changes in collagen that occur with low PTEN expression. By integrating Ostrowksi's finding of PTEN loss as a breast cancer indicator and Angel's expertise in MALDI imaging, the team endeavors to find a collagen signature that can be used as a diagnostic tool for identifying high-risk individuals and to prevent breast cancer development.
Philip Howe, Ph.D., program leader of Hollings' Cancer Biology Research Program, has identified another marker of breast cancer that can be used to predict metastasis, or the spread of tumor cells to other parts of the body. Metastatic breast cancer occurs in 30% of women diagnosed with breast cancer; metastasis results in a more aggressive and difficult to treat form of breast cancer. Howe and his team discovered that breast cancer cells require the nervous system in order to spread.
"We found that the tumor needs the nervous system to establish metastatic growth," said Howe. "When you block the growth of nerve tissue, you block the ability of the primary tumor to metastasize."
There is a specific population of cancer cells that have the ability to promote nerve tissue growth; these cells have a lot of similarities to stem cells. Blocking these cancer stem cells may be the key to preventing metastatic growth. Howe's laboratory will continue to study the mechanisms of these cancer stem cells to understand how they're driving tumor growth and eventually, to find a drug to prevent metastasis.
Breast cancer clinical trials
Klauber-DeMore currently is the primary investigator on multiple breast cancer clinical trials at Hollings. The focus of these trials is to assess the effect of natural product supplements in patients with invasive breast cancer. The studies came about due to an increased interest in natural product supplements among cancer patients and the lack of scientific evidence of their use and potential benefits.
Two studies are currently examining the effects of frankincense, found in the Indian Boswellia plant, and curcumin, the primary component in turmeric curry spices. Both natural supplements are believed to have anti-cancer properties, but their benefit to cancer patients is not well-studied. The clinical trials are designed for Hollings patients diagnosed with breast cancer and scheduled for surgical removal of the tumor. Participants will take the supplements from diagnosis up until their first surgery. Then tumor samples removed during surgery will be examined in the laboratory to determine how the supplements affect cell viability.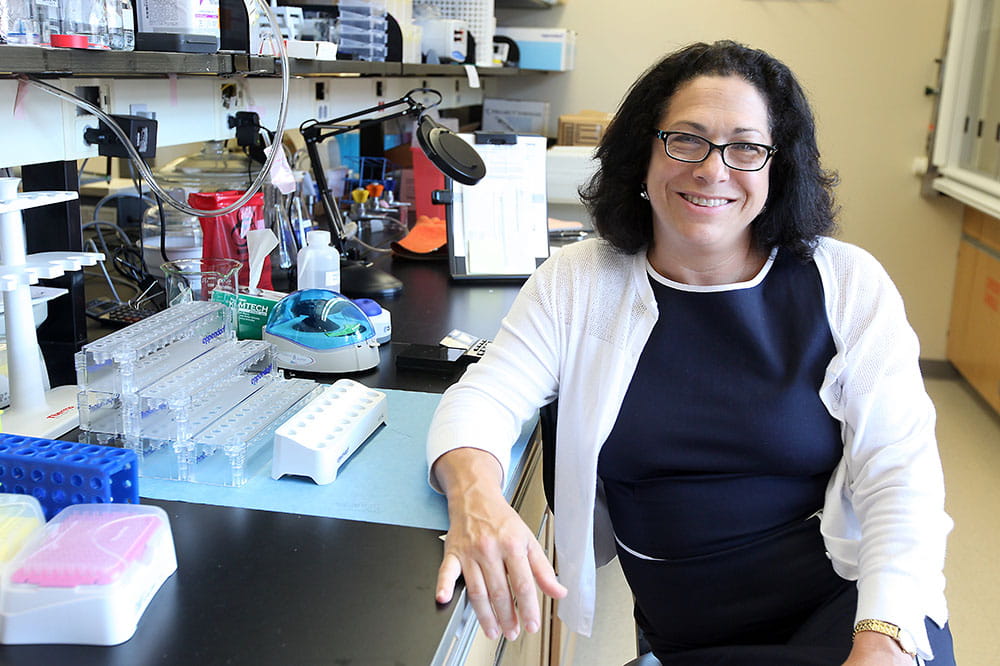 "Whether these supplements have a positive effect or no effect, it is important that we know the results because many patients are taking these supplements," said Klauber-DeMore. She hopes the results of the trials will help patients make informed decisions when choosing whether to incorporate herbal supplements during their treatment.
If there is a positive effect found in the patients who took supplements, Klauber-DeMore has a planned collaboration with MUSC natural product chemist, Mark Hamann Ph.D., to extract Boswellia compounds with the highest activity and then chemically modify them to make them even more active in cancer cells.
Klauber-DeMore also studies the cellular mechanisms behind breast cancer metastasis. She identified a specific protein SFRP2, that is highly expressed in tumor cells. Her team is developing a new monoclonal antibody therapy that blocks SFRP2. Preclinical models show that the new therapy effectively reduces triple-negative breast cancer tumor growth. Klauber-DeMore is optimistic that they will be able to move the new therapy into clinical trials in the future.
Hollings also works with national clinical trials to recruit patients for large-scale studies. These national breast cancer clinical trials include immunotherapy treatment, radiation and surgical procedures that are aimed at increasing patient survival rates and decreasing toxicity risks.
Breast cancer tumor board
Every unique breast cancer diagnosis is reviewed by a multidisciplinary tumor review board, a team that includes radiation oncologists, surgical oncologists, medical oncologists, breast cancer nurse navigators, radiologists, geneticists and pathologists. The breast cancer tumor board, led by Klauber-DeMore, reviews the patient's diagnosis and treatment options, taking into consideration multiple opinions.
Klauber-DeMore and colleagues conducted a study in 2018 to examine the effects of a tumor review board on patient diagnoses. "Our results show that our second opinion really does provide value in potentially changing the diagnosis, which in most cases will eventually change treatment," she said.
The tumor board also considers the patient's eligibility for ongoing clinical studies. Hollings Cancer Center health care professionals would like to see as many patients as possible benefit from the clinical trial opportunities that are available. "Each newly diagnosed case of breast cancer at MUSC is reviewed by a board of oncologists to determine the patient's eligibility for a number of national clinical trials – by this, we give our patients access to the most cutting-edge drugs."
Lifestyle impacts
David Turner, Ph.D., and Victoria Findlay, Ph.D.
/Uni Release. This material comes from the originating organization and may be of a point-in-time nature, edited for clarity, style and length. View in full
here
.