Five new clinical trials will take place in the next two years for new drugs to potentially improve survival times for sufferers of motor neuron disease – partly funded by supporters such as the Firefighters #1504forMND challenge.
Funds raised by firefighters to support motor neuron disease (MND) research will finance the clinical trial of a new drug that might slow the progression of MND and potentially give patients longer survival and improved quality of life.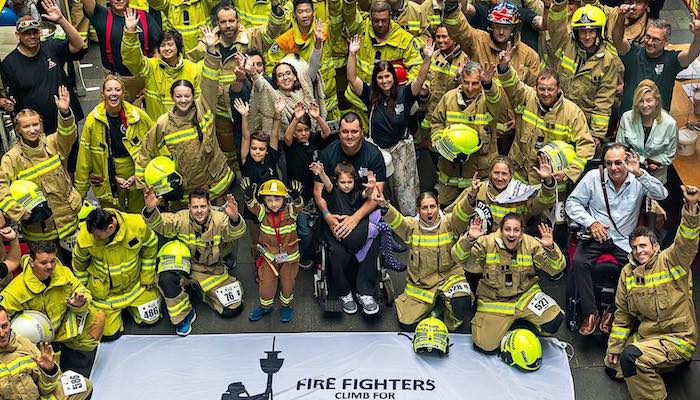 To the rescue: Firefighters and their families gather for Climb for MND, which has raised $1 million for research.
"We're hoping the drug 3K3A-APC will reduce inflammation in the brain and spinal cord of patients with MND," says neurology Professor Dominic Rowe, a director of the Macquarie University Centre for Motor Neuron Disease Research who has treated patients with MND for more than 20 years.
Rowe says that the drug is already in trial in the US in stroke patients, where it has shown potent anti-inflammatory effects as well as helping repair the blood-brain barrier – both challenges in MND.
The new drug is a genetically modified version of 'activated protein C' (APC), a substance produced by our bodies to protect cells, produced by ZZ Biotech who are working with Macquarie on the trial.
For each person who has motor neuron disease, another 12 people are affected.
The drug was shown to help people regain a greater level of function after severe stroke. A research team testing the molecule in mouse models of MND found that it dramatically improved survival in certain cases – but no human MND trials have yet been done.
The trial will be funded by a million-dollar donation from the Firies Climb for MND charity, set up by NSW firefighter Matt Pridham in 2015 when his best mate, Adam Regal, was diagnosed with MND at just 30 years old – a year after Adam's own father had died from the disease.
Firefighters initially raised awareness and funds in an annual event climbing the 1504 steps of the Sydney Tower carrying 20kg of gear, but in response to pandemic restrictions, established the #1504forMND community fitness challenge in November 2020.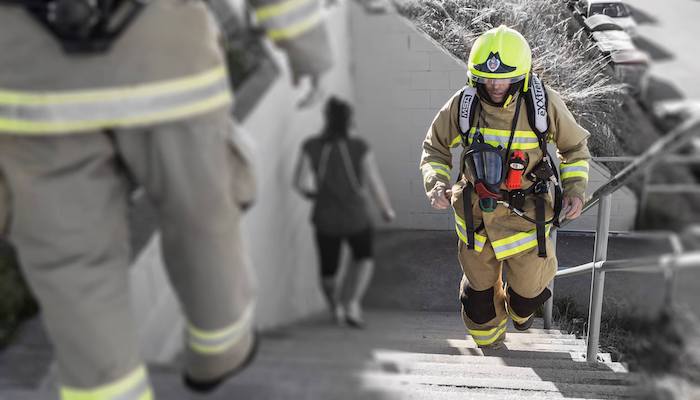 Up and down: Firies climb stairs carrying 20kg of gear to raise funds for the MND charity set up in 2015 by one of their own.
"We've applied for grants for the past three years to initiate the trial, but as an early-phase study and a relatively expensive trial, we have had trouble securing funding," says Rowe.
Donations raised by firefighters will now fund the trial, says Rowe, making it an 'investigator-led' study comparing the effects of two different dosing levels of the drug.
What will the new drug trial involve?
Rowe says his team will use brain scans, blood, spinal fluid and other tests to assess the effects of 3K3A-APC, and to measure any signs of repair of blood-brain barrier damage caused by MND, or if it affects inflammation of neurons.
"Because of the work that's already been done with this drug on stroke patients, we know how this molecule behaves in people and we know it's safe," Rowe says.
We have dramatically improved MND survival time over the last 20 years and most of that comes from multidisciplinary care.
The team will scan the brains of the 16 participants before and after the treatment, via a specialised positron emission tomography (PET) scan.
"We will be able to measure whether this molecule actually gets into people's brains, and if it can change the baseline level of brain inflammation that occurs in motor neuron disease," Rowe explains.
The toll taken by a cruel disease
Around 2500 Australians currently live with MND – also known as amyotrophic lateral sclerosis (ALS), and around 800 new cases are diagnosed in Australia each year, with most people dying within two to five years of their diagnosis.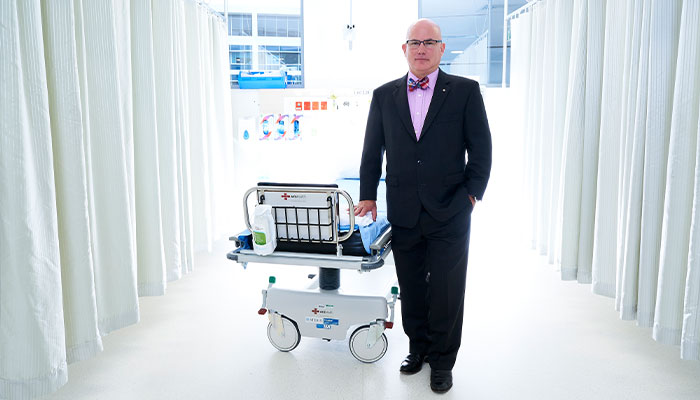 Hope springs: Professor Dominic Rowe, who treats around 200 people with MND at any time, says that early diagnosis and slowing down progression is key to turning the disease around.
But the disease is unpredictable; some people die within months of diagnosis, while a tiny minority (such as renowned English physicist Stephen Hawking) live on for decades.
Ten per cent of MND is caused by an inherited genetic mutation, the remainder is 'sporadic', generally with no known cause.
Rowe says that MND is a cruel disease which slowly robs its victims of all of their movement – from their ability to walk, use their hands and eventually to swallow and even breathe, while leaving their intellect and all their senses intact.
"For each person who has motor neuron disease, another 12 people are affected," says Rowe, adding that seeing someone you care about suffer with MND can take a huge toll.
Slowing MND to help people survive longer
Rowe treats around 200 patients with MND at any time and says that most are not eligible for current clinical trials because their disease has progressed too far.
While there's still no cure in sight, treatments have progressed hugely over the past two decades, and his team will join five current trials of new therapies in the next year alone, including potential gene therapies for the genetic forms of MND.
"We have dramatically improved MND survival time over the last 20 years and most of that comes from multidisciplinary care, doing simple things like nutrition, hydration and non-invasive ventilation that dramatically improves people's quality of life and outcomes."
Rowe's team has also worked with Professor Stuart Grieve of the University of Sydney to develop a method to diagnose MND from a single MRI scan.
"We can't cure MND, and we can't reverse it – but with early diagnosis, and if we can dramatically slow the progression of disease, I firmly believe we can turn this disease around," he says.
Trialling new therapies
"COVID has affected a lot of our trial work, so we've only got one active trial underway at the moment, the Phase 2 Copper ATSM trial, and we're about to analyse the data," says Rowe.
The 3K3A-APC trial starting next month, is one of five new clinical trials to start at Macquarie University during 2021 and 2022, each aimed at different mechanisms involved in either the genetic or sporadic form of MND.
The other four trials are:
Currently, around two people die in Australia every day with MND. "If we could improve people's average survival from three years to 30 years – that, to me, would constitute a cure," says Rowe.
Professor Dominic Rowe is the Foundation Professor of Neurology in the Faculty of Medicine, Health and Human Sciences at Macquarie University
Macquarie University's Centre for Motor Neuron Disease Research is the largest MND research centre in Australia and is part-funded by research grants and by public donations amounting to more than $10 million in the past five years.
/Public Release. This material from the originating organization/author(s) might be of the point-in-time nature, and edited for clarity, style and length. Mirage.News does not take institutional positions or sides, and all views, positions, and conclusions expressed herein are solely those of the author(s).View in full
here
.